BASIC  PROJECT  DATA
Project ID: PA1A010
NEED  AND  ADDED  VALUE  FOR  THE  DANUBE  REGION  STRATEGY
Contribution to the development of innovative Danube vessels.
OBJECTIVE(S)  OF  THE  PROJECT
Support of the further development of ship technologies for reducing the environmental impact of Danube navigation. The project focused on the elaboration and development of innovative vessels and technology solutions with high potential for implementation.
CONDUCTED  PROJECT  ACTIVITIES
The considered issues relate to improved energy efficiency, reduction of exhaust gas emissions, safe and economical vessel operation, alternative structural solutions as well as the possible use of alternative fuels to marine gas oil.
The project contained the following tasks:
Collection and evaluation of data on conditions for ship operation on the Danube (navigation conditions, infrastructure conditions, Danube fleet composition, general market developments)
Analysis of solutions derived from existing R&D projects with respect to their potential for implementation and further development in the Danube region
Elaboration and assessment of different technology solutions comprising e.g. altered main dimensions of vessels, different pushed formations, alternative structural solutions, application of different materials, air lubrication, improved propulsion devices and hull forms development and assessment of first concepts comprising motor cargo vessels and pushed convoys for different operational regions in the Danube corridor
Provision of recommendations for further technology development within the framework of the Danube Region Strategy
TRANSBOUNDARY  IMPACT
The project covered the entire Danube, considering solutions for different stretches of the Danube.
PROJECT  BENEFICIARIES  /  TARGET  GROUPS
Shipping companies
Shipyards
R&D organisations
Universities
STATUS  AND  TIMEFRAME
Start date: 01.07.2012
End date: 31.12.2013
The project is already concluded.
NOTES
The invitation for submission of project proposals was made public to potentially interested applicants in the Supplement to the Official Journal of the European Union, using the means of a voluntary ex ante transparency notice (OJ/S S79, 24-04-2012).
FINANCING
Total budget: 289,474 EUR
EU funds: 275,000 EUR were funded by DG REGIO – Direct Grant (pilot project for EUSDR PA1A)
National funds: 14,474 EUR (state budget of PAC)
PROJECT  TEAM
Project leader: via donau – Österreichische Wasserstraßen GmbH / Austria
(website: www.viadonau.org)
Address: Donau-City-Straße 1; 1220 Vienna / Austria
Project partner(s): 
DST Entwicklungszentrum für Schiffstechnik und Transportsysteme e.V. / Germany (project coordinator)
Schiffbautechnische Versuchsanstalt in Wien GmbH / Austria
Ship Design Group SRL / Romania
University of Belgrade, Faculty of Mechanical Engineering / Serbia
Österreichisches Institut für Raumplanung GmbH / Austria
PROJECT  ENVIRONMENT
PROJECT  CROSS – REFERENCE
MoVe IT! (PA1A062) and PROMINENT (PA1A112)
EUSDR  EMBEDDING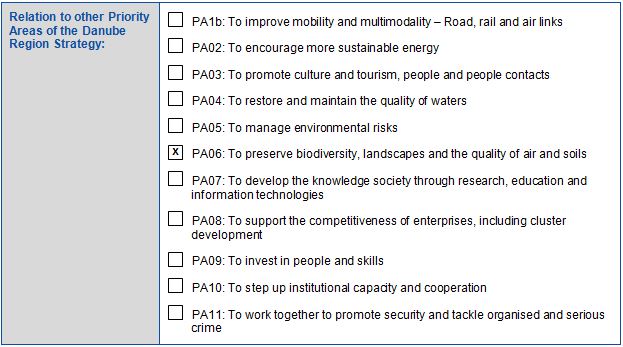 EUSDR  COMPLIANCE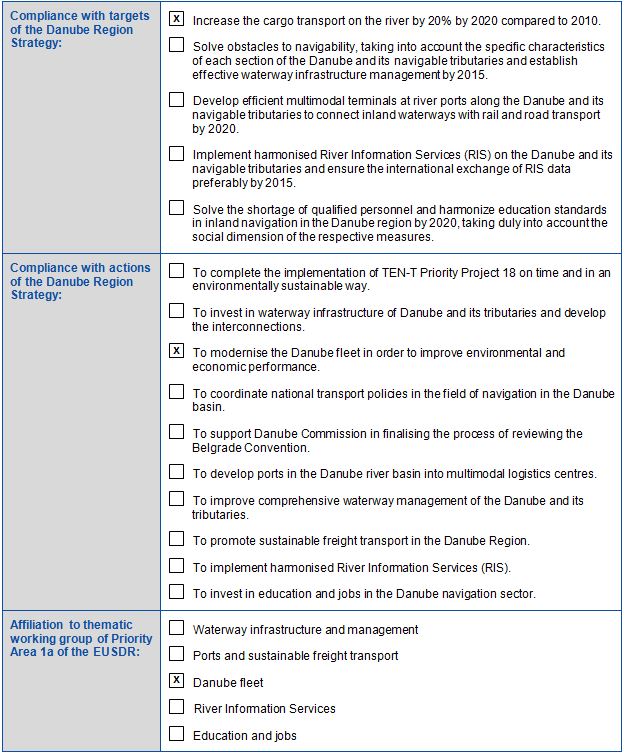 META  DATA
Data provided by: Juha Schweighofer (via donau / Austria) – 20.02.2012
Last update by: Juha Schweighofer (via donau / Austria) – 25.03.2013
Download pdf