BASIC  PROJECT  DATA
Project ID: PA1A012
Project website: www.bulris.bg
NEED  AND  ADDED  VALUE  FOR  THE  DANUBE  REGION  STRATEGY
There is a prognosis for the increasing of the traffic intensity along the Danube river (TEN-T priority project 18). One of the components defined in the White Paper which will make waterborne transport more reliable, effective and accessible is the establishment of a highly effective communication system for navigation assistance along the national maritime system.
The river information services (RIS) concept aims at introducing the information services which will contribute to the planning and the management of traffic and transport operations. The introduction of RIS contributes not only to better traffic safety and efficiency but at the same time it increases the efficiency and the safety of the transport operations.
The project achieved the following goals:
Establishment of the necessary infrastructure in 16 communication points along the Danube River

Establishment of River information center in Ruse

Expansion of the range of the services  and the system

Implementation of new technologies and improvement of the system
OBJECTIVE(S)  OF  THE  PROJECT
The general objective of the project was the harmonization of the traffic information services management on Inland Waterways.
As EU Member-state Bulgaria has the obligation to establish a RIS system, which is a part of the trans-European network concerning the technical guidelines for the planning, implementation and operational use of river information services in order to ensure an effective and safe navigation on the inland waterways.
Specific objectives were:
Establishment of telecommunication infrastructure of the RIS in the Bulgarian part of the Danube River – BULRIS, which ensures full and permanent data and voice traffic from Florentin station to Silistra station and the RIS Center

Establishment of conditions for interaction with other information systems, servicing the other modes of transport

Construction of a modern building for the RIS Center in Bulgaria
CONDUCTED  PROJECT  ACTIVITIES
Construction and delivery of equipment for building and starting the exploitation of RIS.
TRANSBOUNDARY  IMPACT
The BULRIS is part of the common European RIS.
PROJECT  BENEFICIARIES  /  TARGET  GROUPS
The project was directed at the following groups of stakeholders:
Transport: Shipping operators, Inland Waterway Administration, Port operators, Fleet management

Public Administration: Environmental  protection, Custom services, Border police

Bulgarian citizens and foreign tourists traveling on Danube River

Trade: Logistic operators, freight and passenger operators
Beneficiaries:
Inland waterway freight operators

Transit vehicles and passengers in the Bulgarian part of the Danube River

Business enterprises from the Danube Region

Investors
STATUS  AND  TIMEFRAME
Start date: 2007
End date: 2013
The project is already concluded.
FINANCING
Total budget: 18,000,000 EUR
EU funds: 13,600,000 EUR were funded by Operational Programme 'Transport' (OPT) 2007–2013
(CF, ERDF)
National funds: 4,400,000 EUR
PROJECT  TEAM
Project leader: Bulgarian Ports Infrastructure Company (website: www.bulris.bg)
Address: Shipchensky Prohod Blvd. 63; Sofia / Bulgaria
No additional partners were involved.
PROJECT  ENVIRONMENT
RELEVANT  LEGISLATION
Directive 2005/44/EC
EUSDR  EMBEDDING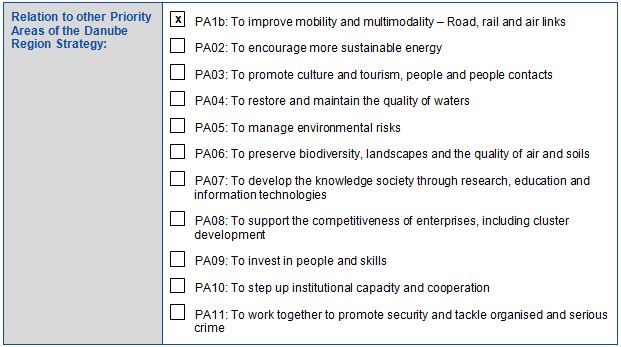 EUSDR  COMPLIANCE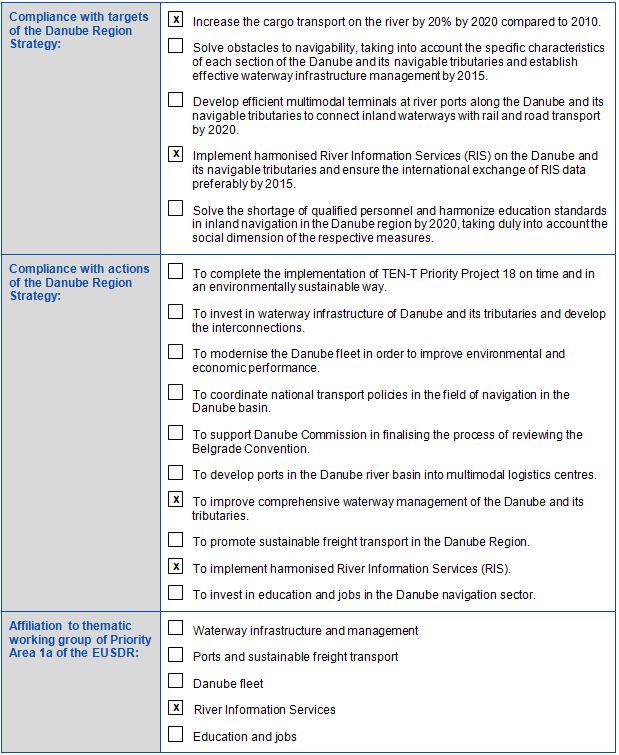 META  DATA
Data provided by: Kuzman Genov (Bulgarian Ports Infrastructure Company, Bulgaria) – 15.09.2011
Last update by: Kuzman Genov (Bulgarian Ports Infrastructure Company, Bulgaria) – 31.01.2017
Download pdf