BASIC  PROJECT  DATA
Project ID: PA1A164
NEED AND ADDED VALUE FOR THE DANUBE REGION STRATEGY
The project's overall objective is to foster the use of LNG in the inland navigation sector across the Danube, therefore contributing to the European alternative fuels implementation strategy. Framework project: LNG Masterplan for Rhine-Main-Danube.
OBJECTIVE(S)  OF  THE  PROJECT
Construction of an LNG terminal, equipped with a truck fuelling station and a pontoon to be used for the future fuelling of LNG vessels in the Port of Ruse.
The aim was to:
Accelerate LNG availability for Danube inland waterway transport.

Contribute to the European alternative fuels implementation strategy.
CONDUCTED  PROJECT  ACTIVITIES
Construction of the LNG terminal with a capacity of 1.000m³.
Level 1: Planning stage / pre-feasibility studies / Strategic Environmental Assessment (SEA)

Level 2: Preliminary project analysis / Feasibility studies

Level 3: Environmental Impact Assessment (EIA) / Detailed Design / Detailed Implementation Plan / Administrative Permits and Licences

Level 4: Construction / implementation
TRANSBOUNDARY  IMPACT
The solutions are applicable to all Danube countries.
PROJECT  BENEFICIARIES  /  TARGET  GROUPS
The list of beneficiaries comprises barge operators, port authorities, shipyards, technology providers, energy industry, research organisations, etc.
STATUS  AND  TIMEFRAME
Start date: 01.2014
End date: 12.2015
The project is already concluded.
FINANCING
information unknown
PROJECT  TEAM
Project leader: Bulmarket DM Ltd. (www.
Address: 100 Tutrakan Blvd., Ruse / Bulgaria
PROJECT  ENVIRONMENT
PROJECT  CROSS – REFERENCE
LNG Masterplan for Rhine-Main-Danube (PA1A023)
STRATEGIC  REFERENCE
The project addresses key priorities of the European Union transport policy such as:
Europe 2020 strategy for smart, sustainable and inclusive growth: to comply with reducing greenhouse gas emissions by 20% (or even 30%, if the conditions are right) compared to 1990, reduce energy consumption by 20% through increased energy efficiency, to meet 20% of energy needs from renewable sources

European alternative fuels implementation strategy

The White Paper on Transport – 2030/2050 perspective (2010) & Single Market Act II: emphasize the need for well-connected port infrastructure, efficient and reliable port services and transparent port funding

A roadmap to moving to a competitive carbon economy in 2050 (2011): the EU should prepare for reductions in its domestic emissions by 80% by 2050 compared to 1990

Ports: an engine for growth COM (2013) 295 final: setting up the EU strategy needed to help ports implement good practices and sound managerial approaches while fully respecting diversity and particular circumstances
EUSDR  EMBEDDING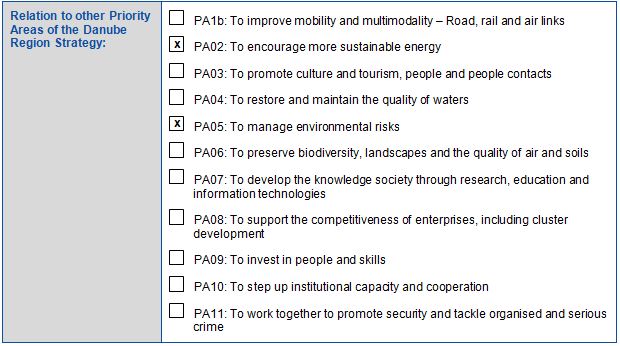 EUSDR  COMPLIANCE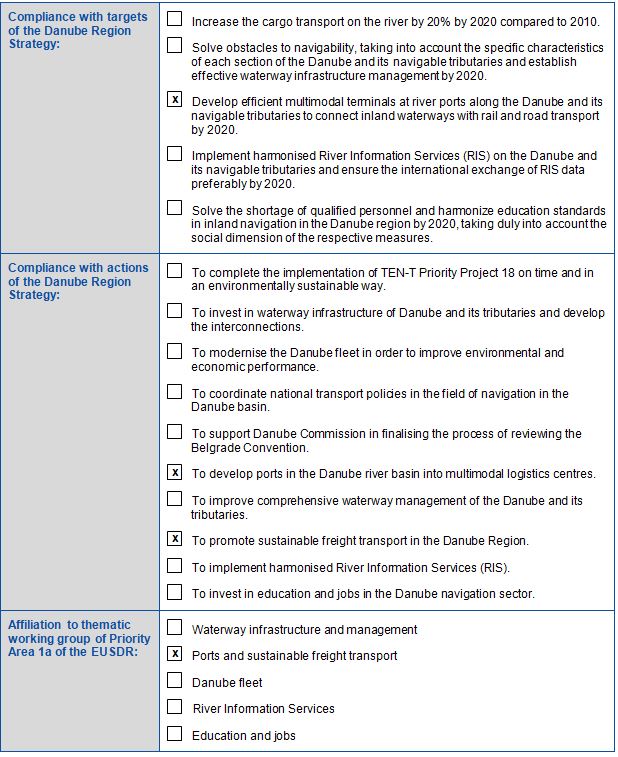 META  DATA
Data provided by viadonau, based on TEN-T Corridor Study for the Rhine-Danube Corridor – 25.09.2018