BASIC  PROJECT  DATA
Project ID: PA1A125
Project website: www.interreg-danube.eu/approved-projects/dante
NEED  AND  ADDED  VALUE  FOR  THE  DANUBE  REGION  STRATEGY
Administrative barriers in the logistics of goods and passengers on the Danube waterway and its navigable tributaries are a major obstacle for the efficient and sustainable use of the Danube as main transport axis of the region. The abundant existence of administrative barriers reduces its economic and environmental potentials, reducing economic growth and social welfare in the entire region. Mitigating and abolishing the most important administrative barriers in a coordinated and transnational manner was the core objective of the project and aimed to lead to a better governance of this European core transport infrastructure and to reduce the logistics costs of major industries depending on waterway transportation for their global competitiveness.
The European Commission has made the fight of administrative barriers and the derived higher logistics cost one of their priorities in the current transport policy agenda. After consultations with DG MOVE and DG REGIO it was decided to use the implementation programme of the EU Strategy for the Danube Region (and its Priority Area 1a), the Danube Transnational Programme, as platform whereas the key stakeholders can be addressed and concrete solutions to the manifold existing barriers can be elaborated.
The project functioned as a network of stakeholders supported by the EUSDR/PA1A and all relevant national stakeholders from the public and private sector in providing better framework conditions for inland waterway transport as the most environmentally friendly mode of transport in accordance with the Priority Area 1A objectives.
OBJECTIVE(S)  OF  THE  PROJECT
The project aimed at identifying administrative barriers for IWT on the Danube and its navigable tributaries and to identify the responsible authorities creating these barriers for the industries. In addition, good practices and guidelines for effective administration of IWT activities were developed. The identified barriers and the proposed good practices were discussed with the responsible authorities on a national basis (national working tables) as well as on a transnational level (transnational working tables for each category of authorities). This matrix approach aimed to deliver quick solutions and to ensure a harmonisation of procedures and processes of the respective authorities along the river.
Setting up an efficient monitoring system for collecting user experiences (supported by online tools – Transnational IWT barrier reporting tool) was one of the key elements in operating the working platforms with the responsible authorities. The project partners forming the consortium offered varied expertise and knowledge (IWT promotion and branch organizations, private operators, port associations and other private entities active in the field of consultancy, legal services, universities etc.) under the coordination of Pro Danube International, an association representing the Danube-minded business environment, in order to help tap the full potential of inland waterway transport on the Danube.
The project strongly supported the implementation of the EU Strategy for the Danube Region (EUSDR/PA1A) and worked closely with the PA1A Technical Secretariat, and was fully in line with the objectives set out in the European Transport Policy.
The project specific objectives were:
Improve administrative procedures and reduce bureaucratic processes as well as related charges and fees for IWT on Danube and navigable tributaries

Cooperate with public authorities to develop and implement simplified administrative procedures and processes

Reduce time losses and costs caused by unnecessary administrative regulations and processes for Danube businesses

Eliminate/Reduce red tape and abuse of administrative power

Strengthen the competitive position of companies, support economic growth and the creation of jobs in the region by increased efficient public administration

Introduce stakeholder consultation procedures and processes in legal and regulatory acts of public administration relevant for IWT

Harmonize regulations and administrative processes for transport and transhipment operations ("Same River-Same Rules" concept)
CONDUCTED  PROJECT  ACTIVITIES
The project was divided into 5 work packages.
The content of the five work packages is described in the following:
WP 1 Project management

SWP 1.1 Project administration

SWP 1.2 Financial planning and control

SWP 1.3 Technical coordination and quality management

WP 2 Project communication

SWP 2.1 Stakeholder management

SWP 2.2 Project promotion

SWP 2.3 Dissemination activities

WP 3 Identification of administrative barriers & responsibilities

SWP 3.1 Creating, upgrade of tools for reporting and monitoring &

elaborate working methodology

SWP 3.2 Collection of barriers from IWT users & setting up of database

SWP 3.3Analysis and validation of reported existing barriers & responsible authorities

WP 4 Analysis of procedures and administrative processes

SWP 4.1 Analysis of existing procedures (laws & regulations) and administrative processes

SWP 4.2 National Working Table Meetings

SWP 4.3 Elaboration of country reports & Consolidated report

SWP 4.4 Identification of good practices and Elaboration of guidelines & recommendations

WP 5 Implementation and capitalization

SWP 5.1 Involvement of national and European authorities/international organizations

SWP 5.2 Execution of meetings with responsible authorities in EUSDR/PA1A working groups

SWP 5.3 Support to elaboration of model procedures and processes

SWP 5.4 Facilitation of the implementation of results and monitoring
TRANSBOUNDARY  IMPACT
The Danube and its navigable tributaries are a key logistics resource for cargo and passenger operations in the region. The full coverage of the network in the DANTE project was ensured by inviting relevant partners, associated strategic partners from all Danube-riparian countries and also by obtaining letters of support from relevant governmental, public and private organizations.
The transboundary impact of the project was ensured via the close co-operation with the EUSDR PA1A experts and the transnational workshops that were organized together with PA1A on the basis of the five key action fields where harmonization between the countries is necessary to support the stakeholders to reduce logistics costs.
PROJECT  BENEFICIARIES  /  TARGET  GROUPS
IWT branch organizations

Fleet operators

Port administrations & port associations

Port operators

Shipping companies

Forwarding companies

Shipping agencies

Ministries of Transport, of Finance, Environment, Interior, Regional Development, etc. of the Danube region

Authorities (navigation, port and law enforcement authorities, customs, tax, border police, health control, disaster management, waterway and canal administrations)

Economic agents in the hinterland of Danube ports
STATUS  AND  TIMEFRAME
Start date: 01.01.2017
End date: 30.06.2019
The project is already concluded.
FINANCING
Total budget: 1,982,786 EUR
EU funds: 1,650,134.75 EUR (European Regional Development Fund)
                         35,233.35 EUR (Instrument for Pre-Accession Assistance)
funded by Danube Transnational Programme (DTP) 2014 – 2020
Private funds: 297,417.90 EUR (15% of project budget is supplied by the project partners as their own contribution)
PROJECT  TEAM
Project leader: Pro Danube International / Austria (website: www.prodanube.eu)
Address: 265 Handelskai, 1020 Vienna/Austria
Project partner(s):
ERDF and IPA Project partners (funded partners):
University of Applied Sciences-Upper Austria / AT

IC Consulenten ZT GmbH / AT

ARVD – Waterborne Transport Development Agency / SK

SPaP – Slovakian Shipping and Ports JSC / SK

MBFSZ – Hungarian Federation of Inland Waterway Freight Forwarders / HU

MAHOSZ – Hungarian Shipping Federation

AAOPFR – Romanian River Ship Owners and Port Operators Association / RO

Pro Danube Romania / RO

Constanta Port Business Association​ / RO

Danube Commission / HU

Port Authority Vukovar ​​/ HR

Bulgarian-Romanian Chamber of Commerce and Industry / BG

Ministry of Transport of Romania / RO

Steinbeis Innovation gGmbH, Steinbeis-Europe-Center / DE

Shipmasters Association of Serbia ​​/ RS
Associated Strategic Partners (non-funded partners):
Rhenus Logistics Austria GmbH / AT

MDKSZ – Hungarian Federation of Inland Ports / HU

Brodomoerc Novi Sad / RS

Bulmarket Port Ltd / BG

UPIR – Union of Romanian Inland Ports / RO

Danube Cruises Romania srl​ / RO

Danube Logistics SRL / MD

Ministry of National Development / HU

Ministry of Sea, Transport and Infrastructure ​/ HR

State Enterprise Ukrainian Sea Ports Authority ​/ UA

Ministry of Transport, Construction and Regional Development of the Slovak Republic​ / SK

International Sava River Basin Commission
PROJECT  ENVIRONMENT
PROJECT  CROSS – REFERENCE
Study on administrative and regulatory barriers in the field of inland waterway transport (NEA 2008)

PLATINA Sub-work package 1.2 – Monitoring administrative barriers

DARIF in the frame of EUDRS Priority Area 11 – Security

World Bank Initiative on reducing administrative barriers in Danube transport (Trade and Transport Facilitation on Western Balkan, 2012-2015)

Work of technical secretariat EUSDR PA1A on Border Control Model Processes

EC objective and initiatives addressing better governance and increase of administrative capacity

PDI Concept "Same River – Same Rules
STRATEGIC  REFERENCE
The Energy Efficiency Plan 2011: part of the EU's 20% target aimed at reducing primary energy consumption and the 2020 Energy strategy is focused on: promoting an economy that respects the planet's resources, improving the EU's energy independence, implementing a low carbon system

A roadmap to moving to a competitive carbon economy in 2050 (2011): the EU should prepare for reductions in its domestic emissions by 80% by 2050 compared to 1990

White Paper on transport – 2030/2050 perspective (2010): creation of modern infrastructure and multimodality assisted by smart management and information systems, provision of a roadmap to a low carbon transport system and independency from oil and to the objective to shift 30%of road freight over 300km to rail and waterborne transport by 2030 and more than 50% by 2050

European Commission Programme ´Better regulation´ – REFIT: Action is taken to make EU law simpler and to reduce regulatory costs, thus contributing to a clear, stable and predictable regulatory framework supporting growth and jobs. To do this successfully, REFIT requires a joint effort between the European Parliament, the European Council, the European Commission, Member States and stakeholders. Every level of government should be involved to ensure that the benefits are realised at least cost for citizens and business
RELEVANT  LEGISLATION
NAIADES II Communication "Towards quality inland waterway transport".
The objective of NAIADES II is to create the conditions for inland navigation transport to become a quality mode of transport: well-governed, efficient, safe, integrated into the intermodal chain, with quality jobs occupied by a skilled workforce, and adhering to high environmental standards;

quality of governance;

support integrated multimodal transport governance.
OTHER
"Study on the TEN-T Core Network Corridor Rhine – Danube" (Phase 1) – completed

"Study on the TEN-T Core Network Corridor Rhine – Danube" (Phase 2) – ongoing
EUSDR  EMBEDDING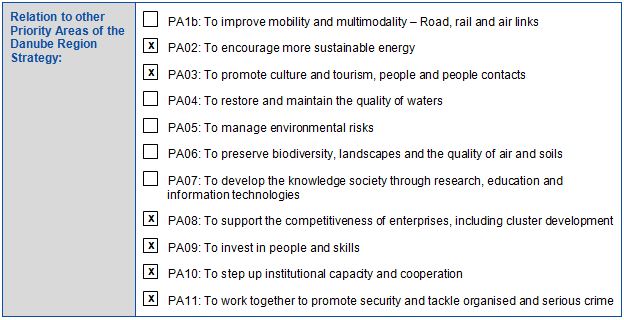 EUSDR  COMPLIANCE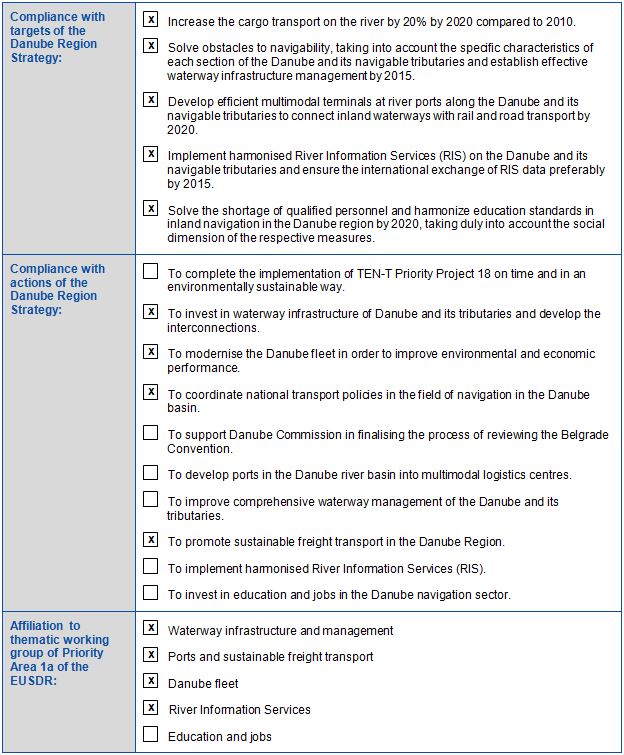 META  DATA
Data provided by: Robert Rafael (Pro Danube International, Austria) – 19.10.2015
Last updated by: viadonau – 12.08.2019
Download pdf.