BASIC  PROJECT  DATA
Project ID: PA1A157
Project website: http://www.wna-aschaffenburg.wsv.de/wir_ueber_uns/sachbereich_3/mainausbau/index.html (German)
NEED  AND  ADDED  VALUE  FOR  THE  DANUBE  REGION  STRATEGY
The Main is 524 km long, of which 388 km are navigable. The Main connects the Rhine and the Danube via the Main-Danube Canal and is therefore an important part of the inland waterway network of the Danube Region. All measures concerning the upgrade of the waterway infrastructure at the Main are thus beneficial for the transport on the Danube as well.
Currently, the fairway depth is 2.5 m at the Upper Main.
OBJECTIVE(S)  OF  THE  PROJECT
The upgrade of the Upper Main to class Vb is intended to enable a fairway depth of 2.9m, increasing the possible depth by 4 dm. The fairway width is intended to be increased from 36m to 40m.
CONDUCTED  AND  PLANNED  PROJECT  ACTIVITIES
Planning, approval and construction phases are conducted subsequently for different sections and are expected to be completed by 2020.
Würzburg (concluded)

Randersacker/Goßmannsdorf (concluded)

Marktbreit/Kitzingen (concluded)

Dettelbach/Gerlachshausen (concluded)

Wipfeld/Garstadt/Schweinfurt

Ottendorf and Knetzgau

Limbach/Viereth (concluded)
(c) Wasserstraßen-Neubauamt Aschaffenburg
Works from Würzburg (Main km 252) to Wipfeld (Main km 316) have already been completed. Also the impoundment between Limbach and Viereth is already completed. The deepening of the fairway between Wipfeld and Limbach is ongoing and financing is secured. Planned: Implementation of the remaining sections Wipfeld-Garstadt-Schweinfurt and Ottendorf-Knetzgau.
TRANSBOUNDARY  IMPACT
The Main connects the Danube and the Rhine via the Main-Danube Canal. The result of the works will be an increase in transnational transports along the Rhine-Main-Danube axis.
PROJECT  BENEFICIARIES  /  TARGET  GROUPS
waterway users
STATUS  AND  TIMEFRAME
Start date: ongoing since before 2000
End date: 2020
NOTES
The project is implemented in several sections, please see conducted and planned activities.
FINANCING
Total budget: approx. 55 million EUR for the already completed sections
The total amount is financed from national budget.
PROJECT  TEAM
Project leader: Wasserstraßen-Neubauamt Aschaffenburg / Germany (website: www.wsv.de)
Address: Hockstraße 10, 63743 Aschaffenburg / Germany
Contact data: wna-aschaffenburg@wsv.bund.de; +49 6021 312 – 0
PROJECT  ENVIRONMENT
PROJECT  CROSS – REFERENCE
Deepening of the fairway of the Lower Main (PA1A162)
EUSDR  EMBEDDING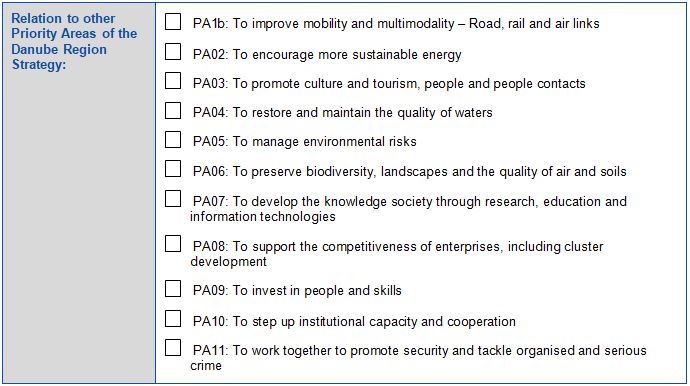 EUSDR  COMPLIANCE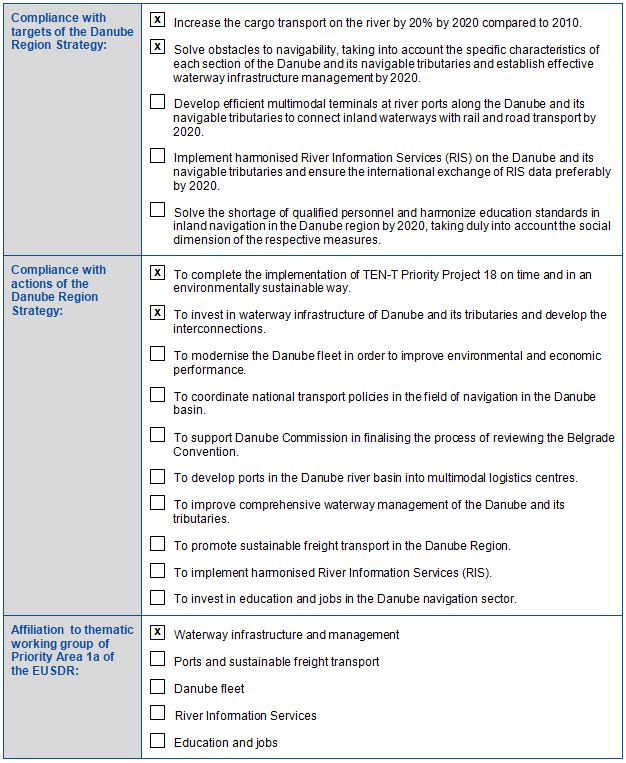 META  DATA
Data provided by: viadonau (based on information from the project website) – 25.09.2018
Download pdf.