BASIC  PROJECT  DATA
Project ID: PA1A151
NEED  AND  ADDED  VALUE  FOR  THE  DANUBE  REGION  STRATEGY
The introduction of the AIS AtoN technology in marking of waterways and management of the fairway marking system is a significant improvement compared with the traditional methods used in the inland waterways. Marking interventions by the respective waterway administrations can be executed on demand instead of regular marking tours along the entire national stretch.
OBJECTIVE(S)  OF  THE  PROJECT
The project's overall objective is to procure and install the equipment for the navigation monitoring and fairway marking system on the Danube River in Serbia.
By realisation of this project more than 160 navigation buoys will be allocated on the Danube River which are equipped with AIS AtoN transponders that will enable real-time monitoring of the condition of the marking system and at the same time make the navigation buoys more visible for all the participants in navigation by using the AIS and ECDIS systems on the ship deck. The modern supervision and early warning system and management of the fairway marking system will enable centralized supervision, faster and more efficient decision making, better planning and it will additionally enable immediate electronic marking of the fairway that is visible to the direct participants in navigation by usage of relevant devices. Through the usage of the electronic navigation charts, participants in navigation will always be informed of the position of the fairway, irrespective of the actual navigation conditions (fog, night, damage to the existing buoys for fairway marking, etc.) and under conditions where it is impossible to physically mark the fairway or where such marking requires time.
PLANNED  PROJECT  ACTIVITIES
The project is being implemented through the realisation of three contracts:
1. Technical assistance and supervision of equipment installation and integration of the navigation monitoring system on the Danube River
Contract has been signed with the best bidder in July 2016.
2. Procurement and installation of equipment for navigation monitoring on the Danube River
In June 2017, the contract was signed with the best bidder.
3. Integration of the navigation monitoring system on the Danube River
In June 2017, the agreement was signed with the most successful bidder. Completion deadline: 2018.
TRANSBOUNDARY  IMPACT
The whole inland navigation sector in the Danube Region will benefit from the planned measures, as most transports on the Danube are transnational.
PROJECT  BENEFICIARIES  /  TARGET  GROUPS
The users of the waterway and also the waterway administrations are the main beneficiaries of the project.
STATUS  AND  TIMEFRAME
Start date: 2016
End date: 2018
FINANCING
Total budget: 2.65 million EUR (estimated)
EU funds: 2,252,500 EUR are funded by Instrument for Pre-Accession Assistance (IPA) – National Programme 2013
National funds: 397,500 EUR
PROJECT  TEAM
Project leader: MCTI – Directorate for Inland Waterway (Plovput) the End Recipient of the Project / Serbia
(website: www.plovput.rs)
Address: Francuska 9, 11000 Belgrade / Serbia
There are no additional partners involved.
PROJECT  ENVIRONMENT
STRATEGIC  REFERENCE
TEN-T Rhine Danube Corridor Work Plan
Master Plan and Feasibility Study for Inland Waterway Transport in Serbia
Inland Waterway Transport Strategy for the Republic of Serbia for the period 2015-2025
Action plan for the Inland Waterway Transport Strategy for the Republic of Serbia for the period 2015-2020
RELEVANT  LEGISLATION
Law on navigation and ports on inland waterways, Law on Environmental Impact Assessment, Law on Waters
Council Regulation (EC) No. 1085/2006 of 17 July 2006 establishing an Instrument for Pre-Accession Assistance (IPA) – OJL 210/82 of 31.07.2006
EUSDR  EMBEDDING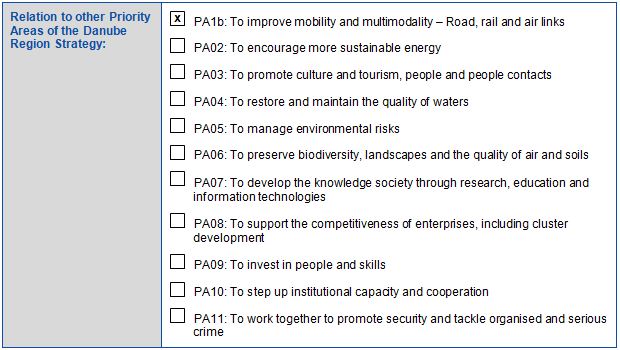 EUSDR  COMPLIANCE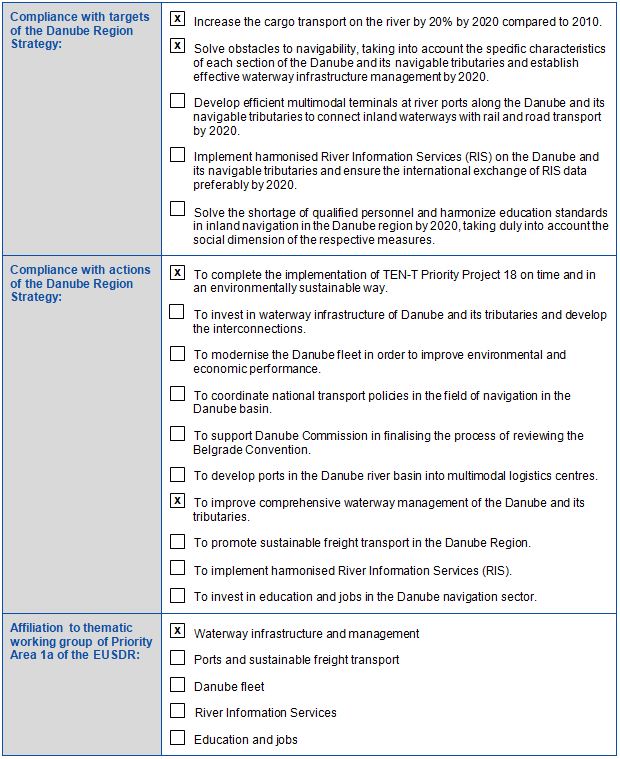 META  DATA
Data provided by: Viktoria Weissenburger, based on information by the Ministry of Construction, Transport and Infrastructure – 17.09.2018