BASIC  PROJECT  DATA
Project ID: PA1A118
Project website: www.interreg-danube.eu/energy-barge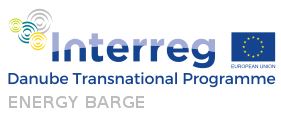 NEED  AND  ADDED  VALUE  FOR  THE  DANUBE  REGION  STRATEGY
Fostered the energy security and energy efficiency of the Danube region by supporting the development of joint regional storage and distribution solutions as well as strategies for increasing renewable energy usage

Intensified the transnational cooperation among key actors in biomass supply chains including stakeholders from the agricultural sector, the biomass industry and logistics service providers

Supported the development of a better connected, interoperable and environmentally-friendly inland waterway transport system for the supply of different raw materials, intermediates and end products relevant for the bioenergy industry

Positioned Danube ports as hubs for the processing and handling of biomass and strengthen their capability to connect with stakeholders along the bioenergy value chains

Improved integrated practical solutions and policies to further develop secure and efficient supply chains of bioenergy feedstocks in the Danube region
OBJECTIVE(S)  OF  THE  PROJECT
The overall objective of ENERGY BARGE was to foster sustainable usage of biomass for energy production in the Danube Region and to increase the share of environmentally-friendly biomass transports on the Danube. Through the assessment of biomass potentials and by bringing together relevant market actors along the value chain, the project contributed to achieving the renewable energy targets of the EU Strategy for the Danube Region and to increasing energy security by providing regional solutions for energy use.
CONCLUDED  PROJECT  ACTIVITIES
Survey the biomass availability and potential as well as the business landscape in the participating Danube countries

Analysis of logistics requirements and support of a modal shift towards Danube logistics

Implementation of pilot actions in Danube ports based oncooperation with regional biomass producers and suppliers

Transfer of gained results and know-how among relevant stakeholders across the EU and elaboration of strategies for better integrated policies and practical solutions to further develop biomass exploitation and bioenergy production along the Danube
TRANSBOUNDARY  IMPACT
The project consortium included partners from Germany, Austria, Slovakia, Hungary, Croatia, Bulgaria, Romania and international associations.
ENERGY BARGE for the first time aimed at exploiting the synergies between the bioenergy industry and the Danube logistics sector on a transnational level. It built on national initiatives existing on the Upper Danube and transferred know-how and experience along the whole Danube corridor.
PROJECT  BENEFICIARIES  /  TARGET  GROUPS
Stakeholders from the bioenergy industry

Supply chain managers

Chambers of Commerce and Industry Representations

Port and terminal operators

Shipping companies and ship brokers

Forwarding companies

Other logistics service providers
STATUS  AND  TIMEFRAME
Start date: 01.01.2017
End date: 30.06.2019
The project is already concluded.
FINANCING
Total budget:  2,323,519.65 EUR
EU funds: 1,974,991.67 EUR (European Regional Development Fund)
funded by the Danube Transnational Programme (DTP) 2014 – 2020 
National funds: 348,527.98 EUR
PROJECT  TEAM
Project leader: Fachagentur Nachwachsende Rohstoffe e.V. (Agency for Renewable Resources) – FNR / Germany
(website: http://international.fnr.de/)
Address: Hofplatz 1, 18276 Gülzow-Prüzen / Germany
Contact person: Thies Fellenberg (Agency for Renewable Resources – FNR)
Contact data: t.fellenberg@fnr.de; +49 3843 6930-251
Project partners:
BioCampus Straubing GmbH – Donauhafen Straubing-Sand (Port of Straubing-Sand)/Germany

Technische Hochschule Deggendorf (Deggendorf Institute of Technology)/Germany

BIOENERGY 2020+ GmbH/Austria

via donau – Österreichische Wasserstraßen-Gesellschaft mbH (Austrian Waterway Company)/Austria

Wiener Hafen und Lager Ausbau- und Vermögensverwaltung, GmbH & Co KG (Port of Vienna)/Austria

International Centre for Applied Research and Sustainable Technology -ICARST/Slovakia

MAHART-Freeport Co. Ltd

Slovenská plavba a prístavy a.s.(Slovak Shipping and Ports)/Slovakia

National Agricultural Research and Innovation Centre – NARIC/Hungary

Bajai OKK Kft. (Baja Public Port Ltd.)/Hungary

University of Zagreb – SDEWES Centre/Croatia

Lučka uprava Vukovar (Port Authority Vukovar)/Croatia

Technology Center Sofia GmbH/Bulgaria

Asociația Română Biomasă și Biogaz (Romanian Association of Biomass and Biogas) – ARBIO/Romania

Federation of owners of forests and grasslands in Romania
PROJECT  ENVIRONMENT
PROJECT  CROSS – REFERENCE
INWAPO – Upgrading of Inland Waterways and Sea Ports (PA1A060)
DaHar – Danube Inland Harbour Development (PA1A059)

Fostering the sustainable usage of renewable energy sources in Central Europe – putting biomass into action (4Biomass)

The Baltic Sea Region Bioenergy Promotion Project (Bioenergy Promotion & Bioenergy Promotion 2)

BERST – BioEconomy Regional Strategy Toolkit
STRATEGIC  REFERENCE
European Action Programme for Inland Waterways Transport (NAIADES II)

Europe 2020-Strategy of the European Commission

EU Strategy for the Danube Region

European Commission's Biomass Action Plan (2005)

Biomass Action Plan for the Danube Area as part of the EUSDR and the European Energy Security Strategy (SWD(2014)330final)

National Renewable Energy Action Plans (NREAP)
RELEVANT  LEGISLATION
A Roadmap for Moving To a Competitive Low Carbon Economy in 2050 (COM(2011)112 final))

Renewable Energy Directive (2009/28/EC)
EUSDR  EMBEDDING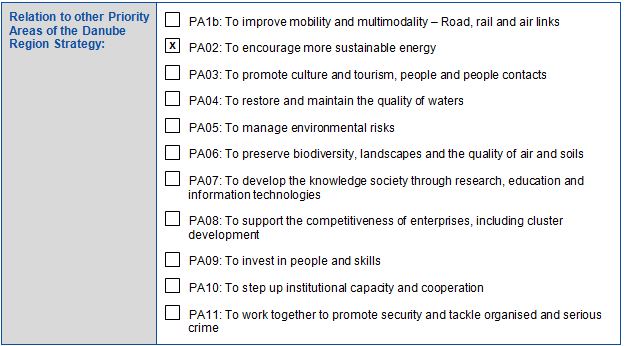 EUSDR  COMPLIANCE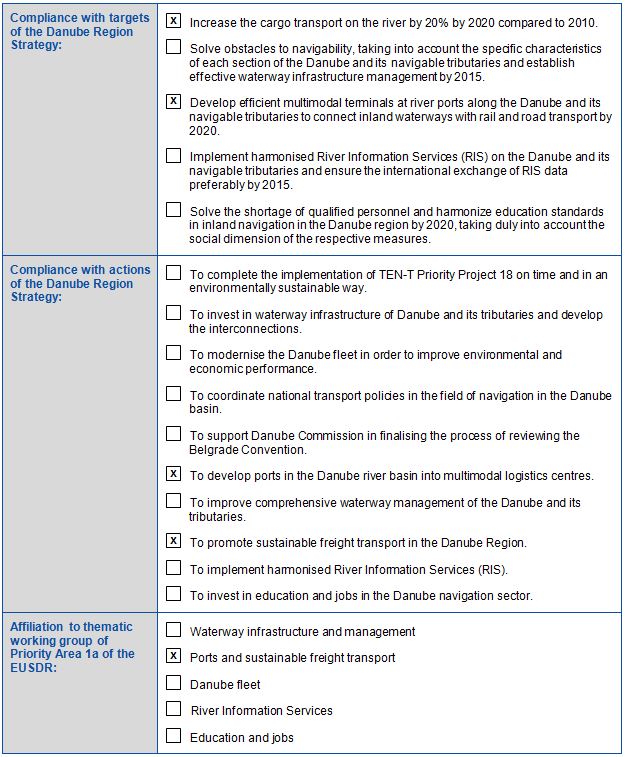 META  DATA
Data provided by: Senta Schmatzberger (Agency for Renewable Resources – FNR, Germany) – 28.10.2015
Download pdf (available soon).