BASIC  PROJECT  DATA  –  PROJECT  IDEA
Project ID: PA1A068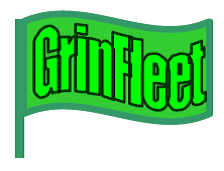 NEED  AND  ADDED  VALUE  FOR  THE  DANUBE  REGION  STRATEGY
Development of container transport on and container vessels for the Danube.
OBJECTIVE(S)  OF  THE  PROJECT
The GrinFleet project's strategic aim would have been to enhance the use of the Danube and the Rhine as waterborne inland "motorways", hereby implementing the EU inland Blue Belt policy and contributing to the EU 2020 target for reducing energy usage and emissions. To do this, GrinFleet would have developed a variety of "Green inland fleet" solutions containing efficient and innovative ship concepts.
PLANNED  PROJECT  ACTIVITIES
Development of a logistic modelling & simulation tool for container transport, suitable for the three business cases of interest. The tool would have enabled to devise co-modal logistic solutions based on the infrastructural conditions and freight volume requirements, and to determine the main characteristics of vessel solutions fitting these requirements as well as the performance of the logistic chain in terms of economy, energy and emissions.
Development of five vessel solutions of maximum attainable vessel size on the rivers fitting the business cases:
One self-propelled vessel solution for the Danube;

one self-propelled vessel solution for the Rhine, aiming at maximum physical & economic size;

one river-sea solution for the Danube;

one river-sea solution for the Rhine of at least 50 % larger TDW-capacity when compared with current max. capacity (ca. 3000 TDW);

one autonomously operating self-propelled vessel train for the Rhine secondary waterways.
Development of novel power & propulsion trains for minimum energy usage and emissions for self-propelled solutions.
Development of novel hull configurations for all vessel solutions possessing the following characteristics:
Minimum resistance at sea and in shallow/limited inland waters, advanced geometry, resistance reducing technology (air lubrication, ESV's) to enhance the flow at the afterbody;

excellent manoeuvring capability in shallow and limited waters;

ship architecture based on modularisation and standardisation concepts to obtain cost efficient vessel variants.
TRANSBOUNDARY  IMPACT
A part of the results would have been applicable to the entire Danube as well as the Central and Lower Danube.
PROJECT BENEFICIARIES / TARGET GROUPS:
shipping companies

shipyards

R & D organizations

universities
STATUS  AND  TIMEFRAME
The project was not realised.
Project duration would have been from 01.10.2012 – 30.09.2015.
The proposal has been submitted for funding by FP7 (SST-2012-RTD-1 SST.2012.2.2-1. Innovative fleet for efficient logistics chain). Although positively evaluated, no invitation for project negotiations was issued.
PROJECT  TEAM
Project leader: Centre for Maritime Technology and Innovation / The Netherlands
Address: Boompjes 40, 3011 XB Rotterdam / The Netherlands
Project partner(s):
Center of Maritime Technology e.V. / Germany

Development Centre for Ship Technology and Transport Systems / Germany

Delft University of Technology / The Netherlands

Institute of transport sciences KTI / Hungary

Marine Assistance / France

Maritime Research Institute Netherlands MARIN / The Netherlands

Maritima Green Technology / The Netherlands

Torque marine / Germany

Technical University Berlin / Germany

University of Stuttgart / Germany

via donau / Austria

Stichting Studio Veiligheid / The Netherlands

Wartsila Netherlands / The Netherlands

Wartsila Italy / Italy
EUSDR  EMBEDDING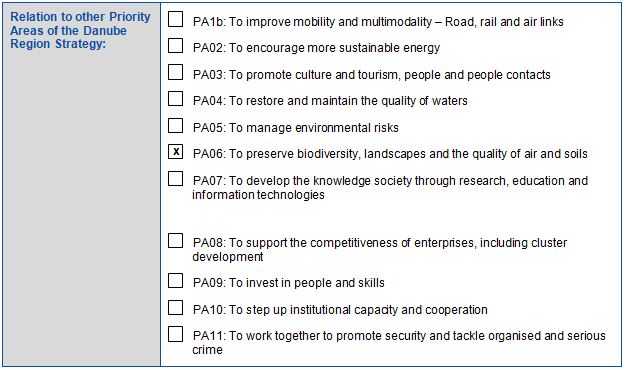 EUSDR  COMPLIANCE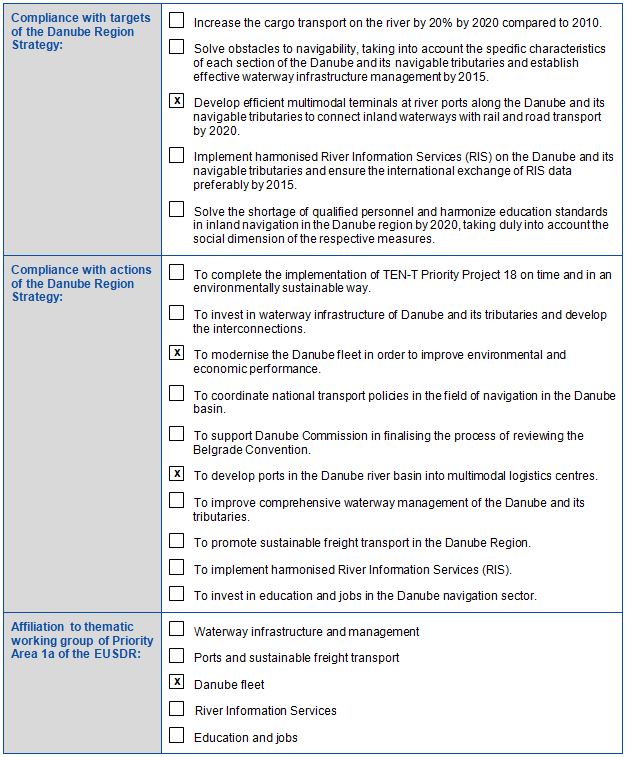 META  DATA
Data provided by: Juha Schweighofer (via donau / Austria) – 20.02.2012
Last updated by: Juha Schweighofer (via donau / Austria) – 25.03.2013
Download pdf.