BASIC  PROJECT  DATA
Project ID: PA1A032
Project website: www.dunahajozhatosag.hu
NEED  AND  ADDED  VALUE  FOR  THE  DANUBE  REGION  STRATEGY
This project was part of the Priority Project 18 (waterway axis Rhine/Meuse-Main-Danube) of the Trans-European Transport Network and aimed at improving navigation conditions along the Hungarian stretch of the Danube river between the town of Szob near the Slovak-Hungarian border and Hungary's southern border with Croatia and Serbia. Currently, the fairway does not meet UNECE parameters for waterway classes VIb and VIc for approximately half of the year.
The project aimed to contribute to meeting the requirements set for the Danube-Main-Rhine waterway according to international agreements (AGN – European Agreement on Main Inland Waterways of International Importance, Recommendations of the Danube Commission).
OBJECTIVE(S)  OF  THE  PROJECT
The final objective of this project was the elimination of fords and bottlenecks on the Hungarian stretch of the Danube (from river-km 1,708 to 1,433), so that a limitation of UNECE waterway classes VIb and VIc on this stretch would only be given on maximum 20 days a year. To this avail, the study – completed in November 2011 – was conducted on the elimination of fords (restricting fairway depth) and bottlenecks (restricting fairway width) hindering navigation.
CONDUCTED  PROJECT  ACTIVITIES
Project activities featured in the study on the elimination of fords and bottlenecks:
Surveying of the riverbed (site measurements and data recording)

Drawing of technical designs (physical modelling and technical engineering)

Making the necessary environmental studies and impact assessments

Getting the approval of the competent authorities for all interventions
TRANSBOUNDARY  IMPACT
As the transport of goods on the Danube and its tributaries has an international and long-distance character, the entire Danube region would benefit from projects aiming at the removal of critical sectors.
PROJECT  BENEFICIARIES  /  TARGET  GROUPS
shipping companies
STATUS  AND  TIMEFRAME
Start date: 03.2008
End date: 11.2011
The project is already concluded.
NOTES
The above-mentioned study identified 31 sites which are in need of intervention. By mid-2011, the water management permit design and detailed EIA documentation had been transmitted to the relevant authorities for 13 of these sites. Global environmental assessment was completed in 2011, approval by the competent authorities has not yet been granted.
FINANCING
Total budget: 8,000,000 EUR
EU funds: 4,000,000 EUR (50% funding rate for studies)
were funded by TEN-T Multi-Annual Programme (MAP) 2007 – 2013
National funds: 4,000,000 EUR
PROJECT  TEAM
Project leader: Environmental Protection and Water Management Research Institute (VITUKI) / Hungary
(website: www.vituki.hu)
Address: Kvassay J. út 1, Budapest, H-1095 / Hungary
Project partners:
AQUAPROFIT Co. / Hungary

TÉR_TEAM Ltd. / Hungary

VTK Innosystem Ltd. / Hungary
PROJECT  ENVIRONMENT
PROJECT  CROSS – REFERENCE
Improving navigability on the Hungarian section of the Danube: extended study to prepare implementation (PA1A155)
EUSDR  EMBEDDING
EUSDR  COMPLIANCE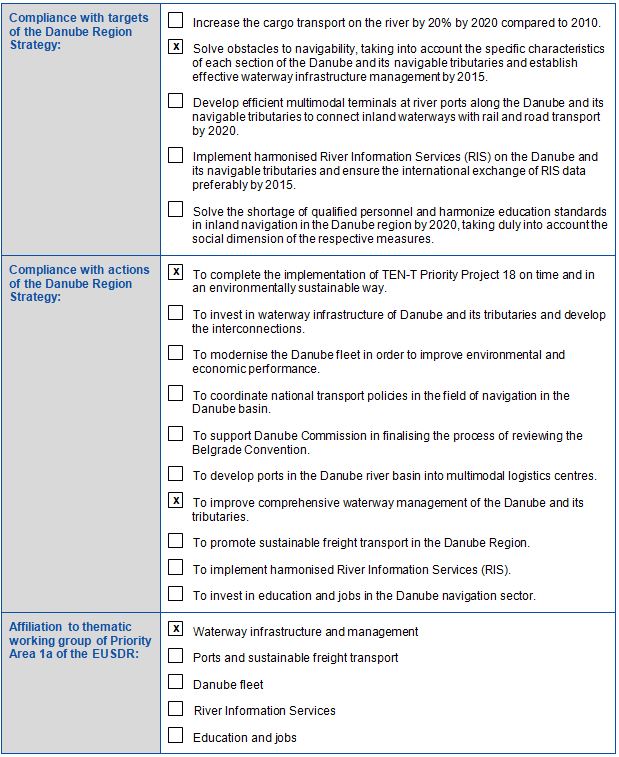 META  DATA
Data provided by: Péter Bakonyi (former VITUKI employee) – 20.05.2014
Download pdf.