BASIC  PROJECT  DATA
Project ID: PA1A020
NEED  AND  ADDED  VALUE  FOR  THE  DANUBE  REGION  STRATEGY
Implementation of river information services is recognized as one of the priority projects in the Master Plan for IWW Transport in Serbia (2006). For the development of an efficient and sustainable transport system in the whole region, River Information Services (RIS) needed to be developed on the Serbian section of the Danube.
OBJECTIVE(S)  OF  THE  PROJECT
Enhance the traffic safety by monitoring and managing the traffic on the Danube waterway;

Optimize utilization of the Danube waterway (esp. at bottlenecks like locks, shallow water / narrow passages and similar);

Establish manageability of the traffic on the Danube by providing the possibility of giving navigational / directional aids to the traffic;

Enable the authorities to manage and plan the traffic operation and strategy;

Enable quick and timely response in the event of an accident or similar;

Improve safety, manageability and esp. timely response in any incident which involves hazardous cargo;

Enable the authorities to distribute information to other operators and organizations to integrate the information in logistic chains and enable seamless transport operations;

Ensure compliance with the International Border Management Strategy and other existing RIS in the region.
CONDUCTED  PROJECT  ACTIVITIES
1. Supply of necessary RIS equipment
2. System integration
3. Supervision of implementation
TRANSBOUNDARY  IMPACT
Serbian River Information Services now cover the entire stretch of the Danube River in Serbia, including cross-border sections which form a crucial part of the system. Implementation of RIS in Serbia is harmonized with the existing RIS systems in Europe.
PROJECT  BENEFICIARIES  /  TARGET  GROUPS
Main beneficiaries of the project were the Ministry of Infrastructure and Energy and the Directorate for Inland Waterways. Within Serbian administration, RIS is being used by Iron Gate I and II navigation locks, Customs, Ministry of Interior (river police, border police, gendarmerie, sector for urgent situation – the fire brigade). The number of commercial users has been increased.
STATUS  AND  TIMEFRAME
Start date: 16.09.2009
End date: 15.03.2013
The project is already concluded.
FINANCING
Total budget: 10,500,000 EUR
EU funds: 10,500,000 EUR were funded by Instrument for Pre-Accession Assistance (IPA) – National Programme 2007
PROJECT  TEAM
Project leader: Ministry of Transport (Directorate for Inland Waterways – Plovput) (website: www.plovput.rs)
Address: Francuska 9; 11000 Belgrade / Republic of Serbia
No additional partners were involved.
PROJECT  ENVIRONMENT
STRATEGIC  REFERENCE
Master Plan for IWW Transport in Serbia (2006)

Serbian Transport Development Strategy for Period 2008-1015 (2008)

General Master Plan for Transport in Serbia (2009)

Serbian Law on Navigation and Ports on Inland Waterways (2010)

Danube Commission Recommendations

EU RIS Directive (2005/44/EC)
OTHER
In Master Plan for IWW Transport in Serbia (2006) priority projects are identified, among them implementation of river information services (RIS). Preparation of this document was funded by the EU. Besides, preparation of documentation for implementation of RIS in Serbia was funded by EU.
EUSDR  EMBEDDING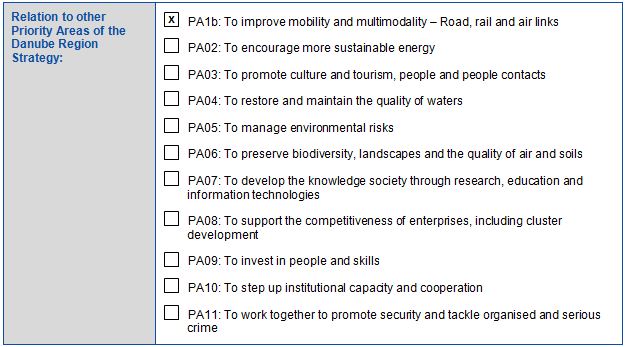 EUSDR  COMPLIANCE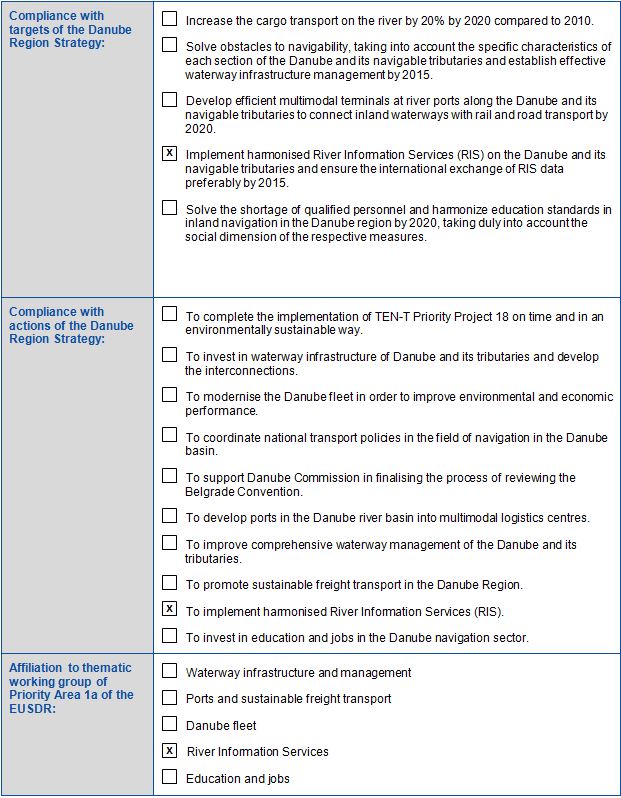 META  DATA
Data provided by: Ivan Mitrovic (Plovput, Serbia) – 12.09.2011
Last update by: Ivan Mitrovic (Plovput, Serbia) – 08.04.2013
Download pdf