BASIC  PROJECT  DATA
Project ID: PA1A144
NEED  AND  ADDED  VALUE  FOR  THE  DANUBE  REGION  STRATEGY
The competitiveness of Hungarian inland ports suffers from obsolete infrastructure and outdated technologies.
OBJECTIVE(S)  OF  THE  PROJECT
The overall objective of the project is to develop an integrated inland port ICT application to streamline administrative formalities through better use of information, communication and positioning technologies. To deliver on the overall objective, the project will develop, test and validate an integrated inland port information system in line with the provision of Commission Regulation (EC) No 414/2007 of 13 March 2007. In addition, the Action will analyse cross-border options and opportunities for interconnection. The project addresses the overall development of Hungarian TEN-T ports.
PLANNED  PROJECT  ACTIVITIES
The project consists of four activities:
project management;

design of pilot system;

pilot system implementation and testing, and

exploitation of results.
TRANSBOUNDARY  IMPACT
The project will have positive impacts on competitiveness of inland waterway transport, modal split, traffic management, service quality, safety and security.
PROJECT  BENEFICIARIES  /  TARGET  GROUPS
Port and terminal operators, shippers, forwarding companies, relevant (port) authorities, etc.
STATUS  AND  TIMEFRAME
Start date: September 2017
End date: December 2022
FINANCING
Total budget: EUR 997,500
EU funds: EUR 847,875 funded by Connecting Europe Facility (CEF) 2014 – 2020 
National funds: EUR 149,625
PROJECT  TEAM
Project leader: Hungarian Ministry of National Development (website: www.nfm.gov.hu)
Address: Fő utca 44-50, 1011 Budapest / Hungary
Contact data: cef@nfm.gov.hu
EUSDR  EMBEDDING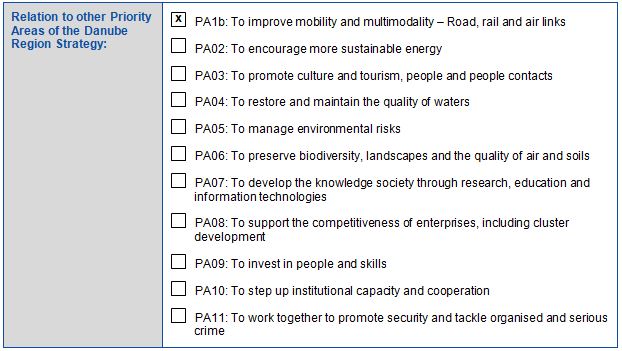 EUSDR  COMPLIANCE
META  DATA
Data provided by: INEA website, project information (update provided by viadonau) – 28.06.2018