BASIC  PROJECT  DATA
Project ID: PA1A031
Project website: www.viadonau.org/fgp
NEED  AND  ADDED  VALUE  FOR  THE  DANUBE  REGION  STRATEGY
On a section with a total length of about 48 km, from the Freudenau hydro power plant in Vienna to the Austrian-Slovakian border, the Danube still has its free-flowing character. Due to reduced sediment transport downstream of the hydro-power plant in Vienna, a degradation of the riverbed has taken place, resulting in a decoupling of the river and its floodplains as well as in falling groundwater levels.
Additional ecological deficits have been caused by river engineering structures which were erected in the past centuries and which endanger the habitats of the typical local flora and fauna of the Donau-Auen National Park. Regarding navigable conditions, there are inadequate fairway depths and restricted fairway widths in this section, which negatively affect the competitiveness of inland waterway transport, both in Austria and on an international level, as the majority of transports on the Danube waterway is of international and long-distance character.
The Catalogue of measures for the Danube east of Vienna is the result of an integrative planning process and a multi-year concept based on a pilot project phase, offering compatible solutions for both navigation and ecology (see planned activities below). This interdisciplinary planning approach is often described as best practice, especially due to the extent of stakeholder participation, which may serve as role model for other infrastructure efforts.
OBJECTIVE(S)  OF  THE  PROJECT
The river engineering measures for the Danube east of Vienna are the result of an integrative approach and follow the subsequent three objectives:
Stabilization of water levels (counteracting riverbed degradation)

Improvement of ecological conditions (especially of the Danube floodplain habitats)

Improvement of nautical conditions in low-water periods
PLANNED  PROJECT  ACTIVITIES
The Catalogue of Measures contains both procedures of everyday business operations (maintenance activities) and river engineering optimisation projects:
Bedload management in order to stabilize surface and ground water levels (bedload redistribution and the addition of gravel) as well as safeguarding of critical areas prone to riverbed erosion.

Optimisation of regulating structures (e.g. groynes) in order to ensure navigability also during low water periods and to reduce operating costs of waterway infrastructure. In areas of riverbed erosion, regulating measures can be moderately reduced by widening the channel to relieve pressure on the riverbed.

River bank restorations (removal of stone armouring) and reconnection of side-arms to improve ecological conditions. These measures also contribute to reduce riverbed degradation and lower flood water levels.

Additional small-scale measures are planned such as the further development of the interface between waterway and traffic management.
Scientific accompaniment of these measures guarantees a constant learning process. Furthermore stakeholder participation plays an important role in order to meet the interdisciplinary targets.
TRANSBOUNDARY  IMPACT
As the transport of goods on the Danube and its tributaries has an international and long-distance character, the entire Danube region benefits from the measures. The restoration measures will also improve the Danube's function as an ecological corridor and a lifeline with positive effects especially on the wetlands of the trilateral Danube-Morava-Thaya region.
PROJECT  BENEFICIARIES  /  TARGET  GROUPS
Shippers

Navigation companies/transport operators

Forwarding agents

Donau-Auen National Park
STATUS  AND  TIMEFRAME
Start date: 2005
End date: 2030
NOTES
Within the conception- and pilot-project-phase, six pilot projects were realised to gain experience and to reduce technical and economic risks. These projects addressed all measures foreseen on the Danube east of Vienna and were accompanied by scientific monitoring. A tailored stakeholder participation model was implemented in 2012.
Based on the outcomes of this phase and considering current developments in waterway and traffic management, the Catalogue of Measures was designed to achieve both ecological and nautical conservation targets on the Danube east of Vienna. The catalogue consists of maintenance and conservation activities as well as separate optimisation projects. Besides involving various different interest groups, the scientific monitoring and accompaniment of measures, plays an important role in finding and achieving socially and environmentally compatible solutions.
FINANCING
Total budget: approx. 222 Mio. EUR (index 2016)
EU funds: The conception- and pilot-project-phase was co-financed by TEN-T Multi-Annual Programme (MAP) 2007 – 2013 until 2015. Additional funding is needed to achieve the objectives within the planned timetable.
National funds: State budget is assigned on the basis of a long-term agreement and the actual government programme, but based on yearly budgets.
PROJECT  TEAM
Project leader: via donau – Österreichische Wasserstraßen-Gesellschaft mbH / Austria
(website: www.viadonau.org)
Address: Donau-City-Straße 1, 1220 Wien / Austria
Project partner: Federal Ministry for Transport, Innovation and Technology / Austria
PROJECT  ENVIRONMENT
STRATEGIC  REFERENCE
Communication from the Commission on the promotion of inland waterway transport "NAIADES" – an integrated European action programme for inland waterway transport (SEC(2006) 34)

Rhine-Danube Core Network Corridor of the Connecting Europe Facility (CEF) of the European Union

Austrian National "Actionprogramme Danube 2022" of the Austrian Federal Ministry of Transport, Innovation and Technology (Aktionsprogramm Donau des bmvit bis 2022)

Austrian Government Programme 2013-2018, Section "Traffic and Infrastructure"

Austrian Implementation of the Water Framework Directive

(already expired) transport master plan "Gesamtverkehrsplan" for Austria until 2015 of the Austrian Federal Ministry of Transport, Innovation and Technology
RELEVANT  LEGISLATION
Measure pursuant to the Austrian Federal Waterways Act 2004; §2, sub-section 1

National legislation (water, navigation, environmental, and others)

Water Framework Directive
OTHER
The integrative planning process and the measures are described in the "Joint Statement on Inland Navigation and Environmental Sustainability in the Danube River Basin" and the PLATINA Manual for sustainable waterway planning and are also referenced in the guidance document "Inland waterway transport and Natura 2000" by the European Commission.
EUSDR  EMBEDDING
EUSDR  COMPLIANCE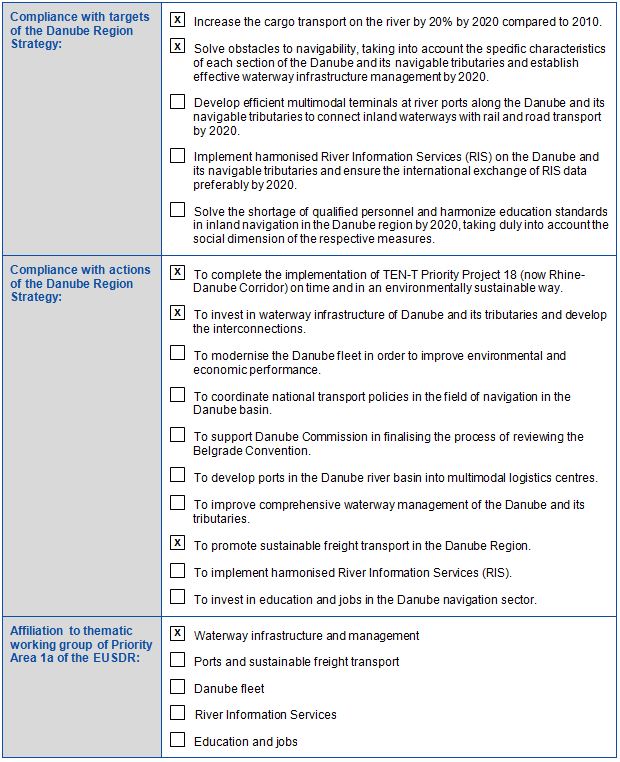 OTHER  RELEVANT  ISSUES
PROJECT  REQUIREMENTS
The planned measures are realized in the environmentally sensitive area of the Donau-Auen National Park. Therefore it was essential to incorporate the needs of this precious ecosystem in the project.
Interdisciplinary planning and stakeholder involvement are key issues for the successful implementation.
META  DATA
Data provided by: via donau – Österreichische Wasserstraßen-Gesellschaft mbH, Austria – 17.02.2012
Last update by: via donau – Österreichische Wasserstraßen-Gesellschaft mbH, Austria – 09.08.2017
Download pdf