BASIC  PROJECT  DATA
Project ID: PA1A019

NEED AND ADDED VALUE  FOR  THE  DANUBE  REGION  STRATEGY
IRIS Europe 3 – as international multi-beneficiary project – contributed significantly to fulfilling the objectives as laid down in Priority Area 1a of the EU Strategy for the Danube Region – to improve mobility and multimodality on inland waterways.
All Danube countries were involved either as fully financed or as cooperation partners within IRIS Europe 3. The beneficiaries of IRIS Europe 3 were the European Union Member States, represented by their Ministries of Transport.
OBJECTIVE(S)  OF  THE  PROJECT
IRIS Europe 3 ensured the continuation of RIS implementation in Europe and provided the necessary cooperative implementation framework for setting up pilot implementations for Quality of Information Services for RIS, nationally and internationally. Quality aspects for international RIS data exchange on technical, legal and organisational level were implemented, so that enhanced pilot implementations of new RIS services based on existing and new RIS key technologies could be implemented. New and enhanced interfaces to European Services were pilot implemented and validated, and continuous contributions to the maintenance and amendment of Standards and technical specifications were provided.
CONDUCTED  PROJECT  ACTIVITIES
Alignment of RIS Service Qualities, especially in the Danube region. Main objective was to improve the interoperability between the national RIS implementations and to elaborate, agree and establish a RIS service catalogue. Service based architectures for RIS were elaborated, where the multitude of basic data / reference data for the provision and seamless operation of RIS were analysed and inventoried. Through these measures it was possible to achieve a higher consistency and coherency of data, and changes (e.g. in the RIS related Standards) can be easier implemented on national level.
Further enhancement of the international exchange of RIS data, on legal, organisational and technical level. Main objective was that IRIS Europe 3 becomes an enabler for the pilot operation of the international RIS data exchange, as it was established within IRIS Europe II. There were several unsolved challenges that required special attention within IRIS Europe 3. This specifically refers to the Service Agreements for the international RIS data exchange in Europe that required a European platform for further discussion and eventual conclusion of such Service Agreements, including a further support from the IRIS Europe 3 Members States towards a supplementation of the EU RIS Directive 2005/44/EC with provisions for the international data exchange. This also applies to the data exchange with the European Services as established by PLATINA. IRIS Europe 3 facilitated the interoperability and compatibility of the required national interconnections to the European Services, and established new interconnections.
Implementation of pilot installations of new and innovative services and applications, for example the Inland Navigation Receiver (INAV Receiver) as follow-up activity of the Low Cost Heading Device. Furthermore, feasibility studies and pilot implementations of assistance systems for fuel saving (Low Cost Fuel Saving Device), mobile RIS applications and enhanced reference stations for the improvement of positioning information (Virtual Reference Station) as basis for new navigational support services were conducted.
Enhancement of the interfaces for logistics and governmental stakeholders. This included further developments of RIS for logistics, as initially investigated by the FP7 Research and Development project RISING. Value added services based on RIS were analysed and brought towards pilot implementation / operation. New governmental user groups were integrated into RIS, providing for example supporting services for waste management in inland navigation, or for improving and streamlining the calamity and incident management process with the support of RIS.
Improvement of Fairway Information Services through pilot implementation of bathymetric Inland Electronic Navigations Charts (IENC) and the integration of low water section information. Also the international exchange of IENCs was facilitated by means of pilot implementations and the facilitation of the standardisation process of such IENC data exchange. For RIS network data (e.g. data contained in the RIS Index) an alignment with the INSPIRE Directive was sought, and pilot implementations of enhanced reference data management were performed.
Support the transition from pilot operation into regular RIS operation. Main objective was to establish a cooperation in which RIS providers can exchange experiences and best practice in terms of RIS provision and operation. This shall enable an alignment of the operational RIS parameters and shall help the RIS providers to perform their daily tasks more efficiently. The elaboration of a RIS Service Catalogue and a sustainable RIS operation concept formed the focal points of this activity.
Establish and provide a cooperation forum for RIS authorities, RIS providers, fairway and traffic authorities, waterway management organisations, logistics stakeholders, representatives from the RIS industry (RIS Stakeholder Forum), in close cooperation with the RIS Expert Groups and the supporting structures established by PLATINA.
TRANSBOUNDARY  IMPACT
Directly involved countries (beneficiaries): Austria, Slovakia, Hungary, Bulgaria, Romania, Czech Republic, Poland
Countries involved though cooperation agreements (cooperation partners): Germany, Croatia, Serbia, Ukraine, France, The Netherlands, Belgium
PROJECT  BENEFICIARIES  /  TARGET  GROUPS
Direct beneficiaries are the Fairway, Traffic and RIS Authorities and the related RIS Providers of the participating countries. Indirect beneficiaries of the further enhancement of River Information Services within IRIS Europe 3 are the commercial users of the waterway, as they receive value-added services, increased interoperability and quality of River Information Services especially along the Danube corridor.
STATUS  AND  TIMEFRAME
Start date: 01.01.2012
End date: 31.12.2014
The project is already concluded.
FINANCING
Total budget: 10,460,000 EUR
EU funds: 5,230,000 EUR were funded by TEN-T Multi-Annual Programme (MAP) 2007 – 2013
National funds: 5,230,000 EUR
PROJECT  TEAM
Project leader: Austrian Ministry of Transport, Innovation and Technology (Coordinating applicant)
via donau – Österreichische Wasserstraßen-Gesellschaft mbH (Coordinator)
(website: www.viadonau.org)
Address: Donau City Straße 1; A-1220 Vienna / Austria
Project partner(s):
Federal Ministry of Transport, Innovation and Technology (AT)

via donau – Österreichische Wasserstraßen-Gesellschaft mbH (AT)

Ministry of Transport, Information Technology and Communications (BG)

Bulgarian Ports Infrastructure Company (BG)

Ministry of Transport of the Czech Republic, Navigation Department (CZ)

Ředitelství vodních cest ČR (Czech Waterway Directorate) (CZ)

Státní plavební správa (State Navigation Administration) (CZ)

Ministry of National Development (HU)

RSOE – Rádiós Segélyhívó és Infokommunikációs Országos Egyesület (HU)

Ministry of Infrastructure (PL)

Inland Navigation Office in Szczecin (PL)

AFDJ – River Administration of the Lower Danube (RO)

Ministry of Transport and Infrastructure (RO)

Ministry of Transport, Constructions and Regional Development (SK)
PROJECT  ENVIRONMENT
PROJECT  CROSS – REFERENCE
Vessel Traffic Management Centres of the Future (NL / DE project proposal within TEN-T)

IRIS Europe II (PA1A008, preceding project), RISING (PA1A106) and RIS COMEX (PA1A120)
STRATEGIC  REFERENCE
The European Commission White Paper 2011 for Transport
On 28.03.2011 the European Commission published its White Paper 2011 for transport titled "Roadmap to a Single European Transport Area – Towards a competitive and resource efficient transport system" (COM 2011/144). The White Paper 2011 contains strategic provisions for the European transport policy within a time horizon until the year 2050. It defines objectives and measures to be taken to achieve these objectives laid down in the White Paper. Specifically related to inland navigation the main objectives are to achieve a decarbonisation by minus 70% until 2050 (compared to 2008) and to shift 30% up to 50% of overall road transport towards inland navigation and railway transport by establishing efficient co-modality.
Proposed measures to achieve these ambitious objectives contain among others the establishment of a TEN-T Core Network until 2030, the creation of an organisational framework for inland navigation and the further development and implementation of River Information Services, also in direction of efficient transport management (e-freight). IRIS Europe 3 significantly contributed to the further development and implementation RIS.
NAIADES Action Programme
In January 2006, the multi-annual European Action Programme for Inland Waterway Transport (NAIADES) which aims at promoting inland waterway transport in Europe was launched. It includes recommendations for action to be taken between 2006 and 2013 by the European Community, its Member States, River Commissions and the inland navigation sector. The implementation of RIS is an important element of the strategic area 'Infrastructure'. Several Member States have launched their national NAIADES actions plans (e.g. the NAP in Austria, NAP in Slovakia) and especially in the light of the actual developments for a European NAIADES II Action Programme (from 2014 onwards), IRIS Europe 3 is seen by its beneficiaries and cooperation partners as the driving force for the further development and implementation of interoperable RIS in Europe.
The EU Strategy for the Danube Region
On 08.12.2010 the European Commission published its communication on the European Union Strategy for the Danube Region (COM 2010/715). The Strategy provides a sustainable framework for policy integration and coherent development of the Danube Region. It sets out priority actions by means of a comprehensive Action Plan that is based on four main pillars. It is stated in the Action Plan that once an action or project is included in the Action Plan, it should be implemented by the countries and stakeholders concerned.
"To implement harmonised River Information Services (RIS)" is one of the key actions within the priority area "To improve mobility and multimodality", whereas the IRIS Europe initiative is mentioned as a concrete project example "To build on the IRIS Europe projects – support the co-ordinated implementation of River Information Services (RIS) in Europe" (cf. page 13, Action Plan). Thus the continuous implementation of RIS in the Danube region is of utmost importance, so it was deemed logical to build up on the IRIS Europe initiative and continue (pilot) implementation of RIS in an IRIS Europe 3 project.
Strategic Transport Technology Plan (STTP)
The European Commission is currently developing a strategic framework for future transport research, innovation and deployment, based on a vision for an integrated, efficient and environmentally friendly European transport system by 2050. Transport Management and Information Systems, and also fuel saving techniques / technologies play a significant role within the STTP. IRIS Europe 3 as a cooperative, multinational project with focus on interoperable River Information Services contributed to the strategic agenda of the Transport Technology Plan in several aspects related to inland navigation, by increasing its integrity, efficiency and environmental friendliness through interoperable information systems on the European waterways.
Freight Transport Logistics Action Plan
Within the Freight Transport Logistics Action Plan the European Commission has outlined the concept of e-Freight. This concept is a vision of a paper-free, electronic flow of information accompanying the physical flow of goods with a paperless trail built by information and communication technologies. It includes the ability to track and trace freight across transport modes and to automate the exchange of content related data for regulatory or commercial purposes. Freight should be identifiable and locatable regardless of the mode used to transport it.
For this to happen, standard interfaces within the various transport modes are required to be interoperable across modes. River Information Services form an important element of e-Freight. IRIS Europe 3 specifically focused on the e-Freight aspects and the enhancement of the interfaces for the logistics sector within Sub-Activity 4.2.
Transport Council conclusions of 16th June 2011
The conclusions of the council of the European Ministers of Transport on the way ahead towards integrated and competitive EU inland waterway transport consider the further development and deployment of River Information Services (RIS) vital as a tool for safe, efficient and competitive inland waterway transport as well as for effective supply chain management. Particular attention should be paid to the technical interoperability notably with other modal systems, such as SafeSeaNet, e-Maritime, e-Freight, and e-Customs, without prejudice to the competence of national and international authorities.
National Action Plans for inland navigation
In Austria for instance, the inland navigation policy relied on the National Action Plan (NAP) on Danube Navigation – a dynamic planning and decision-making instrument that determined Austrian waterway transport up to 2015. In 2015 the follow-up programme "Action Programme Danube until 2022" was adopted. The NAP and now the Action Programme are based on a package of measures, which were drawn up upon the order of the Austrian Ministry of Transport, Innovation and Technology by via donau in close co-operation with all other relevant players of the field. The NAP and now the Action Programme stress the importance of inland navigation for transport policy. Inland navigation was also made one of the core issues of Austria's EU Presidency in the first half of 2006.
RELEVANT  LEGISLATION
Among others, the most important legislative acts are:
Directive 2005/44/EC on harmonised River Information Services (RIS) on inland waterways in the Community

Commission Regulation (EC) No 415/2007 concerning the technical guidelines for the planning, implementation and operational use of River Information Services (RIS Guidelines)

Commission Regulation (EC) No 415/2007 concerning the technical specifications for vessel tracking and tracing systems (Inland AIS Standard)

Commission Regulation (EC) No 416/2007 concerning the technical specifications for Notices to Skippers (Notices to Skippers Standard)

Commission Regulation (EU) No 164/2010 on the technical specifications for Electronic Reporting in inland navigation (ERI Standard)

Commission Regulation concerning the technical specifications for Inland Electronic Chart Display and Information Systems (Inland ECDIS Standard)
EUSDR  EMBEDDING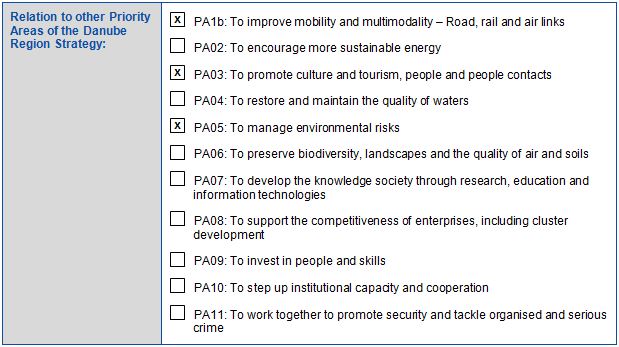 EUSDR  COMPLIANCE
OTHER  RELEVANT  ISSUES
PROJECT  REQUIREMENTS
The international exchange and the provision of RIS related information to logistics users were deemed to be the most critical issues. The support of all Danube countries and the signing of the necessary Service Agreements for data exchange by the responsible authorities was a mandatory requirement for enabling the international data exchange and for making the IRIS Europe initiative a success. In few Danube countries this support is still lacking behind, and the implementation of the EU Strategy for the Danube region is seen as an enabler for these countries to finally commit to a legally sound and harmonised RIS data exchange.
ANY  OTHER  ISSUES
The IRIS Europe initiative is the only RIS implementation initiative on a European scale.
META  DATA
Data provided by: Mario Sattler (viadonau, Austria) – 14.12.2011
Last update by: Mario Sattler (viadonau, Austria) – 27.03.2013
Download pdf