BASIC  PROJECT  DATA
Project ID: PA1A142
NEED  AND  ADDED  VALUE  FOR  THE  DANUBE  REGION  STRATEGY
The port of Komárom, located at river km 1,767 of the Danube, in the proximity of both Bratislava and Budapest, is a crossroad for flows and transhipment of freight between inland waterway, rail and road transport. Its development, in line with the project related to the construction of the bridge linking the Hungarian port of Komárom and the Slovak port of Komárno, will contribute to enhance the connections between different modes of transport allowing an increase of freight handled along the Slovak–Hungarian sections of the Danube and the overall Rhine-Danube core network corridor.
OBJECTIVE(S)  OF  THE  PROJECT
The project aims to improve basic ports infrastructures, provide access to the inland ports and foster their connections with road and inland waterway networks. The outcome of the studies will lay the ground for future port development by setting strategic directions and development priorities after 2020.
The preparation of the Master Plan, Feasibility study and 20 case studies for the overall ports development along the Hungarian section of the Danube will be coordinated with the "Master Plan and feasibility study for the Komárno port" (PA1A141) elaborated by Public Ports jsc. of Slovakia.
TRANSBOUNDARY  IMPACT
Danube countries, increase in the inland water transport mode as one of the environmentally friendly transport modes. The modal shift can have positive impact on the overall transport relations.
PROJECT  BENEFICIARIES  /  TARGET  GROUPS
Port operators

Port tenants

Forwarding companies
STATUS  AND  TIMEFRAME
Start date: August 2016
End date: Dezember 2018
FINANCING
Total budget: 1,046,686 EUR
EU funds: 889,683 EUR are being funded by Connecting Europe Facility (CEF) 2014-2020 
National funds: 157,003 EUR
PROJECT  TEAM
Project leader: Hungarian Ministry of National Development (website: https://nif.hu/)
Address: Fő utca 44-50, 1011 Budapest / Hungary
Contact person: Beatrix Horváth (Ministry of National Development – Head of CEF Department)
Contact data: cef@nfm.gov.hu
PROJECT  ENVIRONMENT
PROJECT  CROSS – REFERENCE
Master Plan and feasibility study for the Komárno port (PA1A141)
STRATEGIC  REFERENCE
The project addresses key priorities of the European Union transport policy such as:
Europe 2020, strategy for smart, sustainable and inclusive growth: to comply with reducing greenhouse gas emissions by 20% (or even 30%, if the conditions are right) lower than 1990, reduce energy consumption by 20% through increased energy efficiency, to meet 20% of energy needs from renewable sources

The White Paper on Transport – 2030/2050 perspective (2010) & Single Market Act II: emphasize the need for well-connected port infrastructure, efficient and reliable port services and transparent port funding

Ports: an engine for growth COM (2013) 295 final: setting up the EU strategy needed to help ports implement good practices and sound managerial approaches while fully respecting diversity and particular circumstances
EUSDR  EMBEDDING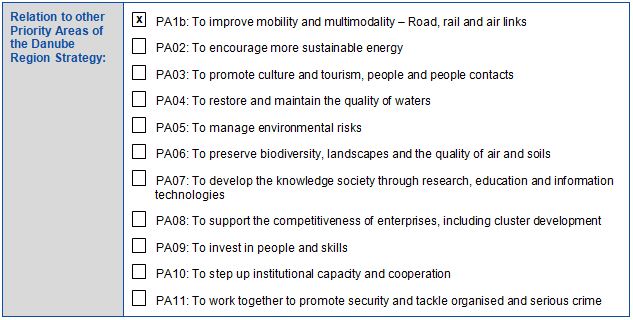 EUSDR  COMPLIANCE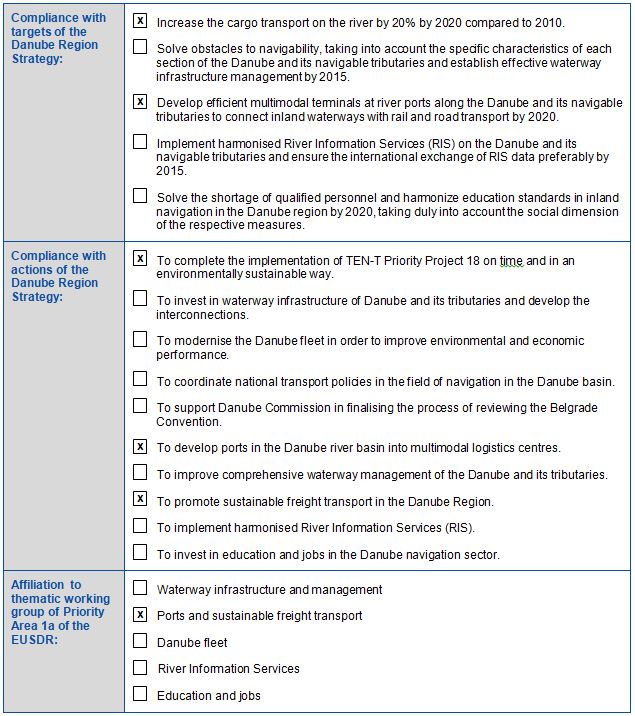 META  DATA
Data provided by: INEA website, project information (update provided by viadonau) – 28.06.2018