BASIC  PROJECT  DATA
Project ID: PA1A062

NEED  AND  ADDED  VALUE  FOR  THE  DANUBE  REGION  STRATEGY
Provision of cost-efficient retrofit solutions dedicated to existing Danube vessels, contributing to a modernisation of the Danube fleet.
OBJECTIVE(S)  OF  THE  PROJECT
Development of cost effective concepts for retrofitting and technologies for the improvement of the economic efficiency and environmental friendliness of inland ships.
CONDUCTED  PROJECT  ACTIVITIES
The project aimed at the modernisation of existing inland ships applying state-of-the-art knowledge and technology transfer from other transport modes. The project activities consisted of:
Determination of the framework conditions and the requirements for the retrofitting of existing inland ships, whereby retrofit options related to new operational requirements as well as adaptation to new markets were considered.
Development of cost-effective concepts of retrofitting for inland ships, which carry dangerous goods, in agreement with the regulations of the ADN.
Development of cost-effective solutions for improving the energy efficiency and reduction of exhaust gas emissions and noise by improving ships' hydrodynamics, propulsion and engine technology. Application of new technologies based on usage of alternative fuels (e.g. LNG), innovative systems for energy recovery and improved management of energy consumption.
Economic and ecological evaluation of the concepts developed.
Demonstration of the viability of selected concepts.
Dissemination of project results and stimulation of the implementation of the concepts developed.
TRANSBOUNDARY  IMPACT
The results of the project are applicable to all Danube countries.
PROJECT  BENEFICIARIES  /  TARGET  GROUPS
Shipping companies
Shipyards
STATUS  AND  TIMEFRAME
Start date: 01.11.2011
End date: 31.10.2014
The project is already concluded.
FINANCING
Total budget: 3,960,000 EUR
EU funds: 2,790,000 EUR were funded by FP7- Seventh Frameworkprogramme for Research and Technological Development "TRANSPORT" 2007 – 2013 (research area: SST.2011.5.2-3. Cost-effective modernization of the inland fleet for freight transport)
National funds: not disclosed
Private funds: not disclosed
PROJECT  TEAM
Project leader: Stichting Maritiem Research Instituut Nederland (MARIN) / The Netherlands
(website: www.marin.nl)
Address: Haagsteeg 2, P.O. Box 28; 6700 AA Wageningen / The Netherlands
Project partner(s):
MARIN / The Netherlands
DST / Germany
via donau / Austria
TU Delft / The Netherlands
Center of Maritime Technologies / Germany
SPB / The Netherlands
TNO / The Netherlands
Ecorys / The Netherlands
Autena Marine / The Netherlands
SMILE / Germany
University of Plymouth / United Kingdom
University Galati / Romania
Ship Studio Sarl / France
University Belgrade / Serbia
Compagnie Fluviale de Transport / France
Ship Design Group / Romania
VNF / France
Swerea Sicomp / Sweden
Thyssenkrupp Veerhaven / The Netherlands
Helogistics / Austria
Plimsoll / Hungary
University Budapest / Hungary
Masson Marine / France
PROJECT  ENVIRONMENT
PROJECT  CROSS – REFERENCE
Innovative Danube Vessel (PA1A010) and PROMINENT (PA1A112)
RELEVANT  LEGISLATION
European Agreement concerning the International Carriage of Dangerous Goods by Inland Waterways (ADN)
emission regulations (EU, CCNR)
EUSDR  EMBEDDING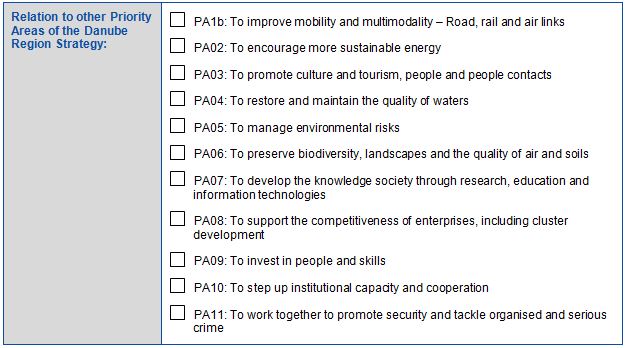 EUSDR  COMPLIANCE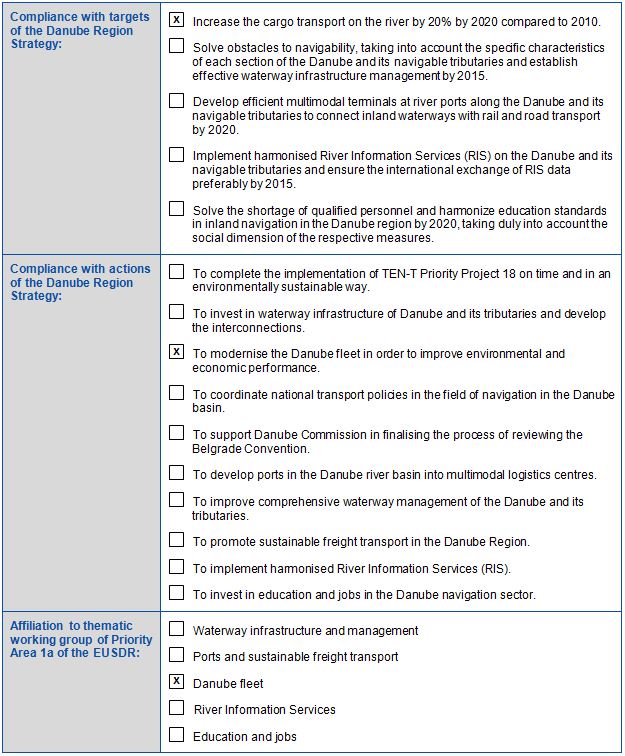 META  DATA
Data provided by: Juha Schweighofer (via donau, Austria) – 20.02.2012
Last update by: Juha Schweighofer (via donau, Austria) – 25.03.2013
Download pdf