BASIC  PROJECT  DATA
Project ID: PA1A009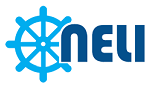 NEED  AND  ADDED  VALUE  FOR  THE  DANUBE  REGION  STRATEGY
The Action Plan issued within the European Strategy for the Danube Region highlights that "Danube navigation is currently experiencing a shortage of nautical personnel, which is also caused by limited training and education opportunities in the Danube countries. Existing education institutions use different curricula. In order to facilitate labour availability and mobility at the European level, common education and training profiles should be pursued. Within this framework, the Danube countries should attract and educate young people for the profession of Danube crewman. Companies involved in inland waterways transport (ports, shipping companies, customers, etc.) and educational and research bodies should establish educational platforms and networks to increase competitiveness and competence of all actors."
With NELI (www.neliproject.eu, SEE 1st Call for proposals) such a network was created and first joint activities were implemented in order to harmonise and improve education and training in the field of inland navigation (e.g. IT-based common learning tools, three harmonised courses – River Information Services, Logistics, Inland Navigation and Ports, conception and piloting of Information and Training Centres in Romania, Austria, Croatia and Hungary). A jointly developed NELI Transnational Action Plan identified further concrete measures to mitigate the shortages discovered.
OBJECTIVE(S)  OF  THE  PROJECT
The project established a cooperation network between stakeholders from inland waterway transport (IWT), research / education and administrative sectors along the Danube corridor in order to develop balanced capacities for trans-national cooperation in the field of logistics and nautical education and training including regional policy support actions.
CONDUCTED  PROJECT  ACTIVITIES
Establish a cooperation network among the different organisations active in the inland waterway navigation sector with a view to facilitating the exchange and future cooperation regarding educational and training matters

Design and implement eLearning services for the inland navigation aimed at reducing digital divide among the regions in the South East Europe

Conceive and implement Information and Training Centres (at Galati in Romania and at Ennshafen in Austria)

Increase public awareness on the role and importance of new innovative teaching methods in the field of inland navigation in order to promote the specific activities among youngsters
TRANSBOUNDARY  IMPACT
Austria, Slovakia, Hungary, Romania, Bulgaria, Serbia, Croatia, Ukraine
PROJECT  BENEFICIARIES  /  TARGET  GROUPS
Training and education institutions providing IWT curricula

Inland navigation sector

General public (visitors of the Information and Training Centres)
STATUS  AND  TIMEFRAME
Start date: 01.04.2009
End date: 31.03.2012
The project is already concluded.
FINANCING
Total budget: 2,167,820 EUR
EU funds: 1,624,646 EUR (European Regional Development Fund)
                      112,845 EUR (Instrument for Pre-Accession Assistance)
funded by South East Europe Transnational Cooperation Programme (SEE) 2007 – 2013
National funds: 286,703 EUR (State budget and budget of project partners)
PROJECT  TEAM
Project leader: CERONAV – Romanian Maritime Training Centre / Romania (website: www.romtc.ro)
Address: Str. Pescarilor nr. 69A; 900581 Constanta / Romania
Project partner(s):
via donau – Österreichische Wasserstraßen-Gesellschaft mbH / Austria

Ennshafen Oberösterreich GmbH / Austria

University of Applied Science Upper Austria Research & Development Ltd / Austria

EAMA – Executive Agency "Maritime Administration" / Bulgaria

Budapest University of Technology and Economics / Hungary

National Association of Radio Distress-signalling and Infocommunications / Hungary

University of Craiova, Faculty of Engineering and Management of Technological Systems / Romania

Romanian Naval Authority / Romania

Technical University of Košice, Faculty of Manufacturing Technologies with a seat in Prešov / Slovakia

University of Žilina, Department of Water Transport / Slovakia

Faculty of Transport and Traffic Sciences / Croatia

Inland Navigation Development Centre Ltd. / Croatia

School of shipping, shipbuilding and hydrobuilding / Serbia

Odessa National Maritime Academy / Ukraine
PROJECT  ENVIRONMENT
PROJECT  CROSS – REFERENCE
especially 

Danube SKILLS

 – Increased institutional capacity of the Danube region by build-up of joint transnational capacities of education and public services for inland waterways (PA1A124)
and HINT – Harmonized Inland Navigation Transport through Education and Information Technology (PA1A018)

EWITA – European Web Platforms and Training Concepts for Intermodal Inland Waterway Transport

PLATINA – Platform for the Implementation of NAIADES

EDINNA – Standards for Training and Certification in Inland Navigation
STRATEGIC  REFERENCE
The EU's NAIADES Action Programme which requests jobs and skills for the European inland navigation sector. This is due to staff and entrepreneurial shortages, which are the main problems in this business sector. NELI mainly addressed the training of river personnel within a harmonized education framework. It also focused on the attraction of youngsters towards jobs in IWT sector as well as cooperation between specialized education and training institutions across Danube riparian countries.
The EU cohesion policy (2007-2013), Priority: Territorial co-operation to which NELI contributed by having established a joint cooperation network consisting of organisations coming from almost the entire SEE-Danube regions (AT, SK, HU, HR, RS, BG, RO and UA).
OTHER
Outputs of EWITA and PLATINA
EUSDR  EMBEDDING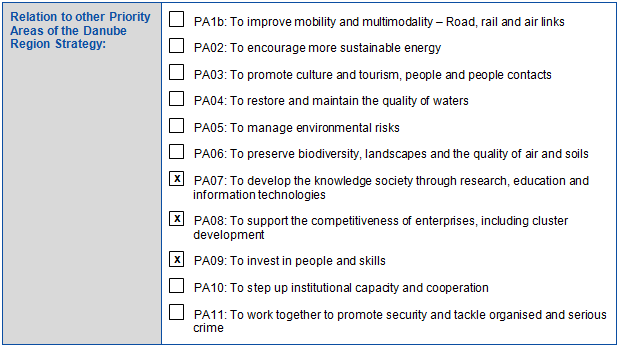 EUSDR  COMPLIANCE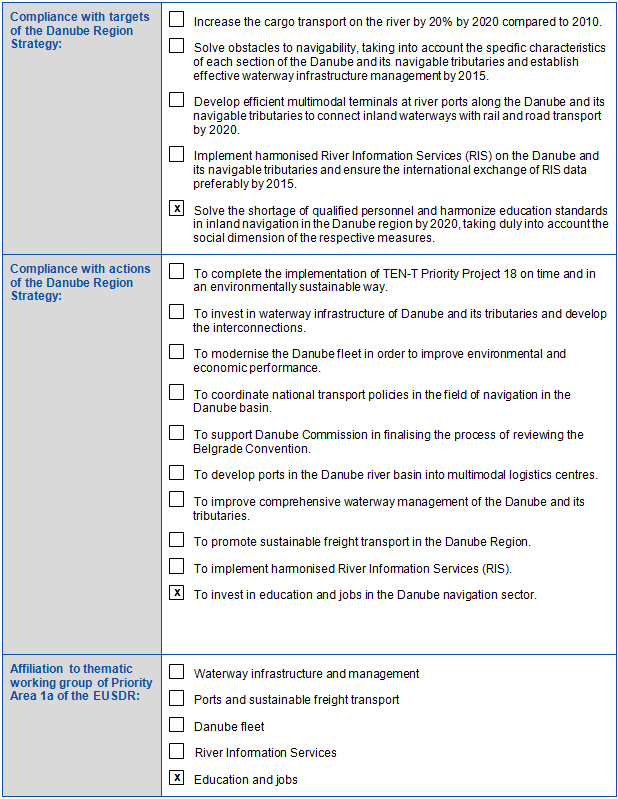 OTHER  RELEVANT  ISSUES
PROJECT  REQUIREMENTS
A balanced consortium with a large coverage in terms of geographic area and interests. Maximum duration of the project – 36 months.
FOLLOW – UP  PROJECT
A follow-up project is planned to be submitted under the SEE 4th Call for proposals. It will capitalize NELI results and will establish a unique harmonized theoretical and practical training system in inland navigation in the Danube region. The outputs delivered by the projects include, among others, harmonized concepts for training ship, inland navigation simulator and transhipment simulator and will define the minimum requirements for education, training and certification in inland navigation, thus paving the way for the mobility of inland navigation personnel throughout the entire Danube region and beyond.
The job promotion campaign using the instruments developed in PLATINA will offer a higher visibility of career opportunities in inland navigation and will thus mitigate the lack of staff in the inland waterway navigation sector in Europe.
META  DATA
Data provided by: Ana Leganel (CERONAV, Romania) – 07.06.2012
Download pdf.