BASIC  PROJECT  DATA
Project ID: PA1A015
Project website: www.newada-duo.eu

NEED  AND  ADDED  VALUE  FOR  THE  DANUBE  REGION  STRATEGY
Currently, different qualities of service exist concerning the maintenance of the Danube waterway infrastructure and the provision of information on the current status of the fairway with a focus on the users of the Danube waterway.
The partnership of the already concluded NEWADA duo project helped to achieve noticeable progress in waterway management along the entire course of the Danube. Project partners were Danube waterway administrations, as these are the responsible organisations within a country with respect to waterway maintenance and development issues. The project featured a wide horizontal but also vertical representation of the partnership by involving ministries, regional directorates and international organisations as well.
OBEJCTIVE(S)  OF  THE  PROJECT
The main objective of the project was to achieve a common level of service along the Danube in all areas of the maintenance cycle, i.e. monitoring and surveying of the riverbed (hydrology and hydrography), dredging of shallow areas, realignment of the fairway and provision of customer-oriented information via different tools and services.
CONDUCTED  PROJECT  ACTIVITIES
Improved waterway management: Integrated, sustainable and regionally coordinated waterway management based on commonly defined performance indicators; expert exchange on ecological aspects of waterway management with reference to the Joint Statement and the PLATINA Manual on Sustainable Waterway Planning; pilot action on functional electronic waterway maintenance management system; concept for cross-section database of bathymetric data

Enhanced waterway maintenance: Improved and coordinated performance in waterway maintenance, i.e. surveying and dredging, based on the strategic concept of the "waterway maintenance cycle"; national gap analyses on the resources needed for reaching the agreed-on performance indicators

Improved customer orientation: Enhanced Electronic Navigational Charts, atlas of berths; paper charts on the Danube waterway; pilot action on feasibility of enhanced provision of information on available fairway depths by making use of depth information provided by vessels' echo sounders

Harmonised basic data: Defined quality, scope and availability of data on waterway infrastructure with a focus on water levels, shallow sections and waterway marking plans; consolidated basic data in the fields of hydrology, hydrography and maintenance

Enhanced ICT: Harmonised and up-to-date fairway information services (FIS) provided online on the FIS Portal, i.e. shallow section information, water level information, water level forecasts, etc.; functional WLAN access points at locks and ports along the Danube; establishment and maintenance of virtual and remote-controlled aids to navigation (buoys etc.)

Increased visibility of waterway authorities: Improved communication skills; involvement of stakeholders; launch of Danube PR activities, e.g. Annual Report on Danube Navigation
TRANSBOUNDARY  IMPACT
Due to previous projects, there is already good cooperation and communication between waterway authorities within the Danube area. Nevertheless, resulting from the highly varied character of the Danube Region and the fact that waterway maintenance and development is a national responsibility of the riparian states of the Danube (ten different states are responsible for Danube waterway management out of which three are non-Member States of the EU), cooperation still needs to be strengthened and better coordinated.
Transnational and cross-border cooperation is necessary as the Danube waterway consists of about 1,150 km of national borders. Thus, waterway administrations shall deepen their cross-border cooperation with their neighbouring countries in order to avoid redundancies and facilitate the exchange of information. The users of inland navigation are interested in a seamless transportation link and expect services to be available in common quality along the entire Danube. These two things can only be achieved if the waterway administrations strengthen their cooperation and coordinate their future activities.
The continued harmonisation of efforts and taken measures established a level of efficiency and service which could not be achieved by isolated and non-coordinated activities of one riparian state alone. National priorities identified in the national strategies on waterway management (developed within the NEWADA project) must be harmonised with transnational ones. NEWADA duo established a transnational strategy on waterway management which was based on the "waterway maintenance cycle". Close cooperation with the Danube Commission, the International Commission for the Protection of the Danube River (ICPDR), the European TEN-T Coordinator and the Coordinators of the Danube Region Strategy's Priority Area 1a were a prerequisite in this respect.
PROJECT  BENEFICIARIES  /  TARGET  GROUPS
Target group and stakeholder involvement was a special focus of the project. All activities within the project were based on the strategic approach of "integrated waterway maintenance" which has a strong customer-orientation.
The most important target group of waterway administrations are the users of inland waterways (skippers, vessel operators, logistic service providers, port and terminal operator and authorities for inland navigation) performing freight and passenger transport by using the infrastructure provided and maintained by waterway administrations. Within NEWADA duo many activities took place that were directly based on information and feedback from this target group in order to be able to provide services according to their needs.
Ministries are also an important stakeholder as they are the "owner" of the waterway administrations and have an impact on future actions and therefore on the sustainability of project results. In order to achieve a high impact for stakeholders, different activities took place.
STATUS  AND  TIMEFRAME
Start date: 01.09.2012
End date: 31.08.2014
The project is already concluded.
FINANCING
Total budget: 2,239,287.20 EUR
EU funds: 1,513,198.22 EUR (European Regional Development Fund)
390,195.90 EUR (Instrument for Pre-Accession Assistance)
funded by South East Europe Transnational Cooperation Programme (SEE) 2007 – 2013
National funds: 335,893.08 EUR (state budgets of project partners)
PROJECT  TEAM
Project leader: via donau – Österreichische Wasserstraßen-Gesellschaft mbH / Austria
(website: www.viadonau.org)
Address: Donau-City-Strasse 1, 1220 Wien / Austria
Project partner(s):
Slovak Water Management Enterprise, state enterprise (SVP) / Slovakia

General Directorate of Water Management (OVF) / Hungary

National Association of Radio Distress-Signalling and Infocommunications (RSOE) / Hungary

River Administration of the Lower Danube Galati (AFDJ) / Romania

Administration of the Navigable Canals SH (ACN) / Romania

Executive Agency for Exploration and Maintenance of the Danube River (EAEMDR) / Bulgaria

Agency for Inland Waterways (AVP) / Croatia

Directorate for Inland Waterways (Plovput) / Serbia
PROJECT  ENVIRONMENT
PROJECT  CROSS – REFERENCE
Preceding project: NEWADA – Network of Danube Waterway Administrations (PA1A005)
Danube STREAM (PA1A126) and FAIRway Danube (PA1A108)
STRATEGIC  REFERENCE
Trans-European Transport Network: Among the objectives in developing the infrastructure of the TEN-T according to the Commission's Proposal for a Regulation on Union guidelines for the development of the trans-European transport network are the efficient use of infrastructure and the establishment of infrastructure requirements, notably in the field of interoperability, safety and security. Projects of common interest which provide efficient freight transport services shall in particular aim to improve the sustainable use of transport infrastructure, including its efficient management, and analyse, provide information on and monitor markets, fleet characteristics and performance, administrative requirements and human resources.

NAIADES Action Programme: The action proposed for the improvement of the multi-modal network in terms of waterway infrastructure is the elimination of missing links, strategic bottlenecks and crucial maintenance backlogs. Aiming at integrated waterway management based on the "waterway maintenance cycle", NAIADES duo clearly contributed to the elimination of crucial maintenance backlogs.

Europe 2020: Among the aims of the "Resource efficient Europe" flagship initiative under the Europe 2020 Strategy is the objective to develop smart, upgraded and fully interconnected transport and energy infrastructures and make full use of ICT as well as to ensure a coordinated implementation of infrastructure projects, within the EU core network. NEWADA duo was in line with these aims in providing a consolidated, Danube-basin wide approach to waterway management, serving as a basis for the coordinated implementation of infrastructure projects and waterway maintenance activities in the region.
Apart from strategies on the EU level, there are several national strategies for the development and promotion of inland waterway transport in the countries of the participating project partners in place.
RELEVANT  LEGISLATION
European Agreement of Main Inland Waterways of International Importance (AGN), done at Geneva on 19 January 1996, United Nations Economic Commission for Europe.

Recommandations relatives à l'établissement des gabarits du chenal, des ouvrages hydrotechniques et autres sur le Danube, Budapest 1988, Danube Commission.

Directive 2005/44/EC of the European Parliament and of the Council of 7 September 2005 on harmonised river information services (RIS) on inland waterways in the Community.
EUSDR  EMBEDDING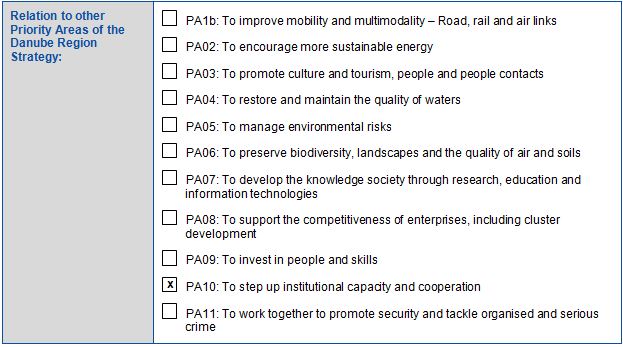 EUSDR  COMPLIANCE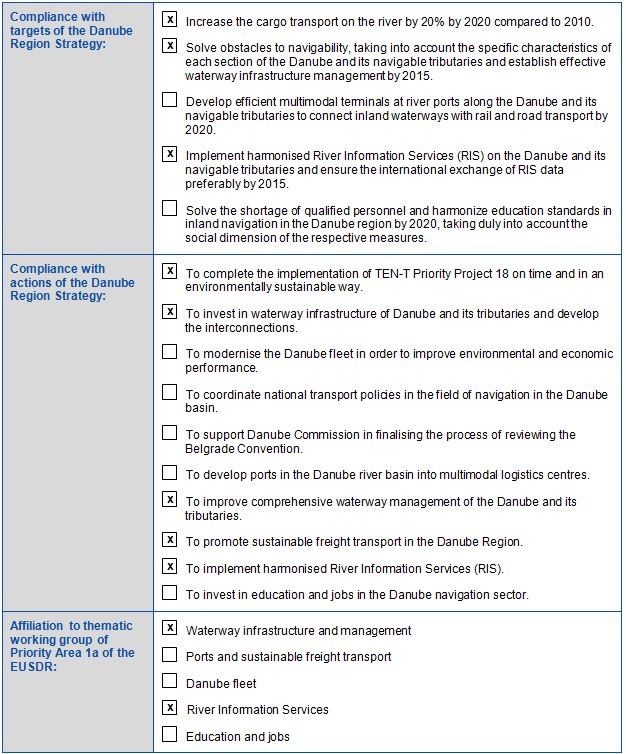 OTHER  RELEVANT  ISSUES
PROJECT  REQUIREMENTS
Financing of resources for waterway management (manpower and equipment) by national waterway administrations / Ministries of Transport in the Danube region.
META  DATA
Data provided by: Thomas Hartl (via donau, Austria) – 07.12.2011
Last update by: Thomas Hartl (via donau, Austria) – 20.08.2013
Download pdf