BASIC  PROJECT  DATA
Project ID: PA1A005
Project website: www.newada.eu

NEED  AND  ADDED  VALUE  FOR  THE  DANUBE  REGION  STRATEGY
As the Danube, the world's most international waterway, has ten riparian states and as the development as well as the maintenance of the waterway is the responsibility of national waterway authorities, a coordinated and consistent approach to these tasks is crucial in order to create transnational benefits for all users of this international waterway. The added value of this already concluded project is as follows:
National strategy plans for waterway maintenance, hydrology and hydrography are prepared, as basis for pilots, implementation guidelines and further bi- or multilateral projects.
A web portal containing relevant fairway-related data is established as a "one-stop shop" and according to European standards.
The elaboration of an organisational strategy for each country fosters cooperation between the waterway authorities, development agencies and ministries within each country.
The "Board of Directors" containing the directors of each waterway administration was implemented in the run of the project and exists also after the lifetime of the project. Within this board strategic issues are discussed and common approaches agreed on.
OBJECTIVE(S)  OF  THE  PROJECT
The NEWADA project aimed at increasing the efficiency of the Danube as European Transport Corridor VII by intensifying cooperation between waterway administrations which helps to promote inland navigation as a cost-effective and environmentally friendly mode of transport.
CONDUCTED  PROJECT  ACTIVITIES
Intensify cooperation on hydrological and hydrographical tasks in order to achieve a higher impact. In this field the efficiency of daily work had to be increased through the exchange of know-how among experts as well as through the identification of best practise cases.
Improve physical accessibility of the waterway infrastructure. National action plans, feasibility studies, bilateral projects and implementation guidelines for improving waterway maintenance and river engineering have been worked out in cooperation with other Danube countries.
Enhance access to ICT (Information and Communication Technology) networks and services in order to overcome shortcomings. Provide up-to-date waterway related data to waterway administrations of neighbouring countries, third parties and users.
Integrate responsible stakeholders and foster cooperation. Enhance the communication between waterway administrations, development agencies and Ministries of Transport. Transform waterway administrations into service-oriented organisations in order to meet user demands.
TRANSBOUNDARY  IMPACT
The project covered 8 out of 10 Danube riparian states, i.e. Austria, Slovakia, Hungary, Croatia, Serbia, Bulgaria, Romania and Ukraine
PROJECT  BENEFICIARIES  /  TARGET  GROUPS
Waterway administrations in 8 Danube riparian states responsible for the maintenance and development of the Danube waterway.
Infrastructure users (e.g. boatmasters, shippers), national authorities.
STATUS  AND  TIMEFRAME
Start date: 01.04.2009
End date: 30.04.2012
The project is already concluded.
FINANCING
Total budget: 2,864,546 EUR
EU funds: 2,224,960 EUR (European Regional Development Fund)
208,404 EUR (Instrument for Pre-Accession Assistance)
funded by South East Europe Transnational Cooperation Programme (SEE) 2007 – 2013
National funds: 431,182 EUR (state budgets of project partners)
PROJECT  TEAM
Project leader: via donau – Österreichische Wasserstraßen-Gesellschaft mbH / Austria
(website: www.viadonau.org)
Address: Donau-City-Strasse 1, 1220 Wien / Austria
Project partner(s):
SVP – Slovenský Vodohospodársky Podnik, štátny podnik (Slovak Water Management Enterprise) / Slovakia
RSOE – Rádiós Segélyhívó és Infokommunikációs Országos Egyesület (National Association of Radio Distress-Signalling and Infocommunications) / Hungary
VITUKI – Környezetvédelmi és Vízgazdálkodási Kutató Intézet Nonprofit Kft. (Environmental Protection and Water Management Research Institute) / Hungary
VKKI – Vízügyi és Környezetvédelmi Központi Igazgatóság (Central Directorate for Water and Environment) / Hungary
AVP – Agencija za vodne putove (Agency for Inland Waterways) / Croatia
PLOVPUT – Direkcija za vodne puteve (Directorate for Inland Waterways) / Serbia
ACN – Administratia Canalelor Navigabile S.A.(Administration of the Navigate Canals) / Romania
AFDJ – Administratia Fluviala a Dunarii de Jos – Galati (River Administration of the Lower Danube – Galati) / Romania
IAPPD / EAEMDR – Izpǔlnitelna Agentsiya "Prouchvane i Poddǔrzhane na Reka Dunav" (Executive Agency for Exploration and Maintenance of the Danube River) / Bulgaria
DUDG / SHS – Derzhavna Ustanova "Derzhhidrohrafiya" (State Hydrographic Service) / Ukraine
ONMA – Odesskaya Natsionalnaya Morskaya Akademiya (Odessa National Maritime Academy) / Ukraine
PROJECT  ENVIRONMENT
PROJECT  CROSS – REFERENCE
Follow-up project: NEWADA duo – Network of Danube Waterway Administrations – Data & User Orientation (PA1A015)
Danube STREAM (PA1A126) and FAIRway Danube (PA1A108)
STRATEGIC  REFERENCE
National development plans for the Danube waterway
EU's NAIADES Action Programme
Joint Statement on Inland Navigation and Environmental Sustainability in the Danube River Basin
OTHER
The project was part of the EU's South-East-European Transnational Cooperation Programme (Priority Axis 3: Improvement of the accessibility, Intervention Area 3.1: Improve coordination in promoting, planning and operation for primary and secondary transportation networks).
EUSDR  EMBEDDING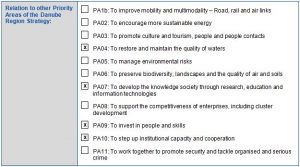 EUSDR  COMPLIANCE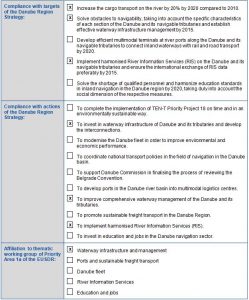 META  DATA
Data provided by: Thomas Hartl (via donau, Austria) – 18.07.2011
Download pdf