BASIC  PROJECT  DATA
Project ID: PA1A112
Project website: http://www.prominent-iwt.eu/

NEED  AND  ADDED  VALUE  FOR  THE  DANUBE  REGION  STRATEGY
The existing fleet needs to be retrofitted in order to enhance and secure its energy efficiency and its environmental sustainability.
A new generation of smart, clean, innovative and climate change adapted vessels shall enable sustainable transport with low impacts on the environment and speed up the use of alternative and sustainable energy sources.
Highly qualified and skilled crews shall ensure safe, efficient and reliable transport services. Barriers to enter the profession should be lowered, and the professional qualifications need to be further modernized. Inland waterway transport (IWT) must become an integral part of general logistics education and more attention shall be paid to energy efficient navigation by means of education and tools.
A significant part of the project activities was dedicated to IWT in the Danube region.
OBJECTIVE(S)  OF  THE  PROJECT
PROMINENT was ultimately aimed at providing solutions which make inland navigation as competitive as road transport – in terms of air pollutant emissions – by 2020 and beyond. In parallel, PROMINENT aimed to further decrease the energy consumption and carbon footprint of IWT, an area where IWT has already a strong advantage compared to road transport.
PROMINENT focused on:
Massive transition towards efficient and clean vessels
Certification and monitoring of emission performance and development of innovative regimes
Harmonisation and modernisation of professional qualifications and the stimulation of the further integration of IWT into sustainable transport chains
PROMINENT aimed to achieve the following targets:
develop cost-effective solutions applicable to 70% of the fleet and reduce the implementation costs by 30%
involve all relevant stakeholders
actively address and remove implementation barriers by 2020
The PROMINENT partners have found broad support among political and commercial decision makers in the field of inland navigation. Through its direct access to relevant industrial stakeholders and Member States the consortium has obtained significant backup needed to perform the work. The commitment of these organisations will lead to a high acceptance and further dissemination of the project's results, even after it was finalised.
CONDUCTED  PROJECT  ACTIVITIES
The project activities of PROMINENT were carried out in seven interrelated WP's:
WP1 (state of play) identified and selected the best available greening technologies & concepts. Barriers and facilitating factors to uptake these technologies and concepts were identified as a basis for developing appropriate counter-measures. WP1 laid the foundation to execute the activities in WP2-5.
WP2 (advanced concepts for mass introduction) developed standardized solutions and concepts for promising technologies in order to enable their further mass implementation. Furthermore, WP2 prepared and specified the pilot projects on alternative energy concepts and energy-efficient navigation.
WP3 (certification & monitoring) evaluated options for certification procedures for new engines and retrofit solutions for vessel operators to comply with stricter emission limits. Furthermore, WP3 prepared and specified the pilot on new certification/monitoring regimes as carried out in WP5.
WP4 (digital education tools) assessed the use of ship-handling simulators for education, training and examination purposes and developed digital tools for cargo handling, ship stability and energy-efficient navigation. In addition, prototypes of e-SRB (Service Record Book) and e-Logbook as well as digital education tools were developed for testing in WP5 and assessed.
In order to assess the real-life implementation of LNG fuelled vessels, retrofit of diesel after-treatment, energy-efficient navigation and digital education tools as well as innovative monitoring systems for emissions and operational profiles, WP5 (real-life pilot deployment) executed and technologically evaluated the pilot deployments in these areas. The results were fed back in WP2, 3, 4 and 6 for further elaboration of the technologies and the roll-out plan.
The outcomes of WP5 fed the activities of WP6 (roll-out plan), where the pilots and results of WPs 2 to 4 were reviewed and assessed from a broader perspective. This resulted in a key user buy-in plan as well as policy recommendations and a draft implementation roadmap in order to ensure and to support the mass implementation of alternative technologies and concepts.
A strong project management (WP7), with representatives of each of the WP leaders, was responsible for the overall technical coordination of the project, the liaison with the European Commission, project controlling as well as the dissemination of results.
TRANSBOUNDARY  IMPACT
Rhine region, Danube region, and regions with other waterways in Belgium, France, Germany and the Netherlands.
Expected effects: more sustainable and competitive waterway transport, as well as reduced external costs to the society in these regions.
PROJECT  BENEFICIARIES  /  TARGET  GROUPS
In general: ship owners, ship crew, equipment providers, waterway (management) authorities/companies, the European Commission.
STATUS  AND  TIMEFRAME
Start date: 01.05.2015
End date: 30.04.2018
The project is already concluded.
FINANCING
Total budget: 6,572,616 EUR
EU funds: 6,249,998 EUR were funded by the Horizon 2020 (H2020) Programme for Research and Innovation
National funds: 322,618 EUR
PROJECT  TEAM
Project leader: STC-Group (NL) (website: www.stc-bv.nl)
Address: Lloydstraat 300; Rotterdam 3024 EA / The Netherlands
Project partner(s):
viadonau (AT)
Stichting Projecten Binnenvaart (NL)
Pro Danube Management GmbH (AT)
Ecorys Nederland B.V. (NL)
TÜV Nord Mobilität GmbH & Co (DE)
Entwicklungszentrum für Schiffstechnik und Transportsysteme GmbH (DE)
Universitatea di Craiova (RO)
TNO (NL)
FHOO Forschungs & Entwicklungs GmbH (AT)
Panteia B.V. (NL)
Compania de Navigatie Fuviala Romana Navrom SA (RO)
ADS Propulsion B.V. (NL)
Wartsilä Nederland B.V. (NL)
SGS Nederland B.V. (NL)
Multitronic N.V.(BE)
Bundesanstalt für Wasserbau (DE)
PROJECT  ENVIRONMENT
PROJECT  CROSS – REFERENCE
Innovative Danube Vessel (PA1A010), MoVe IT! (PA1A062), NewadaDuo, PLATINA, PLATINA II, LNG Masterplan for Rhine-Main-Danube, IRIS Europe 3, NELI, HINT
STRATEGIC  REFERENCE
NAIADES
RELEVANT  LEGISLATION
Non-Road-Mobile-Machinery (NRMM) Directive
European Agreement concerning the International Carriage of Dangerous Goods by Inland Waterways (ADN)
Directive 2014/94/EU on the deployment of alternative fuels infrastructure
directive laying down technical requirements for inland waterway vessels
regulations of the CCNR with respect to emissions, usage of LNG and staff qualifications
national regulations regarding qualification of on-board staff
OTHER
Activities of the Joint Research Centre (JRC) relating to the development of an electronic service-record book, other activities related to the legislation mentioned above.
EUSDR  EMBEDDING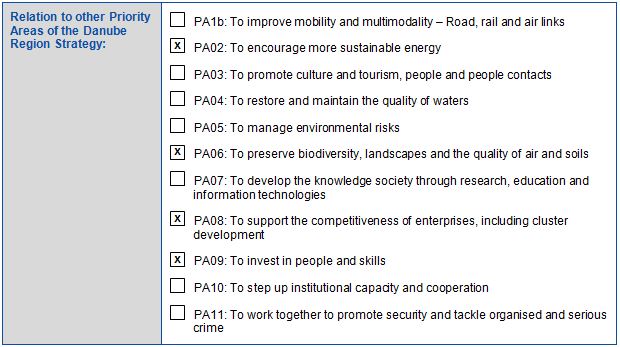 EUSDR  COMPLIANCE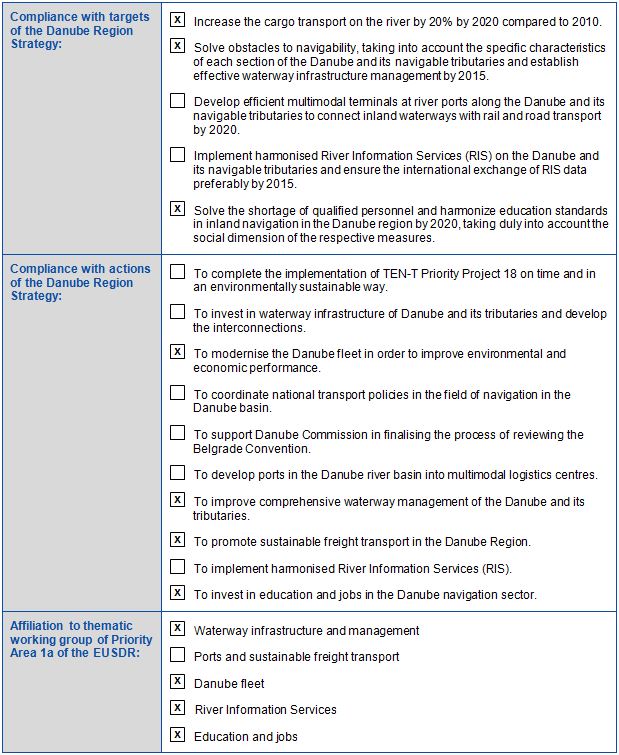 META  DATA
Data provided by: Juha Schweighofer (viadonau, Austria) – 15.09.2015
Last update by: Viktoria Weissenburger (viadonau, Austria) – 21.08.2018
Download pdf