BASIC  PROJECT  DATA
Project ID: PA1A034
NEED  AND  ADDED  VALUE  FOR  THE  DANUBE  REGION  STRATEGY
The locks on the Danube – Black Sea Canal (namely Cernavoda and Agigea) and on the Poarta Alba – Midia Navodari Canal (namely Ovidiu and Navodari) are part of the TEN-T core network. Their reliable operation is crucial for inland waterway transport on both canals.
OBJECTIVE(S)  OF  THE  PROJECT
The general objective of the project is to ensure the availability, reliability and safety of navigation on the two channels (CDMN and CPAMN), providing thus a sustainable alternative to road transport along an important national and international route.
In the contract "Technical Assistance for improving the navigation conditions on the Romanian-Bulgarian common sector of the Danube and related studies", Section III covers the Danube–Black Sea Canal and Poarta Alba–Midia Navodari Canal (branching from the Danube-Black Sea Canal to the seaport of Midia). Thus, in this section a feasibility study was completed on upgrading the equipment and facilities of locks, taking into account their age, namely:
Equipment and installations are older than 27 years

Pumping-station equipment is older than 43 years
According to the project, the initial life-span of the equipment and facilities is:
15 years for control and drive systems hydraulics

12 years for electrical installations

24 years for metal structures (gates, sluices, bridges)
Design year of equipment is 1978.
PLANNED  PROJECT  ACTIVITIES
The project includes:
Rehabilitation of Cernavoda and Agigea locks

Rehabilitation and upgrading of the basic auxiliary equipment serving these locks, namely: the main pumping station in Cernavoda (SPC) and other pumping stations protecting villages against flooding

Rehabilitation of Ovidiu lock including the high water galleries

Rehabilitation of the high water galleries of the Navodari lock
The project specifically involves:
Modernization of lock basic technological equipment (gates, valves, control, action and automatic installation, control and supervision installation, hydraulic installation, etc.)

Modernization of lock auxiliary equipment: de-watering installation, power supply and distribution installation, generator, lighting installations, etc.

Rehabilitation of lock's construction part (waterproofing, technological chambers, technological spaces, etc.)

Installation of equipment for the lock safety (TVCI equipment, traffic light signalling systems for locks, fire extinguishing systems, bollards etc.)

Modernization of the pumping units
TRANSBOUNDARY  IMPACT
On the Danube–Black Sea Canal and Poarta Alba–Midia Navodari Canal goods are transported by ships flying different flags.
PROJECT  BENEFICIARIES  /  TARGET  GROUPS
Shipping companies

Communities surrounding waterways
STATUS  AND  TIMEFRAME
Start date: 2013
End date: 2019
NOTES
Feasibility study was finalised in 2011. The financing application was submitted in 2012 to the Management Authority for SOPT 2007–2013.
The project  was split to be implemented in two phases, namely:
Phase 1 financed through Sectorial Operational Programme Transport 2007-2013 (SOPT) (finalised in 2016)

Phase 2 financed through Large Infrastructure Operational Programme 2014-2020 (POIM), is ongoing
FINANCING
Total budget: 228,613,798 EUR for phase 1
119,734,240 EUR for phase 2 (estimated)
EU funds: 156,379,303 EUR were funded in phase 1 through the Operational Programme `Transport` (SOPT) 2007 – 2013;
phase 2 is co-funded by the Large Infrastructure Operational Programme 2014 – 2020
National funds: 72,234,494 EUR for phase 1
PROJECT  TEAM
Project leader: Administration of Navigable Canals (ACN), Constanţa / Romania
(website: www.acn.ro)
Address: Ecluzei Street no. 1, Agigea / Romania
There would be no additional partners involved.
PROJECT  ENVIRONMENT
STRATEGIC  REFERENCE
Strategy for sustainable development on the period 2007–2013 and 2020, 2030 approved by Minister of Transport Order no. 508/2008

Government Programme 2013 – 2016

Navigation and Inland Waterway Action and Development in Europe (NAIADES) COM (2006) 6 final

White Paper Roadmap to a Single European Transport Area – Towards a competitive and resource efficient transport system COM(2011) 144 final
RELEVANT  LEGISLATION
Decision no. 661/2010/EU of the European Parliament and of the Council of 7 July 2010 on Union guidelines for the development of the trans-European transport network

Low no. 203/2003 regarding the guidelines for the creating, development and modernization of transport networkof national and international importance

Government Decision no. 599/2009 regarding the organisation of the National Company "Navigable Canals Administration"
OTHER
Feasibility study was finalised in 2011.
Gov. Decision no.376 / 2013 for approval of the technical and economic indicators of the investment.
EUSDR  EMBEDDING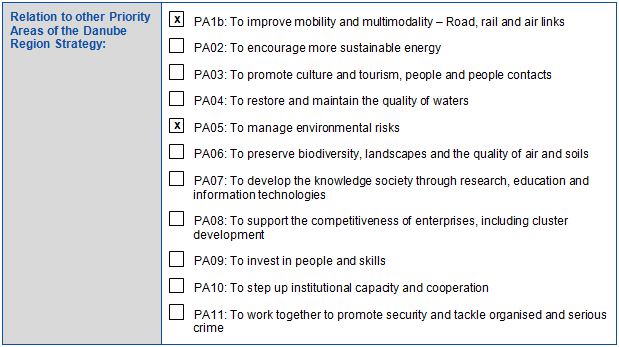 EUSDR  COMPLIANCE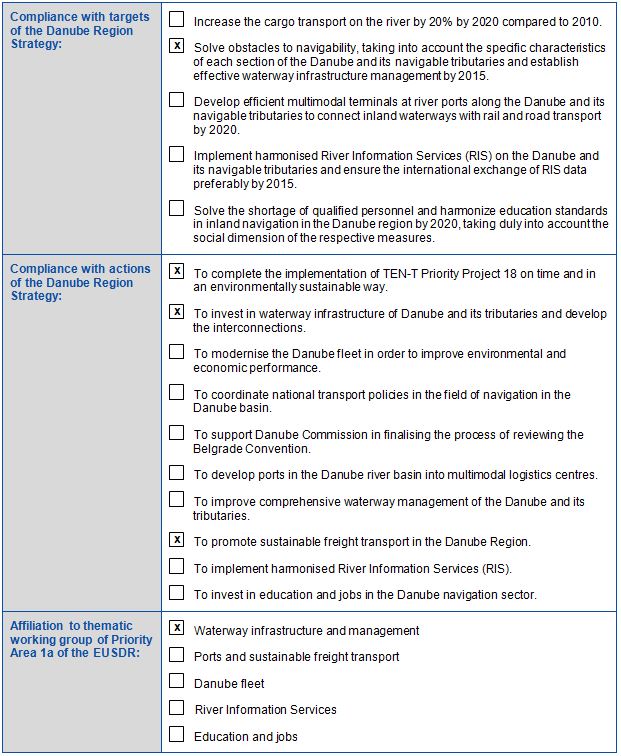 META  DATA
Data provided by: Cristina Cuc, Monica Patrichi (Ministry of Transport and Infrastructure, Romania) – 13.09.2011
Last update by: Adina Hilca (Administration of the Navigable Canals SH, Romania) – 21.08.2017
Download pdf.