BASIC  PROJECT  DATA
Project ID: PA1A152
NEED  AND  ADDED  VALUE  FOR  THE  DANUBE  REGION  STRATEGY
The Sava River is a right side tributary of the Danube in Belgrade. The river is 945 km long and drains 95,719 km² of surface area. It flows through four countries: Slovenia, Croatia, Bosnia and Hercegovina, and Serbia.
The Sava River is classified as an international waterway class IV from the border of the Republic of Serbia (km 211) to Sisak (km 594). Currently, the Sava river waterway does not meet the required navigation parameters of international waterway class IV and does not allow for smooth navigation on 300 days/year for vessels with a maximum draft of 2.5 metres.
In view of the continued recovery of the economies in the region, it is obvious that the need for rehabilitation of waterway transport on the Sava River becomes particularly important. Not only because of its contribution to economic growth, but also because it is an environmentally-friendly and sustainable mode of transport with extraordinary potential and because its development is in line with European transport policy, namely the main objective of upgrading the Sava river waterway to navigability Class IV along the entire route.
OBJECTIVE(S)  OF  THE  PROJECT
The main objective of the project is to provide the prescribed fairway parameters on the Sava river between Belgrade and the border with Croatia (Serbian Sava stretch). On this river stretch five major bottlenecks will be removed:
Kamičak

Šabac

Klenak

Sremska Mitrovica

Estuary of the Drina and Sava Rivers
PLANNED  AND  CONDUCTED  PROJECT  ACTIVITIES
In 2017 rehabilitation works were already conducted on the first critical sector "Kamičak" (rkm 87-83). The three locations "Šabac", "Klenak" and "Sremska Mitrovica" will be removed over the next two years. The works comprise of dredging of the riverbed.
The fifth critical sector "Estuary of the Drina and Sava Rivers" requires the construction of hydrotechnical structures as well as dredging works. The technical documentation for these measures will be proposed for IPA funding.
TRANSBOUNDARY  IMPACT
The Republic of Serbia will benefit directly from the project, but also all shipping companies and industries in the Sava region will benefit from more reliable infrastructure.
PROJECT  BENEFICIARIES  /  TARGET  GROUPS
Industries in the Sava Region (especially steel, oil, fertilizer and agriculture production)

Shipping industries

Ports

Inland waterway authorities in the Sava riparian countries
STATUS  AND  TIMEFRAME
Start date: 2017
End date: 2020
FINANCING
Total budget: 7,000,000 EUR
Budget for rehabilitation of four critical locations (Kamičak, Šabac, Klenak and Sremska Mitrovica): 2,000,000 EUR financed from budget of the Serbian Ministry of Construction, Transport and Infrastructure – Directorate for Inland Waterways
Budget for rehabilitation of sector Estuary of the Drina and Sava Rivers: 5,000,000 EUR will be proposed for IPA funding
PROJECT  TEAM
Project leader: Ministry of Construction, Transport and Infrastructure – Directorate for Inland Waterways / Serbia
(website: www.plovput.rs)
Address: Francuska 9, 11000 Belgrade / Serbia
PROJECT  ENVIRONMENT
PROJECT  CROSS – REFERENCE
STRATEGIC  REFERENCE
European Action Programme for Inland Waterway Transport (NAIADES)

Platform for the implementation of NAIADES (PLATINA)

White Paper: "European Transport Policy for 2010: Time to Decide"

TEN-T Policy

SEETO Core Network

Transport strategies of Serbia
RELEVANT  LEGISLATION
Framework Agreement on the Sava River Basin

TEN-T Guidelines

European Agreement on Main Inland Waterways of International Importance (AGN)
EUSDR  EMBEDDING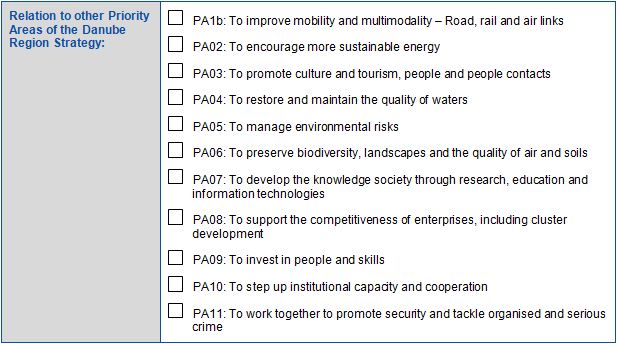 EUSDR  COMPLIANCE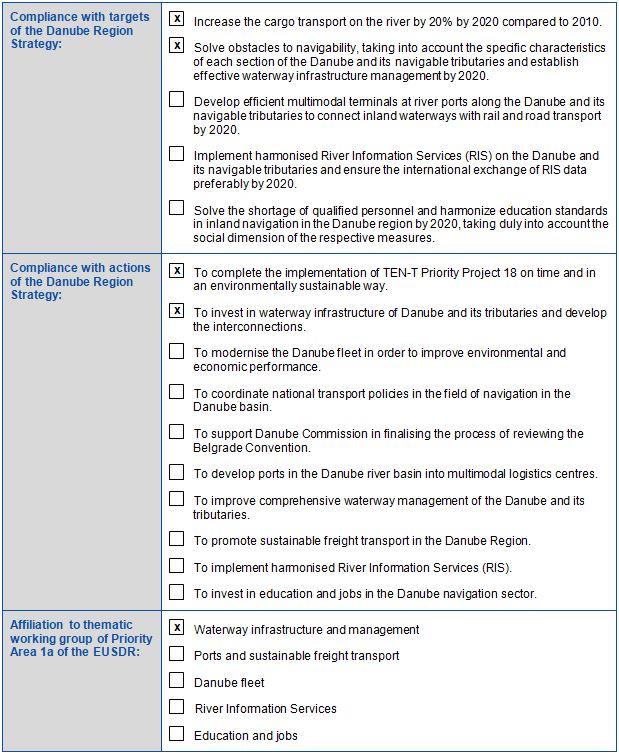 META  DATA
Data provided by viadonau on the basis of project information provided by Ministry of Construction, Transport and Infrastructure – Status Dezember 2017.
Download pdf.