BASIC  PROJECT  DATA
Project ID: PA1A120
Project website: www.riscomex.eu

NEED  AND  ADDED  VALUE  FOR  THE  DANUBE  REGION  STRATEGY
Previous RIS implementation projects mainly focused on the realisation of national RIS infrastructure with some pilot activities related to the international exchange of RIS data.
RIS COMEX now focuses on the seamless availability and easy-to-access relevant information for fairway users and other logistics stakeholders as well as relevant authorities in order to increase efficiency of inland navigation based on existing infrastructure.
OBJECTIVE(S)  OF  THE  PROJECT
Main intention of the project is to realise so-called Corridor RIS Services for authorities and logistics users within inland navigation and to transfer those Corridor Services into sustainable operation.
PLANNED  PROJECT  ACTIVITIES
Elaboration of, and commitment to the RIS COMEX Master Plan (Corridor Service List) to be defined and implemented within the project

Definition of the individual Corridor Services

Agreement on the Corridor RIS Concept (system architecture) enabling the realisation of the defined Corridor Services

Specification, implementation, test and evaluation of the defined Corridor Services based on the agreed concept

Establishment of legal, organisational and financial frameworks for sustainable operation of the implemented Corridor Services beyond the project end date
TRANSBOUNDARY  IMPACT
As the key focus of the project is put on the realisation of Corridor Services, the following RIS COMEX Corridors were defined:
Danube Corridor: Germany-Austria-Slovakia-Hungary-Croatia-Serbia-Bulgaria-Romania

Rhine Corridor: Germany-Netherlands-France

Amsterdam-Antwerp-Liege Corridor: Netherlands-Belgium

Amsterdam-Antwerp-Brussels Corridor: Netherlands-Belgium

Mosel Corridor: Germany-France-Luxemburg

Elbe Corridor: Germany-Czech Republic

Dunquerke-Scheldt Corridor: France-Belgium
The involved countries, to be precise the governmental and logistics users from that countries will benefit from the project by having ideally seamless information available (on Corridor Level or even on EU level) enabling route planning, voyage planning, efficient traffic management, optimised logistics processes and the reduction of administration burdens.
PROJECT  BENEFICIARIES  /  TARGET  GROUPS
Authorities and logistics users involved in inland navigation.
STATUS  AND  TIMEFRAME
Start date: February 2016
End date: December 2022
The year 2016 was used for a proper project start phase defining in detail the work programme, the RIS COMEX Master Plan and other important issues enabling an efficient execution of the project.
The project duration was extended to December 2022.
FINANCING
Total budget: 26,501,194 EUR
EU funds: 15,605,340 EUR are funded by Connecting Europe Facility (CEF) 2014 – 2020
National funds: 10,895,854 EUR
PROJECT  TEAM
Project leader: Austrian Ministry of Transport, Innovation and Technology (Coordinating applicant)
via donau – Österreichische Wasserstraßen-Gesellschaft mbH (Project Coordinator) (website: www.viadonau.org)
Address: Donau City Straße 1; 1220 Vienna / Austria
Project partner(s):  
Staat der Nederlanden, Ministerie van Infrastructuur en Milieu, Rijkswaterstaat, Dienst Verkeer en Watermanagement / Netherlands

Bundesministerium für Verkehr und digitale Infrastruktur / Germany

nv De Scheepvaart / Belgium

Grand-Duche de Luxembourg / Luxembourg

Ministère de l'Environnement, de l'Energie et de la Mer / France

Ministry of Construction, Transport and Infrastructure – Directorate for Inland Waterways / Serbia

Romanian Naval Authority / Romania

Waterwegen en Zeekanaal NV / Belgium

Ministry of National Development / Hungary

Ministerstvo dopravy, výstavby a regionálneho rozvoja Slovenskej republiky / Slovakia

Bulgarian Ports Infrastructure Company / Bulgaria

Ministry of Maritime Affairs, Transport and Infrastructure / Croatia

Ministry of Transport of the Czech Republic / Czech Republic
PROJECT  ENVIRONMENT
PROJECT  CROSS – REFERENCE
Relevant projects:
Other relevant initiatives:
EUSDR  EMBEDDING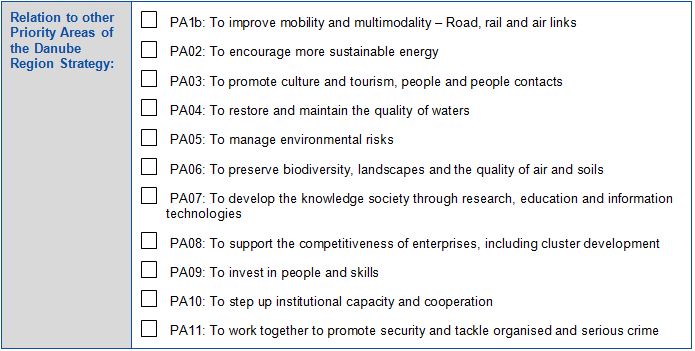 EUSDR  COMPLIANCE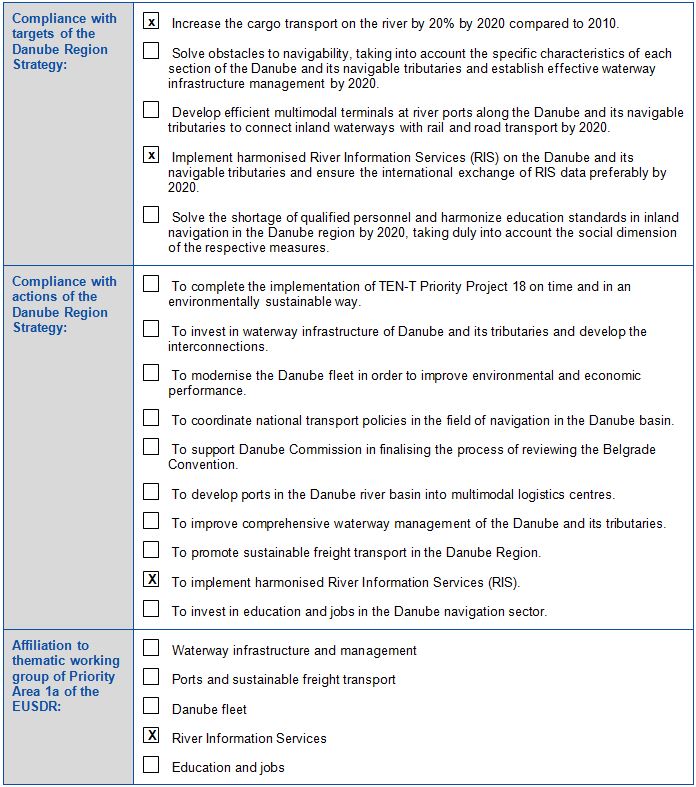 OTHER  RELEVANT  ISSUES
PROJECT  REQUIREMENTS
The main requirement is to come to an agreement about the Corridor Services to be realised within the project together with the execution of the necessary measures (also on national level) in order to provide seamless availability of the relevant information to the identified users.
Furthermore, in case of the realisation of common infrastructure, the execution of joint procurements based on a shared cost principle is a key factor.
Last but not least, the establishment of the necessary frameworks to ensure sustainable operation and the transfer of the implemented Corridor Services into sustainable operation is the most specific success criteria by the end of the project.
FOLLOW – UP  PROJECT
The necessity of a potential follow-up project will be investigated based on the (intermediate) project results, and will be reflected in the Corridor RIS Master Plan that shall recommend further actions beyond the project end date.
META  DATA
Data provided by: Mario Kaufmann (via donau, Austria) – 18.10.2016
Download pdf