BASIC  PROJECT  DATA
Project ID: PA1A131

NEED  AND  ADDED  VALUE  FOR  THE  DANUBE  REGION  STRATEGY
The South East Europe (SEE) area is a sea and river transit area of vessels carrying hazardous freight which constitute many potential environmental risks for coasts and inland waterways. Economic development and a strong growth of transport and increased traffic in the SEE area aggravate the already increased threats of pollution and thus require a good management and high performance of observation, communication and monitoring response systems. The SEE MARINER project was a result of this need to provide greater environmental protection through a coherent monitoring and response mechanism.
OBJECTIVE(S)  OF  THE  PROJECT
The overall aim was to develop and implement a transnational, innovative, transferable and replicable system and to lay the foundation for the SEE MARINER Network, offering tools and services to improve the interoperability of monitoring activities and increase the effectiveness of operations for the joint prevention of environmental risks arising in cases of emergency.
The specific objectives were the following:
Establish a transnational tool for real-time monitoring of dangerous goods transportation

Measure, demonstrate & evaluate the SEE MARINER benefits to maritime/ river safety stakeholders

Provide capacity building to stakeholders in managing environmental risks and spread knowhow to the EU candidate countries

Enhance awareness of existing River Information Services

Interact with SSN and CSN networks and other EU instruments for the common purpose of improving risk prevention through the improvement of cooperation

Contribute to closing the gaps in existing systems by offering additional services to coastal and river ports, the logistics sector, municipalities or research
CONDUCTED  PROJECT  ACTIVITIES
The project focused on mitigating environmental risks arising from the transportation of dangerous goods in marine areas and rivers by applying an integrated system for the joint prevention and response procedures, enhanced monitoring of maritime and river traffic and increased coordination capacity for the mobilization of the relevant authorities and stakeholder groups.
The much needed exchange of knowledge and the analysis of existing good practices in systems for monitoring the transport of dangerous goods led to the key output of SEE MARINER: the SEE Mariner Information System which provides accidents´ data, maps and statistics as well as legislation information and real-time vessel tracking solution via the VTMIS web application based on the AIS data acquired from the project support centres. All partners participated in trainings, working groups and seminars, in order to apply the SEE MARINER system in their own locality. Cross sectoral evaluation and high level policy recommendations build the basis for long term sustainability.
TRANSBOUNDARY  IMPACT
The project covered the entire SEE area and increased cooperation of all participating ports and institutions.
PROJECT  BENEFICIARIES  /  TARGET  GROUPS
Maritime and inland waterway transport stakeholders in general and habitants of the coastal areas and river basins.
STATUS  AND  TIMEFRAME
Start date: 01/02/2011
End date: 31/12/2013
The project is already concluded.
FINANCING
Total budget: 2,188,000.00 EUR
EU funds: 1,732,300.00 EUR (ERDF)
                      127,500.00 EUR (IPA) funded by South East Europe Transnational Cooperation Programme (SEE) 2007 – 2013
National funds: not disclosed
Other funds: not disclosed
PROJECT  TEAM
Project leader: PPA – PIRAEUS PORT AUTHORITY SA / Greece (website: www.olp.gr)
Address: 10, Akti Miaouli Str., 185 38 Piraeus / Greece
Project partner(s):
European Community Business and Innovation Center of Attika – Greece

MEDITERRANEAN SOS Network – Greece

Venice Port Authority – Italy

ALOT s.c.a.r.l. – Agency of East Lombardy for Transport and Logistics – Italy

Luka Koper, port and logistics system, plc. – Slovenia

FGMAMOR – Austrian Mobility Research FGM-AMOR gem. GmbH – Austria

Pannon Business Network Association – Hungary

Union of Bulgarian Black Sea Local Authorities – Bulgaria

Romanian Inland Ports Union – Romania

The Port of Bar Holding Company – Montenegro

Institute of Transport – Albania
Observer:
TINA – TINA VIENNA Urban Technologies and Strategies GmbH – Austria
PROJECT  ENVIRONMENT
RELEVANT  LEGISLATION
Directive 2002/59/EC establishing a Community vessel traffic monitoring and information system
EUSDR  EMBEDDING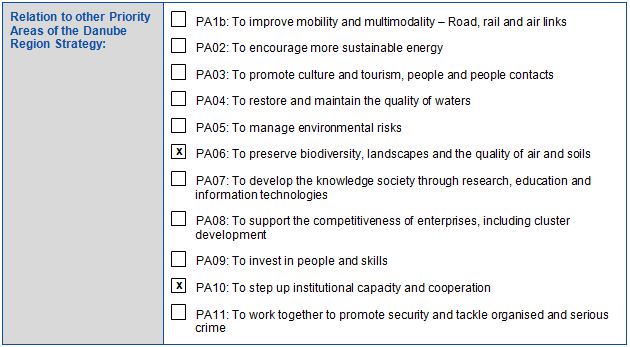 EUSDR  COMPLIANCE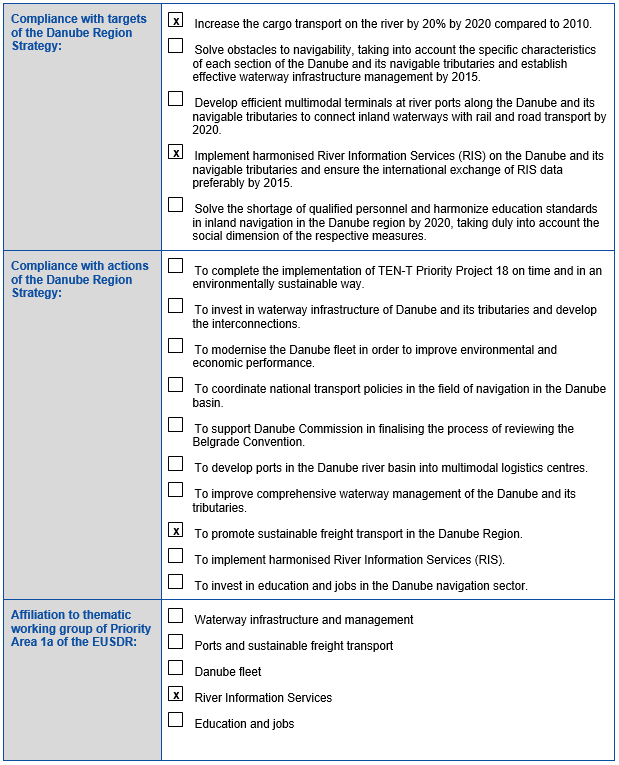 META  DATA
Data provided by: via donau – Österreichische Wasserstraßen-Gesellschaft m. b. H., Austria – 05.10.2017
Download pdf.