BASIC  PROJECT  DATA
Project ID: PA1A167
NEED  AND  ADDED  VALUE  FOR  THE  DANUBE  REGION  STRATEGY
The port of Slavonski Brod is located on the Sava river and provides direct access to the regional road and rail network. Its infrastructure upgrade is therefore strategically important, in order to increase the use of inland waterway transport in the region.
OBJECTIVE(S)  OF  THE  PROJECT
The project entails the upgrading of the basic port infrastructure, the supporting transhipment facilities and the port's connections with the rail and road network.
PLANNED  PROJECT  ACTIVITIES
Capital dredging in front of the Slavonski Brod vertical quay;
construction of two new vertical quays and two handling and logistics areas;
construction of an industrial road network, industrial rail tracks and a crane rail;
upgrade and istallation of the port public utilities infrastructure;
construction of a port weigh house.
TRANSBOUNDARY  IMPACT
Danube region countries, increase in the inland water transport mode as one of the environmentally friendly transport modes. The modal shift will have positive impacts on the overall transport relations in the Danube region.
PROJECT  BENEFICIARIES  /  TARGET  GROUPS
Port operators
Port tenants
Forwarding companies
STATUS  AND  TIMEFRAME
Start date: March 2017
End date: March 2020
FINANCING
Total budget: 11,677,373 EUR
EU funds: 6,625,741 EUR are being funded by Connecting Europe Facility 2014-2020 
Private funds: 5,051,632 EUR
PROJECT  TEAM
Project leader: Port Authority Slavonski Brod / Croatia (website: http://lucka-uprava-brod.hr/wp/home2/)
Address: Šetalište braće Radić 19a, 35000 Slavonski Brod / Croatia
Contact data: lucka-uprava@sb.t-com.hr; +385 (0)35 404 430
EUSDR  EMBEDDING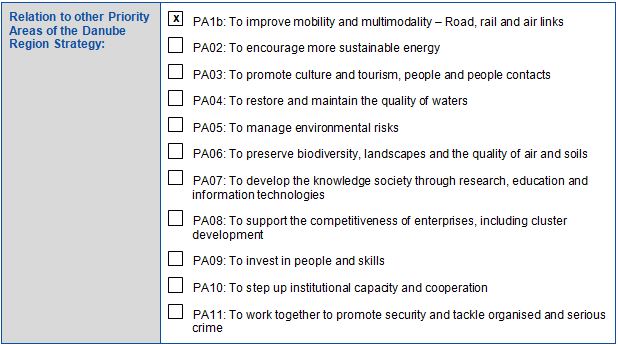 EUSDR  COMPLIANCE

META  DATA
Data provided by: INEA website, project information (update provided by viadonau) – 17.09.2018