BASIC  PROJECT  DATA
Project ID: PA1A086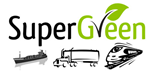 NEED  AND  ADDED  VALUE  FOR  THE  DANUBE  REGION  STRATEGY
Development of policies and elaboration of R&D needs for greening the Danube Corridor.
OBJECTIVE(S)  OF  THE  PROJECT
The objectives of the SuperGreen project concerned supporting the development of sustainable transport networks by fulfilling requirements covering environmental, technical, economic, social and spatial planning aspects.
This was achieved by:
Benchmarking of Green Corridors: Based on a total picture of relevant parameters (KPIs) like energy consumption and emissions, operational aspects and SCM issues, external costs (including social and spatial planning aspects), infrastructure costs and internal costs: identification of areas and candidates for improvement (i.e. bottlenecks).

"Green technologies": Methods for improving the identified bottlenecks. Among the green technologies considered may be novel propulsion systems, alternative fuels, cargo handling technologies, new terminal technologies, cleaning technologies, heating and cooling technologies, or novel concepts of any kind relevant for the multimodal Green Corridors.

"Smarter" utilisation of ICT-flows already available in the multimodal chain may improve the identified bottlenecks and make the Green Corridors even greener. The influence of issues like e-freight, supply chain management, smarter planning (vehicle navigation technologies), scheduling and track & trace needed to be considered.

Recommendations for R&D: Where the available "Green technologies" and present knowledge about "Smarter utilisation of ICT-flows" are not sufficient to improve the identified bottlenecks, recommendations for future calls for R&D proposals were suggested.

Policy Implications: The implications of related regulatory policies on the possible solutions proposed by the project were examined, so as to provide assistance to the Commission in the formulation and harmonisation of policies on Green Corridors.

Dissemination and Awareness Raising: The project paid particular attention to dissemination and creation of awareness on its results. This involved liaison with stakeholders involved in the topics addressed by SuperGreen (infrastructure managers, transport and terminal operators, shippers, logistics operators, national and local authorities, etc.). It also included the development of a dissemination plan, promotional material, workshops and other events with stakeholder participation.
CONDUCTED  PROJECT  ACTIVITIES
SuperGreen evaluated a series of "green corridors" covering some representative regions and main transport routes throughout Europe. The selected corridors were benchmarked based on parameters and key performance indicators covering all aspects related to transport operations and infrastructure. Environmental issues and emissions, external, infrastructure, and internal costs were covered to get an overall and realistic picture.
Based on this benchmarking, areas and candidates for improvement were identified, followed by an evaluation of "green technologies" for improvement of the identified bottlenecks.
Further, smarter utilisation of available information in the multimodal transport chain (ICT-flows) was considered (e-freight, Supply Chain Management, planning of transport, scheduling and tracking and tracing). New R&D may be needed within specific topics for improvement of the identified bottlenecks.
Recommendations for future calls for R&D proposals were elaborated, and implications of alternative policy measures for green corridors were reviewed and assessed, both at local and European level.
TRANSBOUNDARY  IMPACT
The results related to inland waterway transport refer to the entire Rhine-Main-Danube axis.
PROJECT  BENEFICIARIES  /  TARGET  GROUPS
European Commission

Political decision-makers on the national level

Inland waterway transport industry

River and river protection commissions
STATUS  AND  TIMEFRAME
Start date: 15.01.2010
End date: 14.01.2013
The project is already concluded.
FINANCING
Total budget: 3,453,746 EUR
EU funds: 2,634,698 EUR were funded by FP7- Seventh Frameworkprogramme for Research and Technological Development "TRANSPORT" 2007 – 2013 (SST-2008-TREN-1; Research area: SST.2008.1.1.9 Green Corridors; Grant agreement no.: 233573)
The amount coming from national and private funds is unknown.
PROJECT  TEAM
Project leader: National Technical University of Athens (NTUA) / Greece
(website: www.supergreenproject.eu)
Address: Iroon Polytechneiou Str. 9; 157 73 Zografou / Greece
Project partner(s):
Norsk Marinteknisk Forskningsinstitutt AS / Norway

Sito Ltd / Finland

D'Appolonia S.p.A. / Italy

Gijón Port Authority / Spain

Det norske Veritas / Norway

Miljøstiftelsen Bellona / Norway

via donau – Österreichische Wasserstraßen-Gesellschaft mbH / Austria

University of Newcastle upon Tyne / Great Britain

CONSULTRANS S.A. / Spain

PSA Sines – Terminais de Contentores A.S. / Portugal

Finnish Maritime Administration / Finland

Straightway Finland Ry. / Finland

SNCF Fret Italia / Italy

Procter & Gamble Eurocor N.V. / Belgium

VR Group Ltd. / Finland

Lloyd's Register-Fairplay Research / Sweden

Hellenic Short Sea Shipowners Association / Greece

Dortmund University of Technology / Germany

TES Consult Ltd. / Ukraine

Turkish State Railways / Turkey

DB Schenker AG / Germany
PROJECT  ENVIRONMENT
STRATEGIC  REFERENCE
Contribution to environmentally friendly transport corridors.
EUSDR  EMBEDDING
EUSDR  COMPLIANCE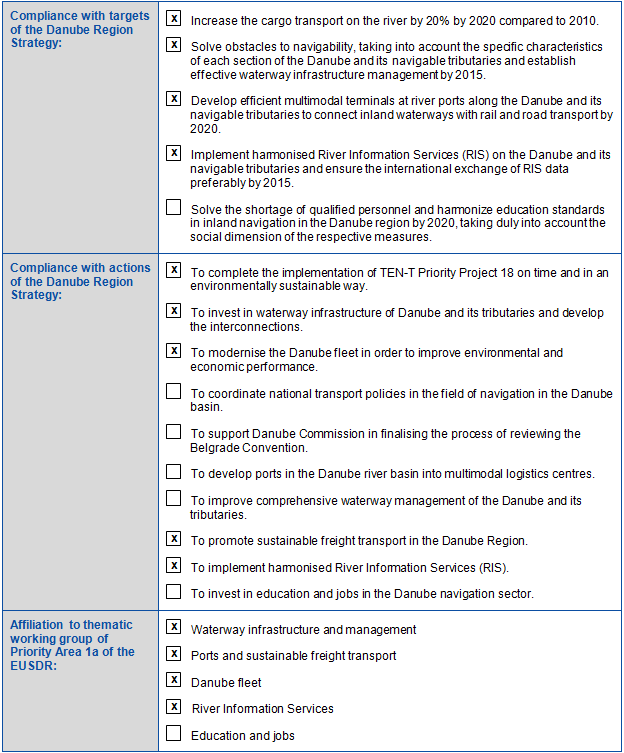 META  DATA
Data provided by: Juha Schweighofer (via donau – Österreichische Wasserstraßen-Gesellschaft mbH, Austria) – 20.02.2012
Download pdf.