BASIC  PROJECT  DATA
Project ID: PA1A165
NEED  AND  ADDED  VALUE  FOR  THE  DANUBE  REGION  STRATEGY
The port of Linz is located on the Rhine – Danube Core Network Corridor. The project aims at improving the accessibility of the port and to strengthen the multimodal TEN-T Core Network in order to increase the competitiveness of the European economy.
Between 2013 and 2015 studies were prepared for the expansion of the trimodal Port of Linz, consisting of a port development master plan, detailed designs for the development of the port's railway station and the initiation of works (executive designs required for the acquisition of building permits). Based on these results, the current project was launched.
OBJECTIVE(S)  OF  THE  PROJECT  AND  PLANNED  ACTIVITIES
The project concerns the modernisation and extension of the existing rail and road infrastructure in the port. It specifically foresees the building of rail and road connections into and within the port, the enhancing of the port's container terminal and the construction of a direct access between the port and the port railway station, including the electrification of the port's railway network.
TRANSBOUNDARY  IMPACT
Increased attractiveness of the port in the TEN-T Core Network.
PROJECT  BENEFICIARIES  /  TARGET  GROUPS
Railway companies

Port operators

Port tenants

Forwarding companies

Port administrations in the Danube and Black Sea Region
STATUS  AND  TIMEFRAME
Start date: July 2017
End date: December 2023
FINANCING
Total budget: 122,901,347 EUR
EU funds: 24,580,269 EUR are funded by Connecting Europe Facility (CEF) 2014 – 2020
PROJECT  TEAM
Project leader: LINZ SERVICE GmbH (website: www.linzag.at)
Address: Regensburger Straße 3, 4020 Linz / Austria
Contact data: hafen.linz@linzag.at; +43 (0) 732/3400-6940
PROJECT  ENVIRONMENT
STRATEGIC  REFERENCE
The project addresses key priorities of the European Union transport policy such as:
Europe 2020, strategy for smart, sustainable and inclusive growth: to comply with reducing greenhouse gas emissions by 20% (or even 30%, if the conditions are right) lower than 1990, reduce energy consumption by 20% through increased energy efficiency, to meet 20% of energy needs from renewable sources

The White Paper on Transport – 2030/2050 perspective (2010) & Single Market Act II: emphasize the need for well-connected port infrastructure, efficient and reliable port services and transparent port funding

A roadmap to moving to a competitive carbon economy in 2050 (2011): the EU should prepare for reductions in its domestic emissions by 80% by 2050 compared to 1990

Ports: an engine for growth COM (2013) 295 final: setting up the EU strategy needed to help ports implement good practices and sound managerial approaches while fully respecting diversity and particular circumstances
EUSDR  EMBEDDING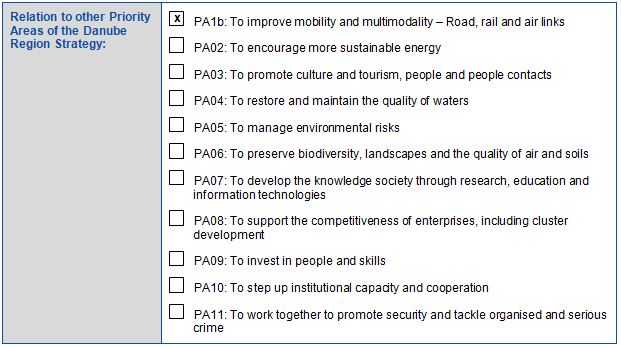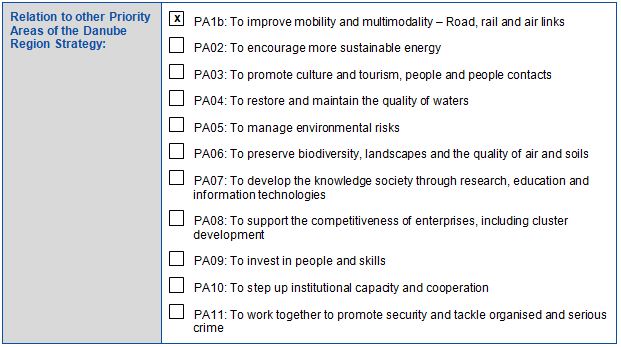 EUSDR  COMPLIANCE
META  DATA
Data provided by: INEA website, project information (update provided by viadonau) – 26.09.2018