BASIC  PROJECT  DATA
Project ID: PA1A114
NEED  AND  ADDED  VALUE  FOR  THE  DANUBE  REGION  STRATEGY
Due to discontinuous operation of the Gabčíkovo locks, safe, reliable and quality navigation and especially passing the locks on the Slovak stretch of river Danube is not provided. The Work Plan of the European Coordinator for the Rhine-Danube Corridor defines the Gabčíkovo locks as a critical bottleneck for the Corridor´s development as well. The majority of Transport Ministers of the Danube Region adopted on 3rd December 2015 the Fairway Rehabilitation and Maintenance Master Plan which pointed out necessary actions which have to be implemented in order to achieve improved navigation conditions. The Slovak Ministry of Transport adopted this Master Plan in an effort to improve navigation along the Slovak part of the river Danube.
The project "Upgrade of the Gabčíkovo locks" deals with this most important issue on the Slovak stretch of the river Danube. Upgrade of the Gabčíkovo locks aims at the modernisation of Gabčíkovo locks and consequently the provision of continuous and stable navigation conditions for both of the Gabčíkovo locks and to ensure a safe passage through the locks.
OBJECTIVE(S)  OF  THE  PROJECT
Enhance a degree of operational reliability of the Gabčíkovo locks

Enhance the navigability capacity

Enhance a quality and safety of shipping

Improve operational and managing system
PLANNED  PROJECT  ACTIVITIES
Execute the feasibility study on Gabčíkovo locks, based on the results from the pre-feasibility study developed within FAIRway Danube until 12/2015

Elaborate the realisation concept for mooring places as well as wind protection

Procure the necessary infrastructure, related works and software

Execute and evaluate pilot operation in order to prepare for regular operation

Prepare the operational concept for maintaining a good navigation status also after the end of the pilot operation
TRANSBOUNDARY  IMPACT
All Danube countries – to improve full navigability of Danube waterway, to ensure required parameters of Danube waterway (Danube Commission recommendations).
PROJECT  BENEFICIARIES  /  TARGET  GROUPS
Freight forwarders , logistics services, inland ship owners, inland terminal operators, shipper, receiver, cargo handlers, ship brokers and agents, equipment producers, multimodal transport operators and other users of Danube waterway.
STATUS  AND  TIMEFRAME
Start date: 17.02.2016
End date: 31.12.2022
FINANCING
Total budget: 142,665,000 EUR
EU funds: 121,265,250 EUR are funded by Connecting Europe Facility (CEF) 2014 – 2020
National funds: 21,399,750 EUR
PROJECT  TEAM
Beneficiary: Ministry of Transport and Construction of the Slovak Republic
Address: Námestie slobody, č.6, 810 05  Bratislava
Project partner: Vodohospodárska výstavba / Slovak Republic
PROJECT  ENVIRONMENT
STRATEGIC  REFERENCE
White paper, Blue book, AGN, Danube Commissions´s Recommendations
RELEVANT  LEGISLATION
Act No. 338/2008 on Inland Water Transport

Announcement No. 22/2001 on Inland Waterway Classification
OTHER
Pre-feasibility study on upgrade of Gabčíkovo locks

cost-benefit analysis on upgrade of Gabčíkovo locks
EUSDR  EMBEDDING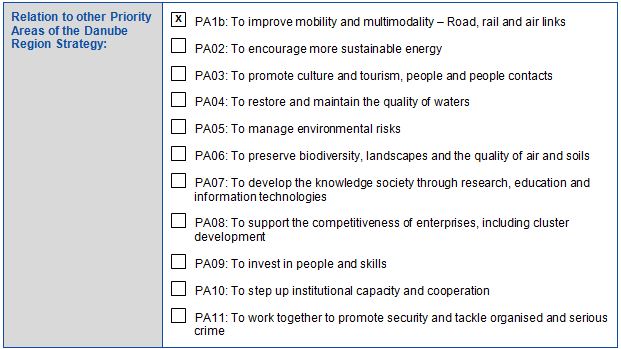 EUSDR  COMPLIANCE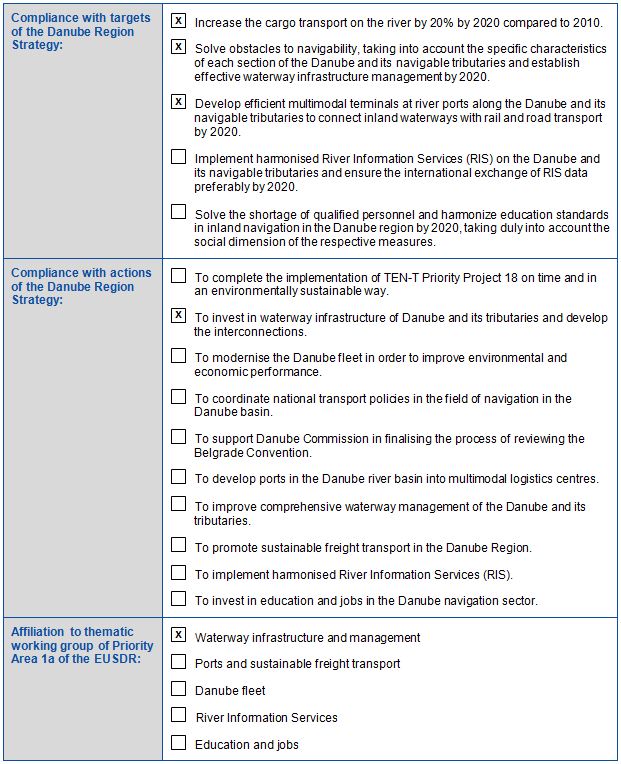 META  DATA
Data provided by: Zuzana Šebestová (Vodohospodárska výstavba, Slovakia) – 29.01.2016
Download pdf