BASIC  PROJECT  DATA
Project ID: PA1A030
Project website: www.donauausbau.wsv.de
NEED  AND  ADDED  VALUE  FOR  THE  DANUBE  REGION  STRATEGY
The Danube river section from Straubing to Vilshofen is a major bottleneck in the Trans-European Network regarding loaded draught and nautical difficulties. For many years, possible packages of measures have been discussed to establish homogenous shipping transport conditions and to reduce the risk of naval accidents.
While the rest of the waterway has been adapted to a draught depth of  2.5 m almost all year round, several restrictions arise frequently due to alternating water levels in the (free flowing) section between Straubing and Vilshofen. The possible loaded draught between Straubing and Vilshofen is only 1.6 m in case of low water. On average, a draught value of 2.50 m is only available 144 days p.a. At the same time, the existing flood prevention system has to be consistently enhanced up to a 100-year flood event in due consideration of the waterway development.
After many years of interdisciplinary studies and political negotiations on the possibilities for improving shipping conditions, including flood control and implementation of a regional planning procedure, there was no agreement about the variant to be used.
In the course of this already finalised study, two remaining variants with different benefits and different impacts (variant A and variant C2.80) were perused as part of Priority Project 18 (Waterway axis Rhine/Meuse-Main-Danube).
OBJECTIVE(S)  OF  THE  PROJECT
The task of the study was to examine and prepare technical and ecological planning for the Danube development between Straubing and Vilshofen for both above-mentioned variants to bring about the final decision concerning the execution of the preferred variant, including the ability to carry out administrative procedures required as quickly as possible.
Therefore, planning had to be executed in great detail (planning approval depth). All impacts and decision-related aspects, especially with regard to navigation, engineering, economic feasibility and environmental compatibility (regionally and globally), had to be assessed. The main objective was to provide a secure basis for informed political decision, but explicitly without giving any recommendation.
CONDUCTED  PROJECT  ACTIVITIES
Baseline study (e.g. survey of groundwater, surveying and mapping of fauna/flora on about 185 km², subsoil investigation, etc.)
Modelling of river morphology, groundwater regime, hydrology and hydraulics in present situation and for prospective scenarios
Technical waterway planning respective variant A and C2.80
Technical planning of flood protection measures
Environmental assessment (impact, compatibility, conservation with species and landscape), compliance with EU and national directives concerning nature protection and environment conservation (e.g. Water Framework Directive, Fauna-Flora-Habitat Directive, Conservation of Wild Birds Directive)
Transport forecast and economic feasibility study
Nautical dynamic calculations
In addition, the Federal Ministry of Transport, Building and Urban Affairs (BMVBS) had set up a project group consisting of transport, economic and environmental experts for regional surveys and monitoring purposes.
TRANSBOUNDARY  IMPACT
The study itself had no impact on other Danube riparian states. Nevertheless, the possible realisation of either variant would have an enormous impact on the whole Rhine/Meuse-Main-Danube axis, since the situation at the bottleneck Straubing-Vilshofen is decisive for transport decisions along the entire corridor.
PROJECT  BENEFICIARIES  /  TARGET  GROUPS
The study provided the competent bodies of the Federal Republic of Germany and the Federal State of Bavaria with all necessary elements of evidence for taking their decision on the development of the Danube waterway between Straubing and Vilshofen.
At the same time, planning results for both variants are now available in great detail. Final planning approval documents are based thereupon after the political decision was taken.
STATUS  AND  TIMEFRAME
Start date: 02.10.2008
End date: 31.03.2013
The period of the project was extended up to 31.03.2013 in agreement with the competent EU authorities.
FINANCING
Total budget: 33,000,000 EUR (exclusive VAT)
EU funds: 16,500,000 EUR were funded by TEN-T Multi-Annual Programme (MAP) 2007 – 2013
(50% funding rate for studies)
National budget: 11,000,000 EUR (Federal Republic of Germany)
Regional budget: 5,500,000 EUR (Bavaria)
PROJECT  TEAM
Project leader: Steering committee composed of the competent authorities of the Federal Republic of Germany and the Federal State of Bavaria:
Coordinator: German Ministry of Transport (BMVBS)
German Ministry of the Environment (BMU)
Bavarian Ministries of Economics (BayStMWIVT) and of the Environment (BayStMUG)
Project partners: Task Group under the direction of "Wasser- und Schifffahrtsdirektion Süd" (since midyear 2013 legal successor: "Außenstelle Süd der Generaldirektion Wasserstraßen und Schifffahrt"), composed of RMD Wasserstrassen GmbH and various authorities of the Federal Republic of Germany and the Federal State of Bavaria.
Contact: RMD Wasserstrassen GmbH (website: www.rmd-wasserstrassen.de)
Address: Blutenburgstraße 20, 80636 München
PROJECT  ENVIRONMENT
PROJECT  CROSS – REFERENCE
Follow-up project 2013 – 2015: Upgrade of the Danube between Straubing and Vilshofen: Study for design, approval planning and public consultation within the frame of the planning approval procedure for subsection 1 (Straubing–Deggendorf) (PA1A122)
Follow-up project 2015 – tbd: Upgrade of the Danube between Straubing and Vilshofen: Pursuing Variant A (PA1A161)
RELEVANT  LEGISLATION
"Duisburger Vertrag" 16.09.1966
"Donaukanalisierungsvertrag" 21.07./23.07./11.08.1976
Federal Waterway Act
Water Framework Directive à Federal Water (Resources) Act
EUSDR  EMBEDDING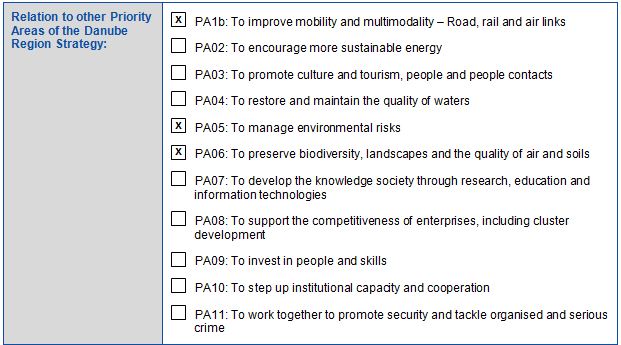 EUSDR  COMPLIANCE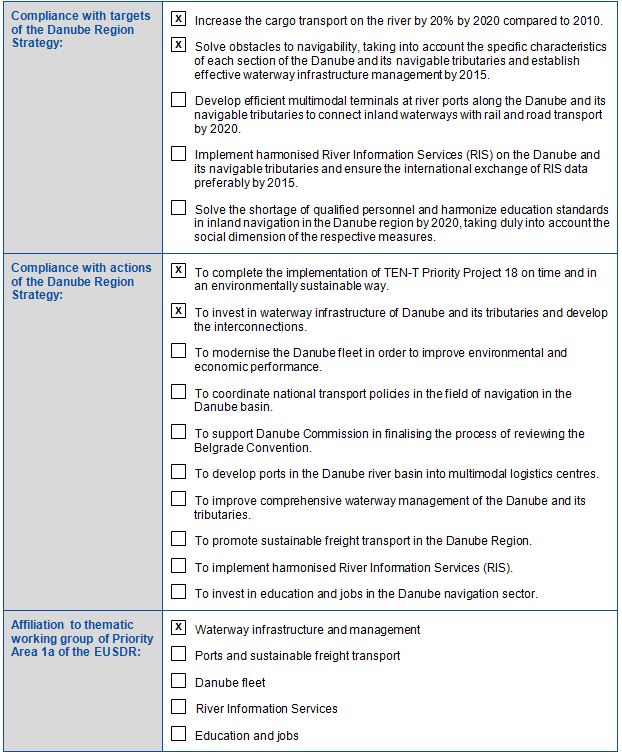 META  DATA
Data provided by: GDWS Außenstelle Süd – 16.06.2014
Download pdf