BASIC  PROJECT  DATA
Project ID: PA1A035
NEED  AND  ADDED  VALUE  FOR  THE  DANUBE  REGION  STRATEGY
The waiting berth is located on the left bank of the Danube–Black Sea Canal (DBSC), upstream from the junction with the Poarta Albă–Midia Năvodari Canal (PAMNC), between km 29+720 and 30+020. The waiting berth for the dismantling/remaking of pushed convoys was designed at the same time as the design of both canals. The project was foreseen in the initial project design of the Danube–Black Sea Canal as a functional necessity. The investment was not started due to the lack of financing.
It is of functional need for the transit of convoys, because of the difference in fairway parameters between the canals and the difference between the geometries of the convoys transiting the two canals. The navigation convoy for the DBSC is made up of 6 barges of 3,000 ton, in two lines, propelled by a pusher of 2 x 820 HP (L = 296 m; B = 22.80 m, D = 3.80 m). The navigation convoy for the PAMNC is made up of a 3,000 t barge with its pusher (L = 119.5 m; B = 11.40 m, D = 3.80 m).
The waiting berth is 300 m long. It has three piers and a quay depth of 5.5 m. Taking into account the current traffic and the traffic forecast for the following years, a capacity of dismantling/remaking of around 12 barges/day is estimated for the berth (the reference convoy is made up of two units).
OBJECTIVE(S)  OF  THE  PROJECT
The main goal of the waiting berth for convoys is to facilitate the convoys' assembling/dismantling operations, including the assurance of cargo safety as well as the simple vessel's mooring, and to lower the unit waterway transport cost. Given a lower unit cost, waterway transport will become more attractive (in comparison to road or rail alternatives) and the market equilibrium will shift to a higher transported volume.
CONDUCTED  PROJECT  ACTIVITIES
Feasibility study – finalised in February 2011

Financing Application for SOPT 2007–2013 : August 2011

Public tender for works and supervision: December 2011

Project implementation 2012–2014
TRANSBOUNDARY  IMPACT
Through the Danube–Black Sea Canal the Danube river is linked to the port of Constanta and goods are transported from/to Central European countries to/from Asian countries.
PROJECT  BENEFICIARIES  /  TARGET  GROUPS
Shipping companies
STATUS  AND  TIMEFRAME
Start date: 2012
End date: 2014
The project is already concluded.
FINANCING
Total budget: 3,500,000 EUR
EU funds: 2,020,000 EUR were funded by Operational Programme `Transport´ (SOPT) 2007 – 2013 (ERDF)
National funds: 1,480,000 EUR
PROJECT  TEAM
Project leader:  Administration of Navigable Canals (ACN), Constanta / Romania (website: www.acn.ro)
Address: Ecluzei Street no. 1, Agigea / Romania
No additional partners were involved.
PROJECT  ENVIRONMENT
PROJECT  CROSS – REFERENCE
STRATEGIC  REFERENCE
Strategy for sustainable development in the period 2007–2013 and 2020, 2030 approved by Minister of Transport Order  no. 508/2008

White Paper Roadmap to a Single European Transport Area – Towards a competitive and resource efficient transport system COM(2011) 144 final

Navigation and Inland Waterway Action and Development in Europe (NAIADES) COM (2006) 6 final
RELEVANT  LEGISLATION
Decision No 661/2010/EU of the European Parliament and of the Council of 7 July 2010 on Union guidelines for the development of the trans-European transport network

Low no. 203/2003 regarding the guidelines for the creating, development and modernization of transport network  of national and international importance

Government Decision no. 599/2009 regarding the organisation of the National Company "Navigable Canals Administration"

All EU Directives related to environmental protection
EUSDR  EMBEDDING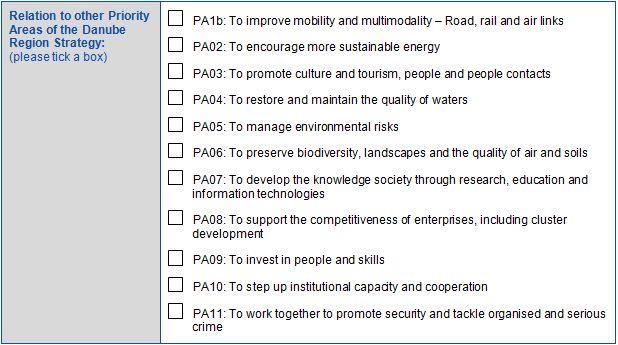 EUSDR  COMPLIANCE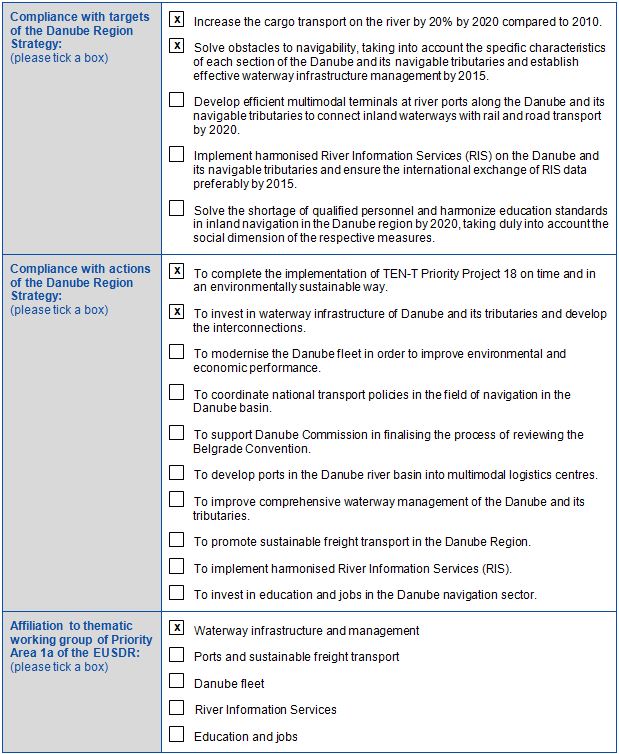 META  DATA
Data provided by: Monica Patrichi (Ministry of Transport / Romania) – 24.03.2017
Download pdf