BASIC  PROJECT  DATA
Project ID: PA1A042
NEED  AND  ADDED  VALUE  FOR  THE  DANUBE  REGION  STRATEGY
When the Poarta Alba–Midia Navodari Canal was opened for navigation in 1987, only the minimal works necessary for the navigation activities had been completed. The uncompleted works, the type of the rocks, the influence of the hydro-meteorological factors (wind, rain, snow) and the repeated cycles of freeze-thaw may cause landslides, with major impact on the general stability of embankments, resulting in a clogged fairway with material drawn from the slope and transported into the canal, as well as in the damage of the already completed works.
Currently, works are being conducted within the ceiling of the money allocated from the state budget. ISPA funding was used for a feasibility study for the works which are still to be completed.
OBJECTIVE(S)  OF  THE  PROJECT
Banks consolidation in order to ensure the safety of transport on the canal.
PLANNED  PROJECT  ACTIVITIES
Execution of works.
TRANSBOUNDARY  IMPACT
Through the Poarta Alba–Midia Navodari Canal goods are transported from/to Central European countries, with vessels flying various national flags.
PROJECT  BENEFICIARIES  /  TARGET  GROUPS
Shipping companies
STATUS  AND  TIMEFRAME
Start date: 2014
End date: 2025
FINANCING
Total budget: 309,220,000 EUR
National funds: State budget, within the limits of available funds. In 2017 no financing was assured for the works.
Financing is only partly available.
PROJECT  TEAM
Project leader: Administration of Navigable Canals (ACN), Constanta / Romania (website: www.acn.ro)
Address: Ecluzei Street no. 1, Agigea / Romania
No additional partners are involved.
PROJECT  ENVIRONMENT
PROJECT  CROSS – REFERENCE
STRATEGIC  REFERENCE
Strategy for sustainable development on the period 2007-2013 and 2020, 2030 approved by Minister of Transport Order  no. 508/2008

Government Programme 2009–2012

Belgrade Convention (1948)

Navigation and Inland Waterway Action and Development in Europe (NAIADES) COM (2006) 6 final

White Paper Roadmap to a Single European Transport Area – Towards a competitive and resource efficient transport system COM(2011) 144 final
RELEVANT  LEGISLATION
Decision No 661/2010/EU of the European Parliament and of the Council of 7 July 2010 on Union guidelines for the development of the trans-European transport network

Low no. 203/2003 regarding the guidelines for the creating, development and modernization of transport network  of national and international importance

Government Decision no. 599/2009 regarding the organisation of the National Company "Navigable Canals Administration"

All EU Directives related to environmental protection
EUSDR  EMBEDDING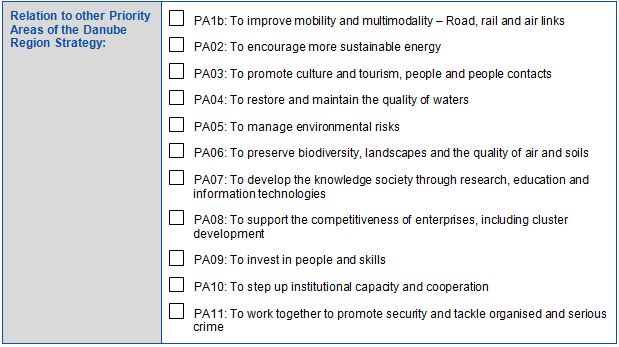 EUSDR  COMPLIANCE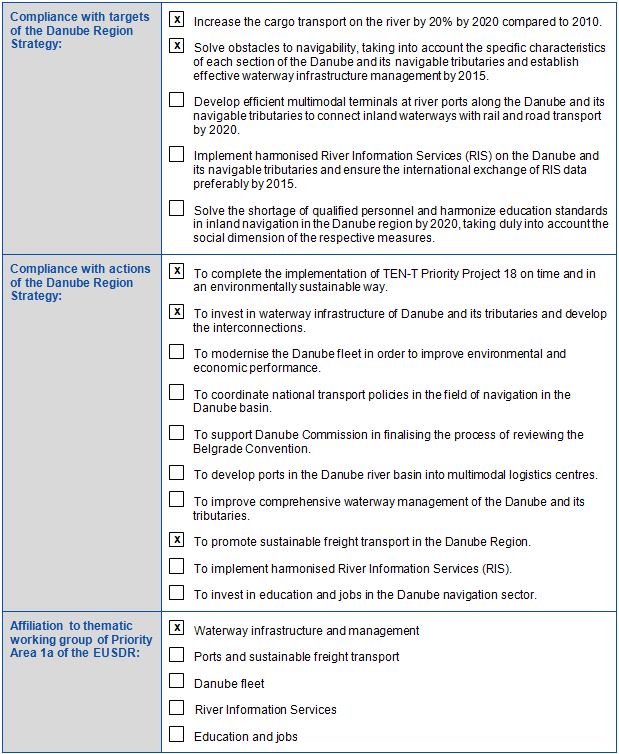 OTHER  RELEVANT  ISSUES
PROJECT  REQUIREMENTS
Financing ensured for the project completion.
META  DATA
Data provided by: Cristina Cuc, Monica Patrichi (Ministry of Transport and Infrastructure, Romania) – 13.09.2011
Last update by: Monica Patrichi (Ministry of Transport, Romania) – 24.03.2017
Download pdf