BASIC  PROJECT  DATA  –  PROJECT  IDEA
Project ID: PA1A104
NEED  AND  ADDED  VALUE  FOR  THE  DANUBE  REGION  STRATEGY
The Port of Osijek is located in the City of Osijek, administrative centre of Osijek-Baranja County. The county, being a regional government unit, is situated in the north-eastern part of the country, in the Pannonian region, covers an area of 4.155 km2 and comprises 7.3% of Croatia's total territory.
The project will stimulate growth and employment in the whole area by ensuring integrated cargo transhipment at one single port.
OBJECTIVE(S)  OF  THE  PROJECT
Through the implementation of this project some economical, social and ecological results will be achieved there as well. They are:
Increasing traffic on the Drava and Danube

Creating opportunities for development of intermodal hub and economic zone

Development of intermodal transport system including the connection of inland waterways to sea ports, road and rail routes
PLANNED  PROJECT  ACTIVITIES
The feasibility study is planned to be finished in 2018
The planned construction can be divided into three basic components:
The construction of coastal structures involves arranging the right bank of the Drava river in the length of approximately 2,220 m to protect against flooding.
Filling the terrain and the retaining wall: The western part of Osijek port must be filled in order to ensure conditions for further use of space for infrastructure and economic purposes.
The construction of infrastructure covers the construction of storm-water and sanitary sewage system, construction of roads, rail tracks, lighting and electricity supply.
The project covers an area of 92 ha.
TRANSBOUNDARY  IMPACT
As transport of goods on the Danube and its tributaries has a cross-border character, the entire Danube region will benefit from building infrastructure in the Port of Osijek.
Due to its transboundary character the project will benefit a wide range of stakeholders from different countries as shipping companies as well as companies conducting business in Osijek-Baranja county.
PROJECT  BENEFICIARIES  /  TARGET  GROUPS
Shipping companies and port oparators

Companies conducting business in the Osijek-Baranja County and also in wide region

Inhabitants living in the Osijek-Baranja county
STATUS  AND  TIMEFRAME
Start date: 2019
End date: 2021
NOTES
The project is currently being prepared.
Preliminary and main design finished

Location permit issued

EIA finished
FINANCING
Total budget: 58,000,000 EUR (estimated cost according to preliminary design)
Funding is not yet available.
PROJECT  TEAM
Project leader: Port Authority Osijek (website: www.port-osijek.hr)
Address: Šetalište kardinala F.Šepera 6, 31000 Osijek / Croatia
Contact data: info@port-osijek.hr
No additional partners are involved in this project.
PROJECT  ENVIRONMENT
PROJECT  CROSS – REFERENCE
Building and reconstruction of the south quay in Port of Osijek (PA1A103)
Construction of bulk cargo terminal in the Port of Osijek (PA1A102)
STRATEGIC  REFERENCE
Europe 2020 Strategy

An Integrated European Action Programme for Inland Waterway Transport (NAIADES) COM (2006) 6 final

White Paper Roadmap to a Single European Transport Area – Towards acompetitive and resource efficient transport system COM(2011) 144 final

Transport Development strategy of the Republic of Croatia 2014-20130

Operational Programme Competetiveness and Cohesion 2014-2020
RELEVANT  LEGISLATION
AGN – European Agreement on Main Inland Waterways of International Importance
EUSDR  EMBEDDING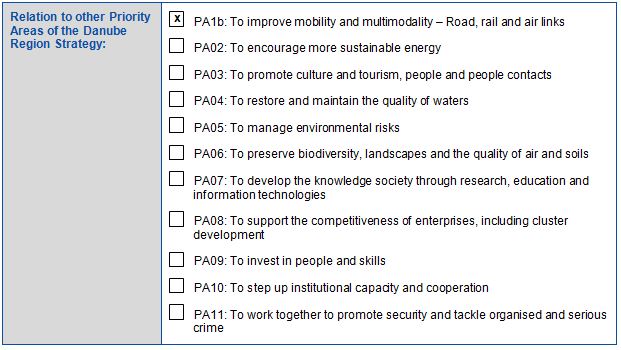 EUSDR  COMPLIANCE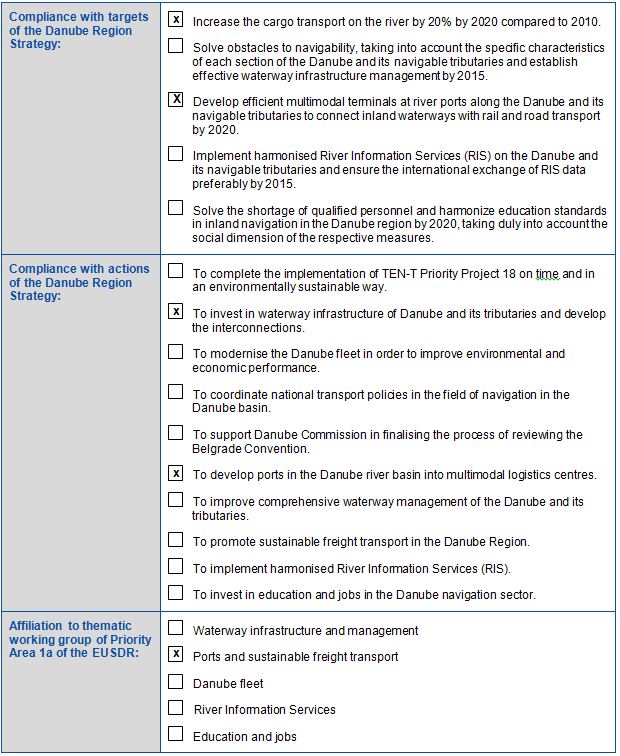 OTHER  RELEVANT  ISSUES
PROJECT  REQUIREMENTS
The feasibility study with CBA must be finished.
META  DATA
Data provided by: Ana Barišić (Ministry of Maritime Affairs, Transport and Infrastructure / Croatia) – 28.03.2013
Last update by: Ana Barišić (Ministry of Maritime Affairs, Transport and Infrastructure / Croatia) – 24.08.2017
Download pdf