BASIC  PROJECT  DATA
Project ID: PA1A124
Project website: http://www.interreg-danube.eu/approved-projects/danube-skills
Facebook: https://www.facebook.com/DanubeSkills

NEED  AND  ADDED  VALUE  FOR  THE  DANUBE  REGION  STRATEGY
Today there is still a lack of transparency and knowledge on how to integrate green Danube navigation into sustainable transport solutions. Increased institutional and organisational capacity should help equip public service providers with a critical mass of information and support to understand (=mind shift) and use (=modal shift) Danube transport.
Besides, there is a shortage of qualified personnel on-board inland vessels and fragmented legal framework governing skills and qualifications in the Danube inland transport sector and hindering recognition of qualifications and mobility of work force.
OBJECTIVE(S)  OF  THE  PROJECT
Danube SKILLS aimed to increase institutional capacity of the Danube region by boosting joint transnational capacities of education and public services for inland waterways:
contribute to better qualifications of IWT work force and increased job security;
enable the free movement of workers and reduce loss of life and damages by avoidance of accidents;
prepare adoption of EU regulations in the Danube region by the joint development and implementation of new transnational learning tools;
strengthen institutional capacity and transnational cooperation in order to encourage the use of environmentally friendly inland navigation in the Danube region (Danube logistics promotion);
bring more transparency into the Danube transport sector by offering free and open information tools.
CONDUCTED  PROJECT  ACTIVITIES
Make public institutions in charge with nautical training and certification fit to implement common European standards;
Make public institutions responsible for Danube navigation development fit to provide services to actively trigger a raise of modal share of green Danube transport and to act as 1-stop-shops for Danube logistics;
Set-up of institutional (= sector-wide) Capacity Building cooperation for improving legal and policy frameworks on nautical qualifications and Danube transport promotion.
TRANSBOUNDARY  IMPACT
Partners from Germany, Austria, Slovakia, Czech Republic, Hungary, Croatia, Serbia, Bulgaria, Romania & International associations
PROJECT  BENEFICIARIES  /  TARGET  GROUPS
Danube shipping companies (incl. captains, personnel on board)
Danube logistics companies (incl. shipping and forwarding companies, logistics operators, port/ terminal operators, cargo owners)
Public Danube logistics education institutions
Public Danube logistics promotion centres
Transnational (i.e. DG MOVE, CCNR, DC) and national (ministries) public administrations
International institutions (i.e. EDINNA, ETF)
STATUS  AND  TIMEFRAME
Start date: 01.01.2017
End date: 30.06.2019
The project is already concluded.
FINANCING
Total budget: 2,023,100 EUR
EU funds: 1,586,185 EUR (European Regional Development Fund)
133,450 EUR (Instrument for Pre-Accession Assistance)
funded by Danube Transnational Programme (DTP) 2014 – 2020
National funds: 303,465 EUR (financing through project partners)
PROJECT  TEAM
Project leader: CERONAV – Romanian maritime training centre / Romania (website: http://www.ceronav.ro/)
Address: Str. Pescarilor 69A; 900581 Constanta / Romania
Project partner(s):
Romanian Maritime Training Centre/Romania (CERONAV)
Union of Inland Ports/Romania
viadonau – Austrian Waterway Company/Austria
University of Applied Sciences Upper Austria/Austria
Maritime School Bratislava/Slovakia
Waterborne Transport Development Agency/Slovakia
National Association of Radio Distress-Signalling and Infocommunications/Hungary
Executive Agency Maritime Administration/Bulgaria
Forum  for Balkan Transport and Infrastructure/Bulgaria
Inland Navigation Development Centre Ltd/Croatia
Faculty of Transport and Traffic Sciences/Croatia
School of shipping, shipbuilding and hydrobuilding/Serbia
Port Governance Agency/Serbia
Central Commission for the Navigation on the Rhine
Danube Commission
International Sava River Basin Commission
Development Centre for Ship Technology and Transport Systems/Germany
Romanian Ministry of Transport
Ministry of Transport of the Czech Republic
European Transport Workers' Federation
Edinna Association
Association for Inland Navigation and Waterways/Germany
PROJECT  ENVIRONMENT
PROJECT  CROSS – REFERENCE
especially NELI (PA1A009) and HINT (PA1A018)
STRATEGIC  REFERENCE
Europe 2020
NAIADES II
EUSDR PA 10
EUSDR PA 1A
RELEVANT  LEGISLATION
Directive 96/50/EC on the harmonization of the conditions for obtaining national boatmasters' certificates for the carriage of goods and passengers by inland waterway in the Community
EUSDR  EMBEDDING
EUSDR  COMPLIANCE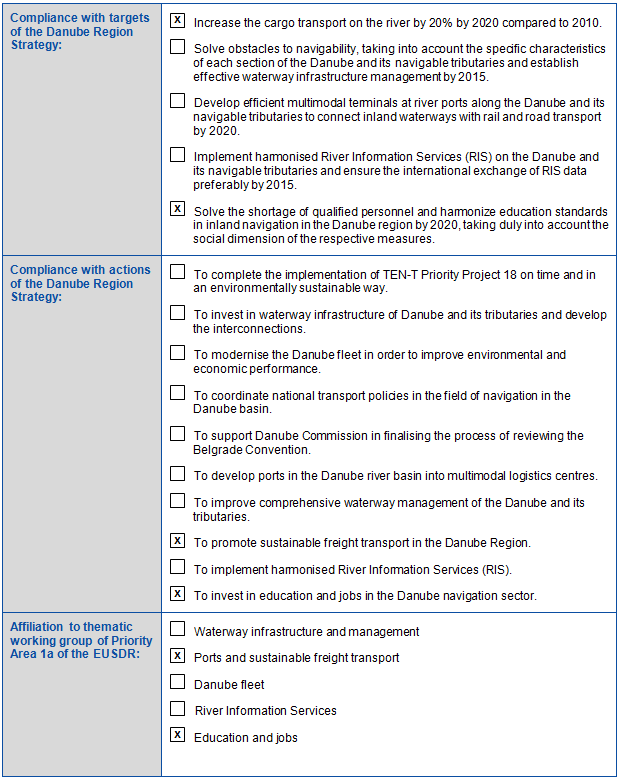 META  DATA
Data provided by: Gerhard Klatt (viadonau) – 15.10.2016
Last updated by: viadonau – 12.08.2019
Download pdf