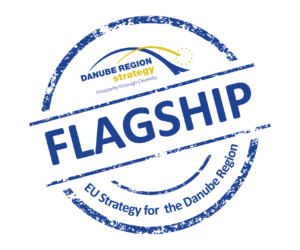 With introduction of the Danube Strategy Flagships, a new communication tool was created to support the key stakeholders to present and disseminate EUSDR strategic projects/processes in an easier and more targeted way and hence showing the manifold modes of successful implementation of the EUSDR. The List of all Danube Strategy Flagships 2022 was published on the EUSDR Website.
PA1a's efforts in recent years to make the waterway more sustainable, consistent and reliable were acknowledged. Both the Fairway Rehabilitation and Maintenance Master Plan for the Danube and its navigable tributaries (FRMMP) and the joint Working Group with PA11 on "Administrative Processes" are represented.
The FRMMP was elaborated in 2014 together with the waterway administrations and Ministries of Transport of the Danube Region in response to inadequate fairway conditions along the Danube. It was updated in 2021/2022 by the waterway administrations and Ministries of Transport of the Danube region, here you can find the news on the Danube Ministerial Conlusions 2022.
The joint EUSDR PA 1a & EUSDR PA 11 Working Group on "Administrative Processes" started its work in 2013 and is since then fully dedicated to facilitate and improve control processes in inland navigation, benefitting both the shipping sector (as united in PA 1a) and control authorities (as united in PA 11). In June, an important milestone was reached with the successful completion of the Introduction of the harmonized DAVID forms along the Danube.
The establishment of the Flagships clearly shows that great work has already been done for the common good of the Danube Region since the very beginning of the EUSDR and gives the encouragement to continue the work with at least as much dedication.