BASIC  PROJECT  DATA
Project ID: PA1A138

NEED  AND  ADDED  VALUE  FOR  THE  DANUBE  REGION  STRATEGY
The Hungarian section of the Danube river is 417 km long and an important part of the Rhine-Danube Corridor. As part of the TEN-T inland waterways, it has to be fitted with RIS in line with Directive 2005/44/EC.
OBJECTIVE(S)  OF  THE  PROJECT
The objective of the project was to enhance the Hungarian River Information Services (RIS) system in order to support efficient and safe inland navigation on the Danube. The project consisted of works to enhance traffic management services, modernise on-shore RIS services and improve the quality of fairway information services data.
CONDUCTED  PROJECT  ACTIVITIES
The project included the:
Improvement of telecommunication services of the Hungarian RIS infrastructure (backbone, VHF and AIS) by optimising the existing and deploying shore based infrastructure as well as by updating the software interface.

Extension of traffic management services and centre by using radar and web camera. The updated services provide high level services to increase efficiency of the system.

Establishment of new modern meteorological and correction Differential Global Navigational Satellite System (DGNSS) services based on the previous RIS infrastructure in order to increase efficiency and safety.

Implementation of weather related messaging in a harmonised European format.

Provision of high quality FIS data such as depth and water levels.

Carrying out complex riverbed measurements for the whole Hungarian Danube stretch (1811rkm-1433rkm).

Upgrade of inland ECDIS charts (complying with 909/2013 Commission Implementing Regulation) in iENC v2.3 format.
TRANSBOUNDARY  IMPACT
The project has positive impacts on the competitiveness of inland waterway transport, modal split, traffic management, service quality, safety and security.
PROJECT  BENEFICIARIES  /  TARGET  GROUPS
Shippers, forwarding companies, relevant authorities, etc.
STATUS  AND  TIMEFRAME
Start date: 01.03.2015
End date: 31.05.2018
The project is already concluded.
FINANCING
Total budget: EUR 12,502,800
EU funds: EUR 6,251,400 funded by Connecting Europe Facility (CEF) 2014 – 2020 
National funds: EUR 6,251,400
PROJECT  TEAM
Project beneficiary: Hungarian Ministry of National Development (website: www.nfm.gov.hu)
Address: Fő utca 44-50, 1011 Budapest / Hungary
Contact data: cef@nfm.gov.hu
Implementing body: RSOE – National Association of Radio Distress-Signalling and Infocommunications
PROJECT  ENVIRONMENT
PROJECT  CROSS – REFERENCE
RIS enabled Hungarian Inland Navigation Information System (HIR) (PA1A137)
EUSDR  EMBEDDING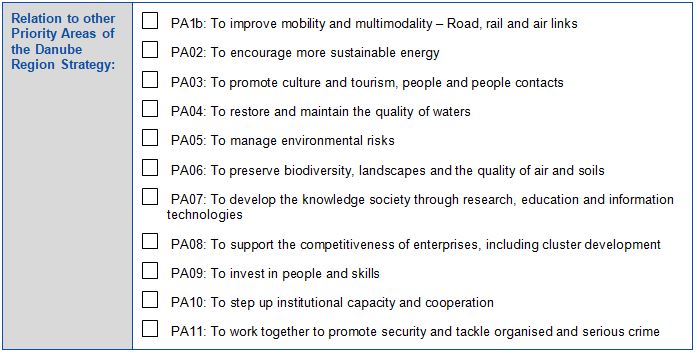 EUSDR  COMPLIANCE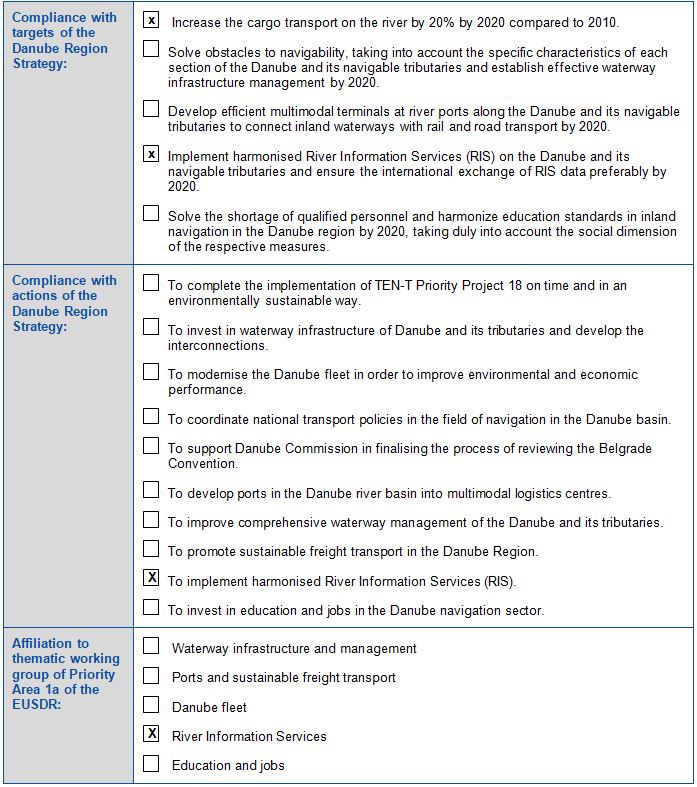 META  DATA
Data provided by: INEA website, project information (update provided by viadonau) – 28.06.2018