BASIC  PROJECT  DATA  –  PROJECT  IDEA
Project ID: PA1A101
NEED  AND  ADDED  VALUE  FOR  THE  DANUBE  REGION  STRATEGY
Navigation companies operating on the Danube have been experiencing acute scarcity of staff with different levels of training and qualification. The crewing shortage is expected to become even more serious, because of Ukrainian economic integration with European countries with subsequent forming of the common labour market.
OBJECTIVE(S)  OF  THE  PROJECT
The overall objective of this project would have been to meet the labour market demands for experts with different levels of training and qualification for waterway transport enterprises via essential renewal of modern experts training in the Danube region.
INTENDED  PROJECT  ACTIVITIES
Creation of a full-scale degree education system of qualified staff of navigation companies, port infrastructure companies, riverine craft, with the blue-collar jobs training (seamen, motormen and the like) at the bottom of the hierarchy and training the masters on its top.
Based on the Kyiv State Maritime Academy (KSMA) and KSMA organisation departments in the Danube region it was suggested to create:
the full-scale education system for obtaining degrees of personnel training;

the faculty of water transport in Izmail of KSMA;

Center of training and further training of seamen of the Danube region countries, equipped with up-to-date training facilities.
For a long time, KSMA in its remote structural departments (the Danube educational-consultation and Izmail educational-consultation centres) has trained specialists for complicated navigation along the Danube river and for working at institutions of coastal infrastructure. Preparation work has been carried out in accordance with the Decree of Ministry of Education and Youth and Sport of Ukraine related to the foundation of a Faculty of maritime transport of KSMA in Izmail.
TRANSBOUNDARY  IMPACT
Meeting the maritime enterprises demands of the Danube region countries.
PROJECT  BENEFICIARIES  /  TARGET  GROUPS
Navigation companies in the Danube region

Companies of port infrastructure of the Danube region
STATUS  AND  TIMEFRAME
The project was not realised.
Project duration would have been from 2013 – 2014.
FINANCING
Total budget: 3,953,000 EUR (indicative)
Funding was not provided.
PROJECT  TEAM
Project leader: Ministry of Education and Science / Ukraine
Kyiv State Maritime Academy / Ukraine (website: www.maritime.kiev.ua)
Address: Frunze St. 9; Kyiv / Ukraine
Project partner(s):
Ukrainian Private Joint Stock Company "UDP" ("Ukrainian – Danube steamship company") / Ukraine

Incorporated Shipping Company "Ukrrichflot" / Ukraine
PROJECT  ENVIRONMENT
STRATEGIC  REFERENCE
Aspiring of Ukraine for joining the European Union. Development of relationships with European Union in different spheres, including education.
EUSDR  EMBEDDING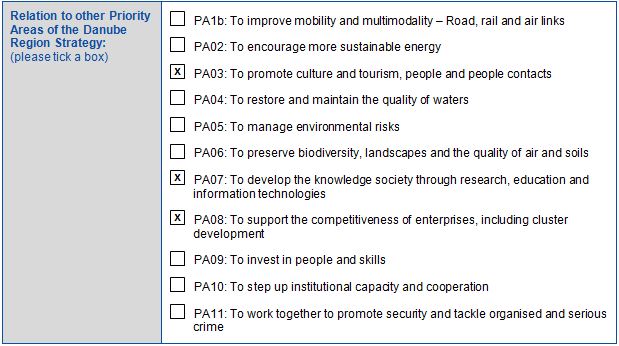 EUSDR  COMPLIANCE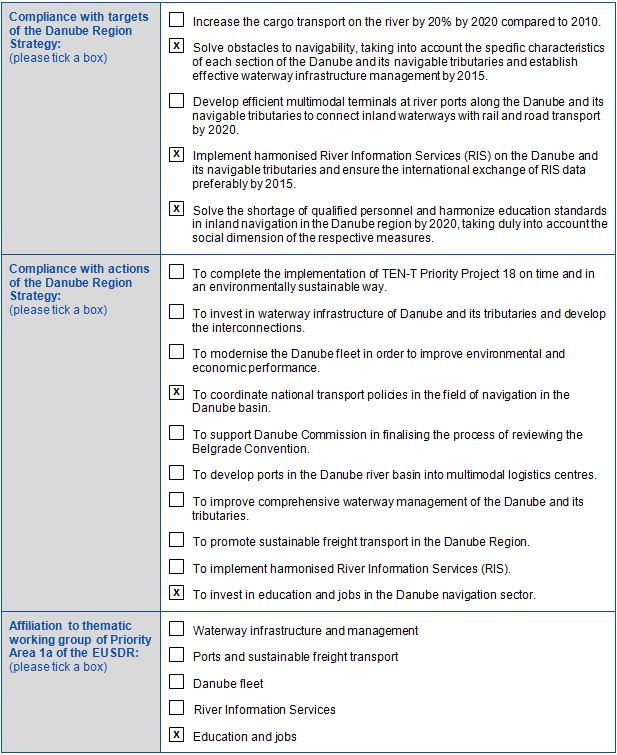 OTHER  RELEVANT  ISSUES
PROJECT  REQUIREMENTS
For implementation of the project "Investments in education and training" within the framework of the Ukrainian participation in realization of the strategy of European Union concerning the Danube region the sum of 3,953,000 EUR would have been needed.
META  DATA
Data provided by: Maryan Berezyuk (Ministry of Economic Development and Trade, Ukraine) – 08.05.2013
Download pdf