BASIC  PROJECT  DATA
Project ID: PA1A098
Project website: www.arvd.gov.sk/projekty/
NEED  AND  ADDED  VALUE  FOR  THE  DANUBE  REGION  STRATEGY
The project MreNa focused on the river March/Morava which marks part of the border between Austria, the Czech Republic and Slovakia, and its high tourist potential. In the field of shipping tourism, cross-border cooperation is to be deepened in order to make local natural wealth available to sustainable tourism. MreNa conducted a feasibility study as to how shipping tourism can be extended while minding its effects on the nature protection areas as well as the different jurisdiction in Austria and Slovakia.
The added value was to explore possibilities and conditions for recreational navigation development on one of the navigable tributaries of the Danube and to develop water tourism (recreational navigation) inter alia by designing the relevant fairway conditions.
The aim was also to connect cross-border countries (Slovakia, Austria, Czech Republic) by waterway for recreational navigation – next step for Baťa canal (Czech Republic and Slovak Republic) connection to Danube river (Slovakia, Austria) through Morava river (Slovakia, Czech Republic and Austria).
OBJECTIVE(S)  OF  THE  PROJECT
Determining the technical, socio-economical, ecological and legal feasibility of extended recreational shipping on the river March/Morava.

Improving the potential of the Morava River and adjacent areas for the development of cross-border tourism.
CONDUCTED  PROJECT  ACTIVITIES
Following activities have been conducted:
Elaboration of a technical analysis, e.g. creating a digital model of the actual river bed and a digital map of the waterway´s alternative routes

Conducting a socio-economic analysis, e.g. evaluating the influence of the proposed activities and the extended tourism on the surrounding areas

Conducting an ecological analysis, e.g. evaluating the influence of recreational shipping on the nature protection areas on both sides of the border

Conducting a legal analysis, e.g. considering the different legislatives in Austria and Slovakia
TRANSBOUNDARY  IMPACT
Mainly countries along the Morava River (Slovakia, Austria, Czech Republic).
PROJECT  BENEFICIARIES  /  TARGET  GROUPS
Tourism / water tourism / cross-border tourism
STATUS  AND  TIMEFRAME
Start date: 02.04.2012
End date: 31.03.2014
The project is already concluded.
FINANCING
Total budget: 233,641 EUR
EU funds: 206,625 EUR were funded by Cross-Border Cooperation Programme Slovakia – Austria 2007 – 2013 (European Regional Development Fund)
National funds: 27,016 EUR (Bratislava, Trnava, Lower Austria, Burgenland – regional budgets)
PROJECT  TEAM
Project leader: Waterborne Transport Development Agency / Slovakia (ARVD)
(website: www.arvd.gov.sk)
Address: Námestie slobody 6, 810 05 Bratislava 15 / Slovakia
Project partners:
Office of the Lower Austrian Federal Government in St. Pölten / Austria

Bratislava Region / Slovakia (strategic associated partner)
PROJECT  ENVIRONMENT
STRATEGIC  REFERENCE
UNECE Resolution No. 52 on the European Recreational Inland Navigation Network

EU Transport White Paper, AGN, UNECE Blue Book, NAIADES

Belgrade Convention on Navigation on Danube (rkm 0,00-6,00 of Morava river)

Water Transport Development Concept of the Slovak Republic

Water Management Policy of the Slovak Republic

NATURA 2000
RELEVANT  LEGISLATION
Act No. 338/2008 on Inland water Transport

Announcement No. 22/2001 on Inland Waterways Classification
EUSDR  EMBEDDING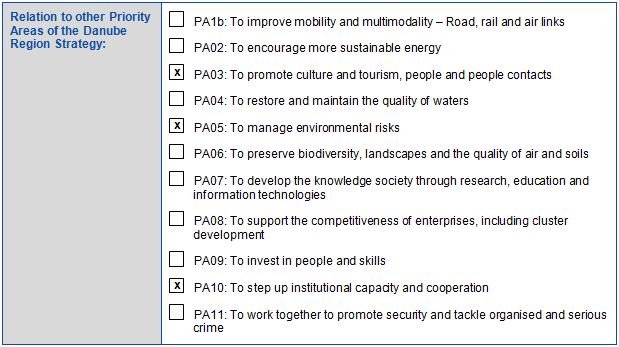 EUSDR  COMPLIANCE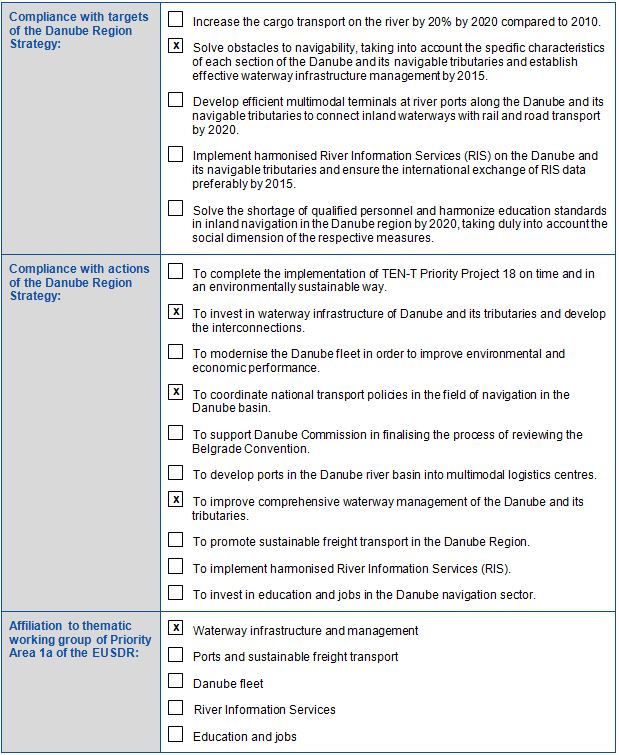 META  DATA
Data provided by: Vladimír Novák (ARVD, Slovakia) – 05.11.2012
Last update by: viadonau, Austria – 16.10.2017
Download pdf.