BASIC  PROJECT  DATA
Project ID: PA1A004

NEED  AND  ADDED  VALUE  FOR  THE  DANUBE  REGION  STRATEGY
Europe's freight transport system has much room for improvement. Congestion, capacity problems and delays affect mobility and economic competitiveness and are detrimental to the environment and quality of life. The EU has committed itself to pursue the goal of shifting transport to less energy-intensive, cleaner and safer transport modes. Inland waterway transport is an obvious choice to play a more prominent role in reaching these targets.
Given that inland navigation is often a cross-border transport mode, action at both national and Community level is required. This is why the European Commission developed the action programme NAIADES, which aims at promoting IWT in Europe through a broad range of activities. PLATINA was the coordination platform to implement the action programme.
The activities of PLATINA aimed at the whole European Union, as IWT is relevant for most of the countries. For the Danube region though, they are of special relevance, as the Danube is not only among the major inland waterways of Europe but also the most international waterway in the world. It exhibits pronounced disparities concerning navigation and socio-economic conditions alongside its course. Due to this, the broad set of measures applied by PLATINA, addressed issues concerning markets, technology and education as well as image and infrastructure requirements, with profound impact on the Danube region.
PLATINA represented an essential framework for the Danube Region Strategy, accounting for the pan-European perspective and setting the topical parameters for strategy building and action implementation of the EUSDR.
OBJECTIVE(S)  OF  THE  PROJECT
PLATINA was a coordination and support action aimed at the promotion of inland waterway transport (IWT). The main objective of PLATINA was to support the European Commission, EU Member States and third countries in the implementation of the NAIADES action programme.
This was achieved by providing technical, organisational and financial support for targeted policy actions and by building on strong interrelations with existing expert groups, projects and initiatives.
In the course of PLATINA, tangible progress in the following fields were made:
opening up new markets for IWT

fostering innovation concerning the fleet

developing better career opportunities in IWT and raise skills

raising awareness of IWT and promote a positive image

improving the infrastructural framework for IWT taking account of environmental and safety requirements
CONDUCTED  PROJECT  ACTIVITIES
Providing technical, organisational and financial support for targeted policy actions: Together with the European Commission, PLATINA identified the necessary policy actions, brought together the required stakeholders (working groups, expert meetings) and developed the necessary knowledge and tools. Key experts and stakeholders elaborated technical proposals for policy instruments in the five NAIADES action areas.
Building on strong interrelations with existing expert groups, projects and initiatives: The European added value of PLATINA was to create synergies at the European level through an increased exchange of know-how, while at the same time respecting and supporting existing decision-making structures; Through the multi-disciplinary composition of its working programme and consortium, PLATINA was a flexible platform that could react to emerging policy needs in the field of inland waterway transport.
TRANSBOUNDARY  IMPACT
PLATINA addressed all European countries with inland waterway transport, as many of the project measures and results are relevant for all of Europe (e.g. the European Hull Database). Furthermore, there were some activities with spatial manifestations, like River Information Centres or river engineering projects, which directly affect the area they are in.
The consortium itself consisted of players from Austria, France, The Netherlands, Romania, Belgium, Germany, Finland and Hungary. Furthermore, the PLATINA consortium has received support from key Member States, candidate countries and associated countries: Austria, Belgium, Bulgaria, Czech Republic, Croatia, France, Germany, Hungary, the Netherlands, Romania and the Slovak Republic.
As a consequence, the focus of the measures lay on these countries.
PROJECT  BENEFICIARIES  /  TARGET  GROUPS
The main objective of PLATINA was to support the European Commission, EU Member States and third countries in the implementation of the NAIADES action programme. It aimed at bringing together the required stakeholders (working groups, expert meetings) and developed the necessary knowledge and tools. Besides the comprising consortium, PLATINA aimed to also integrate a large number of further relevant players. The active participation and support of the following institutions was guaranteed:
Waterway operators and administrations

Representatives of the IWT industry and fleet operators

Promotion and development organisations

Inland navigation educational institutions

Experienced consultants and research institutes

International river protection commission (ICPDR)

On a strategic level, leading IWT industry representatives have expressed their willingness to support the PLATINA consortium.
Furthermore, the PLATINA consortium received written Letters of Intent from key Member States (see "Transboundary Impact" above), the Central Commission for Navigation on the Rhine (CCNR) and the Corridor VII Management. PLATINA also ensured the active participation of key industrial actors, associations, and knowledge institutes. PLATINA facilitated the exchange of know-how and experience through an enhanced coordination between these stakeholders. Firm links between representatives of the EU, national policy makers, the industry, researchers and key organisations of the sector were established. Eastern European partners have been integrated in order to reflect the pan-European character of the NAIADES action programme.
The project results therefore are beneficial to a broad set of players, from government institutions and interest groups to economic stakeholders all over Europe.
STATUS  AND  TIMEFRAME
Start date: 01.06.2008
End date: 31.10.2012
The project is already concluded.
FINANCING
Total budget: 8,792,005 EUR
EU funds: 8,350,000 EUR were funded by FP7- Seventh Frameworkprogramme for Research and Technological Development "TRANSPORT" 2007 – 2013 (Sub-programme area: SST-2007.2.2-01 Promotion of inland waterway transport; Reference: 218362)
National and private funds accounted for the remaining amount.
PROJECT  TEAM
Project leader: via donau – Österreichische Wassertraßen-Gesellschaft mbH / Austria
(website: www.viadonau.org)
Address: Donau-City-Straße 1; 1220 Vienna / Austria
Project partner(s):
Voies Navigables de France – VNF / France

Bundesverband der Deutschen Binnenschiffahrt e.V. – BDB/ Germany

Arbeitgeberverband der deutschen Binnenschiffahrt e.V. – ADB / Germany

Promotie Binnenvaart Vlaanderen VZW – PBV / Belgium

Inland Navigation Europe – INE / Belgium

Dienst Verkeer en Scheepvaart – DVS / The Netherlands

NEA Transportonderzoek en -opleiding B.V. / The Netherlands

ECORYS Nederland B.V. / The Netherlands

Entwicklungszentrum für Schiffstechnik und Transportsysteme e.V. – DST / Germany

Stichting Bureau Voorlichting Binnenvaart – BVB / The Netherlands

Centar za razvoj unutarnje plovidbe d.o.o. – CRUP / Croatia

Centraal Bureau voor de Rijn- en Binnenvaart – CBRB / The Netherlands

Finnish Waterway Association – FWA / Finland

Centre d'Etudes Techniques Maritimes et Fluviales – CETMEF / France

Centrul National de Promovare a Transportului Intermodal – RIA / Romania

Rádiós Segélyhívó és Infokommunikációs Országos Egyesület – RSOE / Hungary

Scheepvaart en Transport College – STC / The Netherlands

International Commission for the Protection of the Danube River – ICPDR / International

Centrul Român pentru Pregătirea şi Perfecţionarea Personalului din Transporturi Navale – CERONAV / Romania

Universität für Bodenkultur Wien – BOKU / Austria

University of Craiova, Facultatea de Ingineria si Managementul Sistemelor Tehnologice – IMST / Romania

Education in Inland Navigation – EDINNA / The Netherlands
PROJECT  ENVIRONMENT
PROJECT  CROSS – REFERENCE
especially PLATINA II (PA1A087) and ProDuna (PA1A016), RISING, IRIS II, NELI, WANDA, ECCONET, SuperGreen, NEWADA, EWITA, CREATING, SPIN, COMPRIS
STRATEGIC  REFERENCE
UNECE's revised "Blue Book" (2006)

Lisbon Strategy

Gothenburg Council

European White Paper for Transport 2001

NAIADES Action Programme

National IWT Action Plans and strategies
RELEVANT  LEGISLATION
Directive 2006/87/EC laying down technical requirements for inland waterway vessels

Directive 2008/68/EC on transport of dangerous goods

Directive 2004/26/EC relates to measures against the emission of gaseous and particulate pollutants from internal combustion engines installed in non-road mobile machinery (NRMM)

Directive 2009/30/EC introduced a mechanism to monitor and reduce greenhouse gas emissions.

Directive 96/50/EC on Boatmaster certificates

Regulation (EC) No 1365/2006 on statistics of goods transport

Regulation (EC) No 1304/2007 of the European Parliament and of the Council with respect to the establishment of NST 2007 as unique classification for transported goods and is implemented by Commission Regulation (EC) No 425/2007

Regulation 7998/2006/2008 about de minimis rules for IWT

TEN-T- guidelines

State aid guidelines
EUSDR  EMBEDDING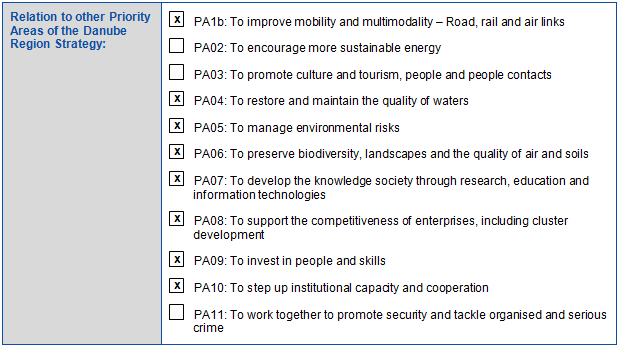 EUSDR  COMPLIANCE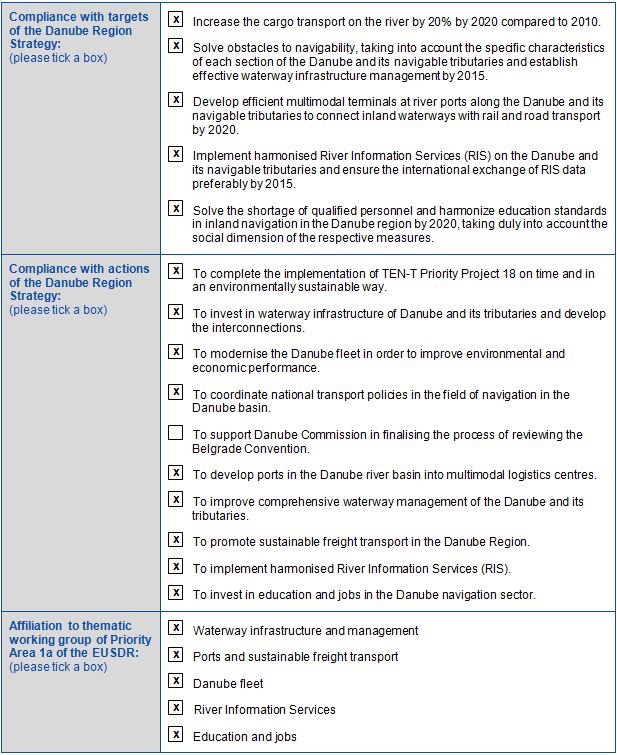 OTHER  RELEVANT  ISSUES
One crucial aspect of the PLATINA project was its focus on broad cooperation of various players from different backgrounds all over Europe. This was in fact its USP as well as one of its main critical issues: in the countries of Europe, different approaches exist, the relevance given to the issue varies and different frameworks result in different capacities to act. Furthermore, players from policy, research as well as interest organisations and economy had to be reconciled. That meant that in PLATINA, targeted work with regard to contents and communication had to be done.
The broad topical agenda of PLATINA made it furthermore dependant of a large number of external developments, e.g. innovations in ICT, fuel prices, political landscapes or public opinion. It is necessary to constantly monitor the different project areas and develop suitable strategies for action.
META  DATA
Data provided by: Gudrun Maierbrugger (via donau – Österreichische Wasserstraßen-Gesellschaft mbH, Austria) – 18.04.2012
Download pdf.