BASIC  PROJECT  DATA
Project ID: PA1A051
NEED  AND  ADDED  VALUE  FOR  THE  DANUBE  REGION  STRATEGY
The Oltenita port is located on the Danube River, on the pan-European transport corridor VII. There is growth potential at the Oltenita Port if the river traffic could be carried out to a greater extent by the large industrial units in the region with the increase in the port's capacity to handle cargo, considering the construction of Danube – Bucharest channel.
Oltenita port is part of the TEN-T comprehensive network.
OBJECTIVE(S)  OF  THE  PROJECT
Modernization of the Oltenița port infrastructure. Phase 1 is already concluded.
CONDUCTED  PROJECT  ACTIVITIES
The following works were executed for the rehabilitation and modernization of port infrastructure:
Vertical quay (it was constructed using Larsen sheet piling) at the berths 1 and 2 area, with a total length of 170m

Modernisation of sloped quays L= 200m (berths 7 and 8)

Execution of a jetty quay L = 80m (berth 8)

Rehabilitation of existing sloped quays L = 425m

Modernization of the illumination network for the berths 1,2,3 and 8

Improvement of the supply networks for drinking water, water for firefighting, pluvial sewerage
TRANSBOUNDARY  IMPACT
Improvement of traffic conditions between Romania and other countries in the Danube region by increasing the port capacity of cargo handling and storage (future development of a container terminal by public-private partnership).
PROJECT  BENEFICIARIES  /  TARGET  GROUPS
Beneficiary: National Company Danube River Ports Administration SA Giurgiu
Target groups: shipping companies, port operators, industry
STATUS  AND  TIMEFRAME
Start date: 2012
End date: 2016
The project is already concluded.
NOTES
The project D. A. N. U. B. E. – Danube Access Network – Unlocking Bottlenecks in Europe, by developing a high-quality TEN-T ports infrastructure in Romania on optimal economic terms (Feasibility Study phase), financed from the TEN-T programme, prepared the future investments for the infrastructure modernization in Oltenita Port.
The feasibility study was finished in December 2009 and updated in August 2011.
FINANCING
Total budget: 4.81 MEUR
EU funds: 3.61 MEUR were funded by the Operational Programme 'Transport' (SOPT) 2007 – 2013 (ERDF)
National funds: 1.2 MEUR
PROJECT  TEAM
Project leader: National Company Danube River Ports Administration SA Giurgiu / Romania
(website: www.apdf.ro)
Address: Portului Street, no.1, Giurgiu / Romania
Contact data: secretariat@apdf.ro;

PROJECT  ENVIRONMENT
STRATEGIC  REFERENCE
General Transport Master Plan for Romania, approved by the Government Decision no. 666/206

Navigation and Inland Waterway Action and Development in Europe (NAIADES) COM (2006) 6 final

White Paper Roadmap to a Single European Transport Area – Towards a competitive and resource efficient transport system COM(2011) 144 final

Large Infrastructure Operational Programme 2014 – 2020

Government Programme 2017 – 2020
RELEVANT  LEGISLATION
Regulation (EU) No 1315/2013 of the European Parliament and of the Council of 11 December 2013 on Union guidelines for the development of the trans-European transport network and repealing Decision No 661/2010

Low no. 203/2003 regarding the guidelines for the creating, development and modernization of transport network  of national and international importance

Government Decision no. 907/2016 regarding the phases of the elaboration and the framework content of the technical and economic documentation related to the public-financed investment objectives / projects

Commission Regulation (EU) 2017/1084 of 14 June 2017 amending Regulation (EU) No 651/2014 as regards aid for port and airport infrastructure, notification thresholds for aid for culture and heritage conservation and for aid for sport and multifunctional recreational infrastructures, and regional operating aid schemes for outermost regions and amending Regulation (EU) No 702/2014 as regards the calculation of eligible costs
EUSDR  EMBEDDING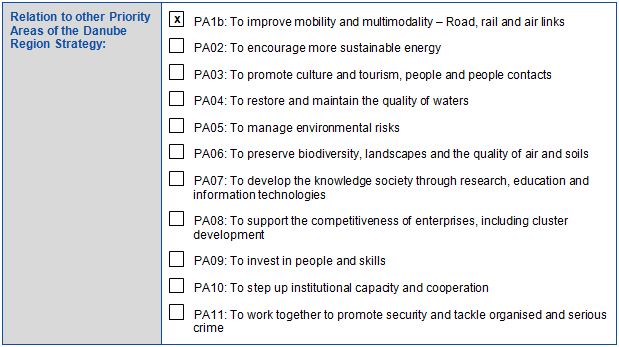 EUSDR  COMPLIANCE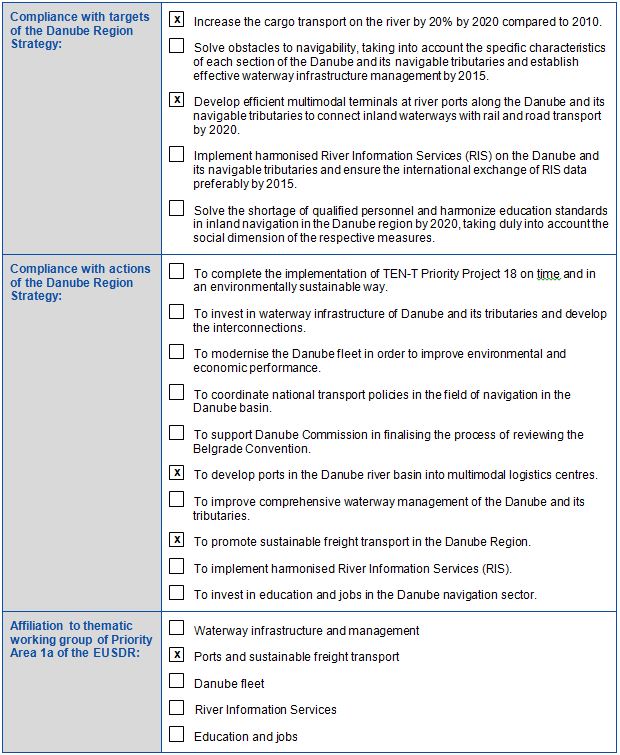 OTHER  RELEVANT  ISSUES
FOLLOW – UP  PROJECT
The future development of a container terminal by public-private partnership.
META  DATA
Data provided by: Cristina Cuc and Monica Patrichi (Ministry of Transport and Infrastructure, Romania) – 13.09.2011
Last update by: Monica Patrichi (Ministry of Transport, Romania) – 20.09.2017
Download pdf