BASIC  PROJECT  DATA
Project ID: PA1A037
website: www.vodniputovi.hr
NEED  AND  ADDED  VALUE  FOR  THE  DANUBE  REGION  STRATEGY
Near the village of Sotin (at rkm 1322) the Danube River has eroded the extremely dilapidated right coastline which might result in the undermining and collapse of a high bank on which the village and the local church are located. Apart from the village, the removal of the coast would directly endanger the archaeological site of the old Roman settlement.
By examining the cartographic displays and by inspecting the situation on the ground it can be seen that there is a considerable expansion of the flowing profile. The erosion of the right side has the effect of increasing the width and decreasing the depth of the river profile. This phenomenon negatively affects the conditions of navigation. This negative influence is substantial at lower water levels.
The Danube River on its journey through Croatia fits fairway international class VIc.
It is also necessary to add, that if it comes to the removal of the coast it will also influence the river flow which is not negligible in relation to the border issues with the Republic of Serbia and the international waterway of the Danube.
OBJECTIVE(S)  OF  THE  PROJECT
This project would prevent the formation of sandbars, which are an obstacle to navigation while simultaneously protecting the coast from collapsing.
PLANNED  PROJECT  ACTIVITIES
Implementation of river training works (sill and two T-groynes).
TRANSBOUNDARY  IMPACT
The project is located on the common border stretch of the river between the Republic of Croatia and the Republic of Serbia. As the transport of goods on the Danube and its tributaries has an international and long-distance character, the entire Danube region will benefit from the project.
PROJECT  BENEFICIARIES  /  TARGET  GROUPS
Citizens of Sotin

Shipping industries

Ports
STATUS  AND  TIMEFRAME
Start date: 01/2011
End date: 12/2020
NOTES
detailed designs were elaborated in 2012, construction permit obtained 03/2013, feasibility study concluded in 2015, currently: Environmental Impact Assessment (EIA) ongoing, planned start of construction works in 01/2018 – end by 12/2020
FINANCING
Total budget: 4,800,000 EUR (costs calculated within detailed design)
EU funds: Structural Funds (potentially – funds are not yet provided)
PROJECT  TEAM
Project leader: Ministry of Maritime Affairs, Transport and Infrastructure of Croatia
(website: www.mmpi.hr)
For each part of the project (e.g. detailed design, EIA, works) different project leaders will be nominated.
Address: Krležin Govozd 1a, 10000 Zagreb, Croatia
PROJECT  ENVIRONMENT
PROJECT  CROSS – REFERENCE
PLATINA – Platform for the implementation of NAIADES (PA1A004)
IRIS Europe – Implementation of River Information Services in Europe
STRATEGIC  REFERENCE
European Action Program for Inland Waterway Transport (NAIADES)

White Paper: "European Transport Policy for 2010: Time to Decide"

TEN-T Policy

Platform for the implementation of NAIADES (PLATINA)

Implementation of River Information Services in Europe (IRIS Europe)
RELEVANT  LEGISLATION
TEN-T Guidelines

European Agreement on Main Inland Waterways of International Importance (AGN)
EUSDR  EMBEDDING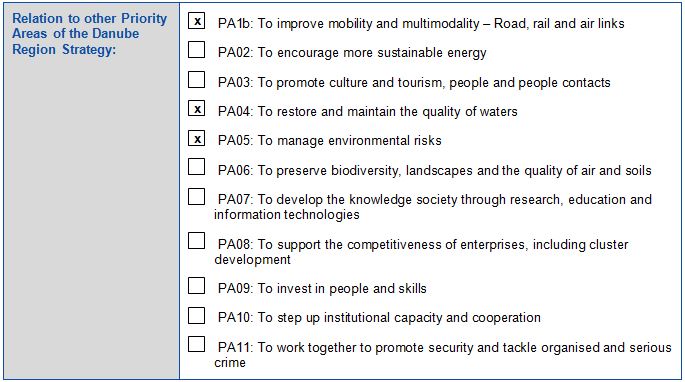 EUSDR  COMPLIANCE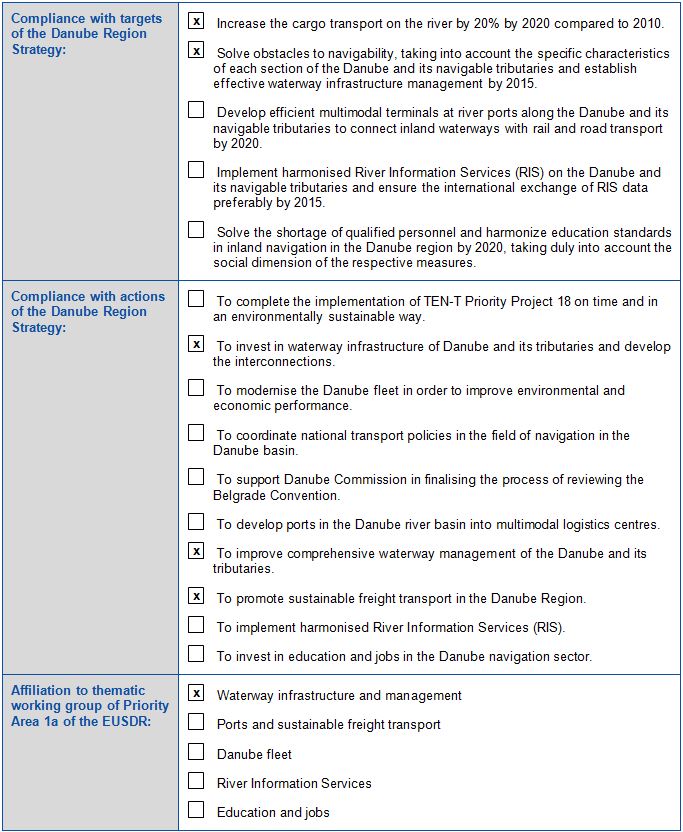 META  DATA
Data provided by: Ana Barišić (Ministry of Maritime Affairs, Transport and Infrastructure, Croatia) – 28.12.2011
Last update by: Ana Barišić (Ministry of Maritime Affairs, Transport and Infrastructure, Croatia) – 27.01.2017
Download pdf