BASIC  PROJECT  DATA
Project ID: PA1A161
Project website: www.lebensader-donau.de
NEED  AND  ADDED  VALUE  FOR  THE  DANUBE  REGION  STRATEGY
The German federal waterway Danube between Straubing and Vilshofen in Lower Bavaria is a major bottleneck of the Trans-European Rhine/Meuse-Main-Danube inland waterway axis in particular with regard to draught. While the rest of the waterway axis has been adapted to 2.5 m draught almost all year round, this value is only attainable 144 days per year for the (free flowing) section from Straubing to Vilshofen due to alternating water levels. In low water periods only 1.6 m draught (or less) is possible.
A variant study (conducted 2008-2013) compared the two remaining variants (named A and C2.80) regarding impacts on navigation and environment in order to provide a secure basis for an informed political decision. This study is now the basis for planning.
Following this project the planning approval process for subsection 1 (between Straubing and Deggendorf) was started in 2013 with another study for the elaboration of technical designs, the planning of works and public participation. It was completed by the end of 2015.
Upgrading both subsections is part of the overall development in order to improve navigation conditions in the existing bottleneck between Straubing and Vilshofen (and thus on the entire TEN-T axis) and to simultaneously enhance flood protection. The fairway is developed to increase draught by at least 0.2 m at low navigable water level (RNW). This would correspond to fairway depths of 2.20 m. Moreover, fairway maintenance, sediment management (incl. progressive bed erosion), safety and ease of shipping (incl. nautical difficulties and naval hazard spots) are to be optimized. Concerning flood prevention, the existing level of protection is to be increased from about HQ30 to HQ100.
OBJECTIVE(S)  OF  THE  PROJECT
Germany and Bavaria agreed on the realization of Variant A aiming to increase the possible draught loaded at low navigable water level by at least 20cm in subsection 1, from 1.60m to 1.80m, and the number of days per year with an effective draught of 2.50m by 56 days to 200 days/year. (This would correspond to fairway depths of 2.20m.) In subsection 2 the possible draught should be increased by at least 25cm.
In a first step urgent flood prevention measures and selected activities of Variant A will be realized in the section from Straubing to Deggendorf (subsection 1).
PLANNED  AND  CONDUCTED  PROJECT  ACTIVITIES
The planning approval process for Subsection 1 is ongoing; for Subsection 2 the preliminary planning is ongoing.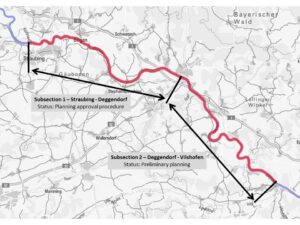 (c) German Ministry of Transport and digital Infrastructure; adaptations by viadonau
In the course of the works in subsection 1 (Straubing – Deggendorf) 67 of the 139 existing groynes will be adapted, 5 groynes will be removed and 24 groynes will be newly constructed. Of the 22 existing longitudinal training structures 5 will be adapted. 6 training structures will be newly constructed and 4 gravel banks will be established. Dredging works in the new fairway amount to 400,000 m³.
For the subsection 2 (Deggendorf – Vilshofen) the planning currently envisages the consturction of 40 new groynes and 7 longitudinal training structures. 74 existing groynes and 5 training structures will be adapted and 10 groynes removed. Additionally, 7 gravel banks will be established. Dredging works in the fairway should amount to 140,000 m³.
TRANSBOUNDARY  IMPACT
The improvement of shipping conditions in the existing bottleneck from Straubing to Vilshofen has positive effects for the entire Trans-European Rhine/Meuse-Main-Danube inland waterway axis. It serves to support an eco-friendly mode of transport, the merging of south-eastern European states with the rest of the EU (interconnection between Black and North Sea), and, as far as possible, the unobstructed transport of goods within the EU.
Transboundary environmental impact assessment between Austria and Germany according to Espoo convention (inure 1997) with focus on possible negative downstream flood effects.
PROJECT  BENEFICIARIES  /  TARGET  GROUPS
As the transport of goods on the waterway Rhine-Main-Danube has an international and long-distance character, a wide range of stakeholders relating to the European transport will benefit from the waterway subproject.
Population, industry, material assets, and agriculture along the Danube in Lower Bavaria will gain a higher safety standard with regard to flood hazard.
STATUS  AND  TIMEFRAME
Start date: 2015
End date: tbd
FINANCING
Total budget: 150 million EUR financed nationally (Bundesverkehrswegeplan)
PROJECT  TEAM
Project leader: Project promoters/sponsors are the Federal Republic of Germany and the Free State of Bavaria, both represented by RMD Wasserstraßen GmbH. Steering group to monitor work and to coordinate/clarify fundamental issues composed of competent authorities of the Federal (State) government of Germany (Bavaria) as well as representatives of RMD.
Project partners:
Federal Waterways and Shipping Administration, subordinate body of the Ministry of Transport and Digital Infrastructure

Bavarian Ministry of the Interior, for Building and Transport

Bavarian Water Resources Management Administration, subordinate body of the Ministry of the Environment and Consumer Protection

RMD Wasserstraßen GmbH
Contact: RMD Wasserstraßen GmbH (website: www.rmd-wasserstrassen.de)
Address: Blutenburgstraße 20, 80636 München / Germany
Contact data: info@rmd-wasserstrassen.de; +49 89 99222-0
PROJECT  ENVIRONMENT
PROJECT  CROSS – REFERENCE
Preceding project (2008 – 2013): Upgrade of the Danube between Straubing and Vilshofen: Variant-independent investigation on the development of the Danube waterway between Straubing and Vilshofen (PA1A030)
Preceding project (2013 – 2015): Upgrade of the Danube between Straubing and Vilshofen: Study for design, approval planning and public consultation within the frame of the planning approval procedure for subsection 1 (Straubing–Deggendorf) (PA1A122)
STRATEGIC  REFERENCE
Part of Priority Project 18 of the Trans-European Transport Network (TEN-T)

Recommendations of the Danube Commission

Bundesverkehrswegeplan 2030
RELEVANT  LEGISLATION
Water Framework Directive

Fauna-Flora-Habitat Directive

Conservation of Wild Birds Directive

TEN-T Regulation (TEN-T Guidelines)

Espoo Convention 1997

"Duisburger Vertrag" 16.09.1966 &

"Donaukanalisierungsvertrag" 21.07./23.07./11.08.1976

Federal Waterway Act

Federal Water (Resources) Act

Environmental Impact Assessment Act

Federal Nature Conservation Act

Administrative Procedures Law

Bavarian Compensation Regulation

Bundeswasserstraßenausbaugesetz (WaStrAbG)
EUSDR  EMBEDDING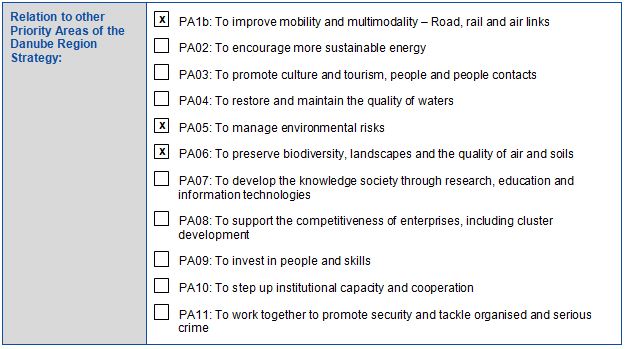 EUSDR  COMPLIANCE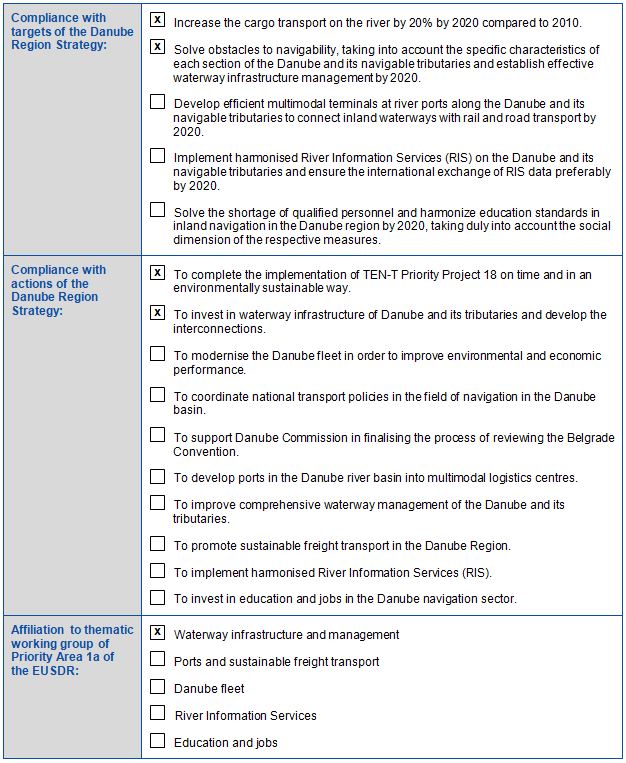 META  DATA
Data provided based on Rhine Danube Corridor Study and the German project website (via donau, Austria) – 06.09.2019