BASIC  PROJECT  DATA
Project ID: PA1A165
Project website: https://www.iwt-competencies.eu/

NEED  AND  ADDED  VALUE  FOR  THE  DANUBE  REGION  STRATEGY
The EU Directive 2017/2397 has to be implemented by 2022 in all EU member states. One of the objectives of the directive is that irrespective of the Member State in which the qualification is achieved, the inland navigation sector can count on crews possessing the competencies prescribed in the annexes of the directive. In order to achieve this, curricula and lesson materials need to be aligned among the nautical education institutes and respective quality control systems need to be established.
OBJECTIVE(S)  OF  THE  PROJECT
Within COMPETING fifteen partners from eight different EU member states will develop curricula and lesson materials, as well as a Quality Assurance and Quality Control (QA/QC) system, to ensure the highest level of quality concerning the implementation of future proof IWT education and training throughout the EU.
The developments in this project will in the end result in the implementation of EU legislation (EU Directive 2017/2397), resulting in a comparable system for recognition of educational programmes and properly qualified crew with the possession of a Union certificate.
CONDUCTED  AND  PLANNED  PROJECT  ACTIVITIES
Work package 2 and 5 deal with project management and dissemination.
The main objective of work package 3 is to develop curricula and lesson materials for model courses addressed to inland navigation personnel, based on the provisions of EU Directive 2017/2397 and CESNI Standards for competence for operational and management level.
The aim of work package 4 within the COMPETING project is to develop a Quality Assurance (QA) and a Quality Control (QC) system to ensure, to assure and to control the highest level of quality concerning the implementation of future proof IWT Education and Training throughout the EU.
TRANSBOUNDARY  IMPACT
Since the EU Directive on the recognition of professional qualifications in inland navigation concerns the entire Danube Region, the project results are also relevant for the entire Danube Region and beyond.
PROJECT  BENEFICIARIES  /  TARGET  GROUPS
Mainly IWT education and training institutes and the IWT sector. The ultimate goal of COMPETING is to increase labour mobility in the inland shipping sector.
STATUS  AND  TIMEFRAME
For the project "Competency Based Education and Training for Inland Navigation":
Start date: January 1st, 2019
End date: December 31th, 2021
FINANCING
For the planning project "Competency Based Inland Waterway Transport Education & Training" project:
Total budget: 938,570 EUR
EU funds: 938,570 EUR are funded by ERASMUS +
PROJECT  TEAM
Project leader: STC Group
Address: Lloydstraat 300, 3024 EA Rotterdam/ The Netherlands
Project partners:
CERONAV, Constanta / Romania

Schiffer-Berufskolleg Rhein, Duisburg / Germany

University of Zilina, Zilina / Slovakia

Maritieme Academie Harlingen, Harlingen / The Netherlands

University of Craiova, Craiova / Romania

Pro Danube Management GmbH / Austria

FH Oberösterreich – Logistikum Steyr / Austria

GO!De Scheepvaartschool / Belgium

European Transport Workers' Federation / Belgium

Institut pour le transport par Batellerie / Belgium

University of Rijeka / Croatia

Colegiul Tehnic "Dierna" – Orsova / Romania

Le Cnam Normandie / France

Royal BLN-Schuttevaer / The Netherlands
Contact person: Timon Jongkind (STC Group)
Contact data: T.Jongkind@stc-r.nl
PROJECT  ENVIRONMENT
EUSDR  EMBEDDING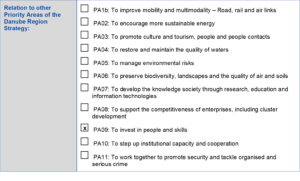 EUSDR  COMPLIANCE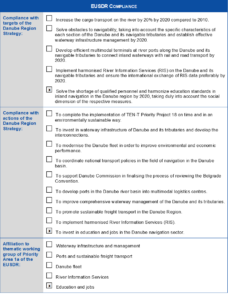 META  DATA
Data provided by: Viktoria Weissenburger (viaDonau) – 15.05.2020
Download pdf.