BASIC  PROJECT  DATA
Project ID: PA1A055
NEED  AND  ADDED  VALUE  FOR  THE  DANUBE  REGION  STRATEGY
Prior to the project, the southern area of Constanta port, protected by the northern and the southern breakwater, was exposed to waves coming from an easterly direction. This was partly because, at the time when the northern breakwater was originally built, budgetary restrictions meant it could not reach the planned length of 5 900 metres. This project finally extended the northern breakwater to the desired length in order to deliver the wave protection needed in the southern area of the port.
The completion of the last 1050 m long sector of the North breakwater has positive effects in terms of safe operations in Constanta Port.
The project increases the productivity of the port, by reducing the impact of the waves on operations and minimising the risk of accidents. For the berths, this project eliminates 25% of productivity decrease during downtime. For barges, an essential component for transhipment, it eliminates the idle time during bad weather.
OBJECTIVE(S)  OF  THE  PROJECT
The project extends the northern breakwater from 4 850 metres to 5 900 metres so that, along with the southern breakwater, it can reduce the negative impacts of the waves on operations and safety at the port, and increase the port's productivity.
Decreasing the waves in the port to an acceptable level to ensure the safe operation ofvessels

Decreasing the destructive effects of the waves on the infrastructure within the port

Smooth access of vessels to the entry into the port

Decreasing the sediments in the waters by guiding the currents further away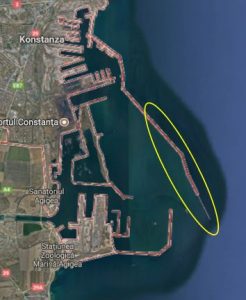 (c) Google Maps
CONDUCTED  PROJECT  ACTIVITIES
Tender for execution and supervision of works

Works execution
Works were carried out in three areas: the area where the existing breakwater ended and was connected to the new works; the area where an underwater core for the breakwater extension already existed; and the area for the completely new works, lying directly on the sea floor. The protection wall measures nine metres above sea level, rising to 10 metres with the stone coating.
TRANSBOUNDARY  IMPACT
The project increases safety in the Port of Constanta for port operators and all shipping companies operating in the port. It thereby helps the development of efficient multimodal terminals in the area of Constanta port.
PROJECT  BENEFICIARIES  /  TARGET  GROUPS
Beneficiary: National Company Maritime Ports Administration SA Constanta
Target Groups: Shipping companies, port operators
STATUS  AND  TIMEFRAME
Start date: 2011
End date: 2015
The project has already been concluded.
FINANCING
Total budget: 175,050,000 EUR
EU funds: 68,080,000 EUR were funded by Operational Programme 'Transport' (SOPT) 2007–2013 (ERDF)
National funds: 106,970,000 EUR
PROJECT  TEAM
Project leader: National Company Maritime Ports Administration SA Constanta / Romania
(website: www.portofconstantza.com)
Address: Incinta Port Gara Maritima, Constanta / Romania
Contact data: secretariat1@constantza-port.ro

PROJECT  ENVIRONMENT
PROJECT CROSS – REFERENCE
STRATEGIC  REFERENCE
Strategy for sustainable development on the period 2007-2013 and 2020, 2030 approved by Minister of Transport Order  no. 508/2008

Government Programme 2009 – 2012

White Paper Roadmap to a Single European Transport Area – Towards a competitive and resource efficient transport system COM(2011) 144 final
RELEVANT  LEGISLATION
Decision No 661/2010/EU of the European Parliament and of the Council of 7 July 2010 on Union guidelines for the development of the trans-European transport network

Low no. 203/2003 regarding the guidelines for the creating, development and modernization of transport networkof national and international importance
EUSDR  EMBEDDING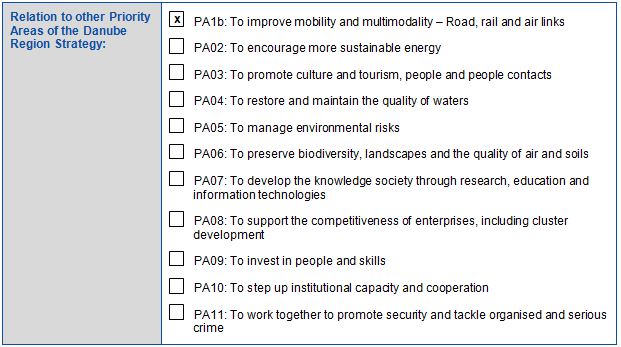 EUSDR  COMPLIANCE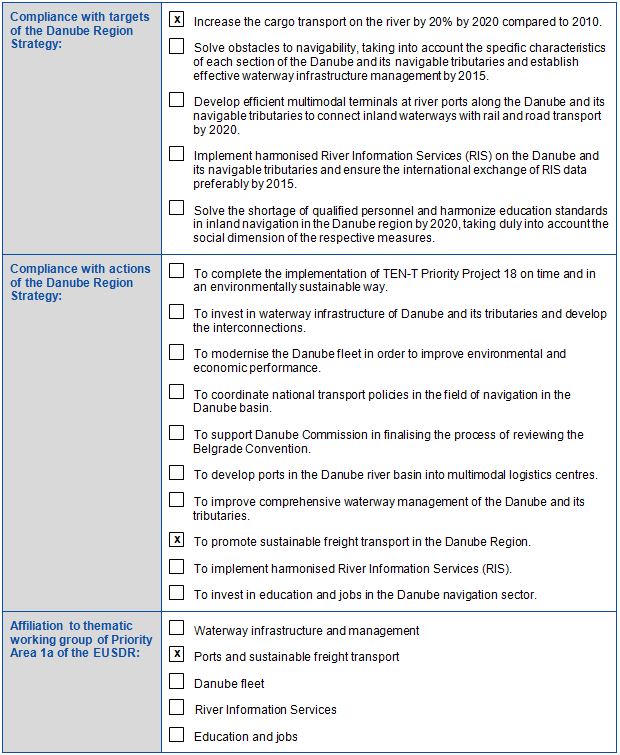 META  DATA
Data provided by: Cristina Cuc and Monica Patrichi (Ministry of Transport and Infrastructure, Romania) – 13.09.2011
Last update by: Cristina Cuc and Monica Patrichi (Ministry of Transport and Infrastructure, Romania) – 19.9.2017
Download pdf