BASIC  PROJECT  DATA
Project ID: PA1A056
NEED  AND  ADDED  VALUE  FOR  THE  DANUBE  REGION  STRATEGY
The development of railways in the river–maritime area of Constanta Port increased the accessibility of the port, decreased travel time for cargo and sustained the development of efficient multimodal terminals.
OBJECTIVE(S)  OF  THE  PROJECT
The project aimed at building a complex railways system (railroad yard) in the river-maritime sector to supply optimal and uniform services for current and future port operators.
CONDUCTED  PROJECT  ACTIVITIES
The railroad yard station has 3 tracks for the reception of trains from the Romanian railways network, 12 tracks for the handling of carriages, their separation for the port operators and 2 tracks for the review and repair of the carriages.
TRANSBOUNDARY  IMPACT
The project increased the accessibility of the Port of Constanta, the connection with the hinterland and will help the development of efficient multimodal terminals in the area of Constanta port.
PROJECT  BENEFICIARIES  /  TARGET  GROUPS
Forwarding companies

Port operators
STATUS  AND  TIMEFRAME
Start date: 2012
End date: 2015
The project is already concluded.
FINANCING
Total budget: about 17,500,000 EUR
EU funds: about 12,120,000 EUR (69.25%) were funded by Operational Programme 'Transport' (SOPT) 2007–2013 (ERDF)
National funds: about 5,380,000 EUR (30.75%)
PROJECT  TEAM
Project leader: Maritime Ports Administration Constanta / Romania
(website: www.portofconstantza.com)
Address: Incinta Port Constanta, Gara Maritima cod 900900; Constanta / Romania
No additional partners were involved.
PROJECT  ENVIRONMENT
PROJECT CROSS – REFERENCE
STRATEGIC  REFERENCE
Strategy for sustainable development on the period 2007-2013 and 2020, 2030 approved by Minister of Transport Order  no. 508/2008

White Paper Roadmap to a Single European Transport Area – Towards a competitive and resource efficient transport system COM(2011) 144 final
RELEVANT  LEGISLATION
Decision No 661/2010/EU of the European Parliament and of the Council of 7 July 2010 on Union guidelines for the development of the trans-European transport network

Low no. 203/2003 regarding the guidelines for the creating, development and modernization of transport network  of national and international importance
EUSDR  EMBEDDING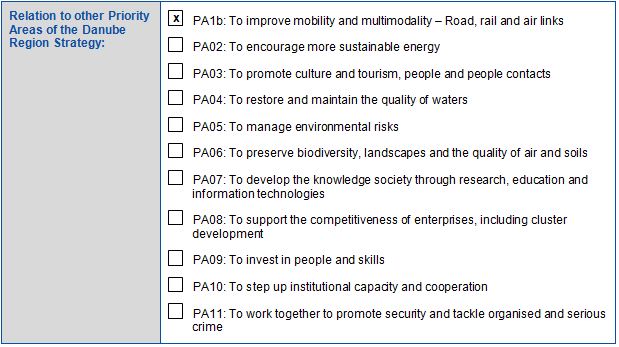 EUSDR  COMPLIANCE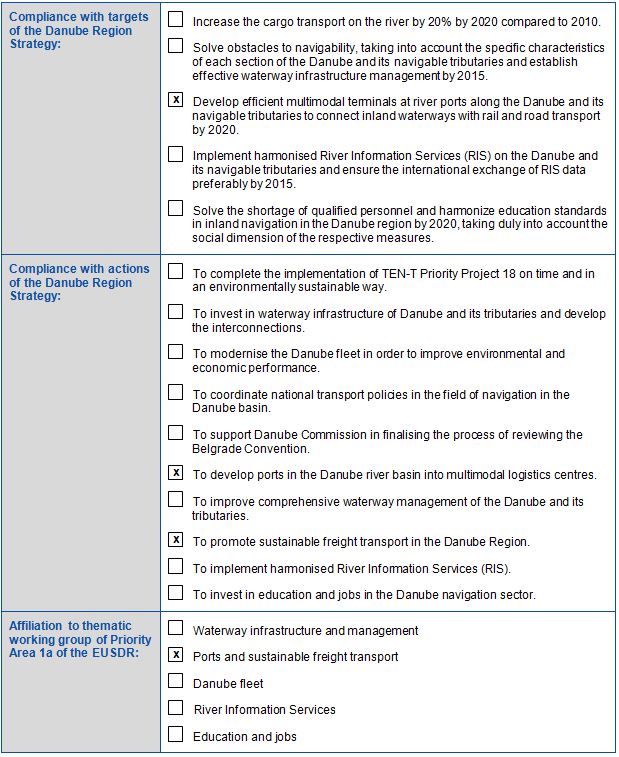 META  DATA
Data provided by: Cristina Cuc, Monica Patrichi (Ministry of Transport and Infrastructure, Romania) – 13.09.2011
Last update by: Monica Patrichi (Ministry of Transport, Romania) – 01.08.2017
Download pdf