BASIC  PROJECT  DATA
Project ID: PA1A126
Project website: www.interreg-danube.eu/approved-projects/danube-stream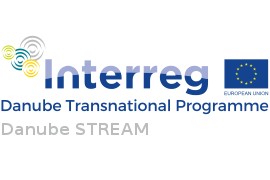 NEED  AND  ADDED  VALUE  FOR  THE  DANUBE  REGION  STRATEGY
The shipping companies, logistics companies and the waterway administrations themselves experienced the improved daily workflows of waterway administrations in specific topics, like environmentally sound and effective waterway management and IT services provided by the administrations to its users.
OBJECTIVE(S)  OF  THE  PROJECT
The project objectives can be categorized as follows:
The common user information services describes several instruments which are available free-of-charge to the users of the Danube waterway and its main tributaries. With the updates provided in relation to these services the waterway administrations provided information according to the latest standards to users.

Waterway administrations were cooperating to improve comprehensive waterway management of the Danube and its tributaries (according to the European Danube Region Strategy Priority Area 1a – Inland Navigation). Intersectoral cooperation was foreseen to enforce the development of this transport mode in cooperation with Protected Areas, to minimize the environmental impact of inland navigation.

In order to guarantee the sustainability of the project results the Board of Directors (which includes the managers of the waterway administrations and was established in the course of the NEWADA project) frequently verifed and guided the performance of the administrations in waterway infrastructure management and information services. Integrated stakeholder management approach was performed.
PLANNED  PROJECT  ACTIVITIES
Improve common user services provided by the waterway administrations (e.g. ENC development, FIS portal development)

Harmonized and innovative waterway management capitalized and implemented results from NEWADA duo project and facilitate cooperation between Protected Areas and waterway administrations along the Danube River.

Strategic perspectives as, strategic cooperation between the administrations and Board of Directors is set to continue.
TRANSBOUNDARY  IMPACT
The Danube region including navigable tributaries.
PROJECT  BENEFICIARIES  /  TARGET  GROUPS
Danube shipping companies (incl. captains, personnel on board)

Danube logistics companies (incl. shipping and forwarding companies, logistics operators, port/ terminal operators, cargo owners)

Transnational (i.e. DG MOVE, DC) and national (ministries) public administrations
STATUS  AND  TIMEFRAME
Start date: 01.01.2017
End date: 30.06.2019
FINANCING
Total budget: 2,108,661.42 EUR
EU funds: 1,636,123.69 EUR (European Regional Development Fund)
156,238.50 EUR (Instrument for Pre-Accession Assistance)
funded by Danube Transnational Programme (DTP) 2014 – 2020
National funds: 316,299.23 EUR
PROJECT  TEAM
Project leader: via donau – Österreichische Wasserstraßen-Gesellschaft mbH / Austria
(website: www.viadonau.org)
Address: Donau-City-Straße 1, 1220 Wien / Austria
Contact person: Gudrun Maierbrugger
Contact data: gudrun.maierbrugger@viadonau.org; +43 5 04321 1633
Project partner(s):
Slovak Water Management Enterprise, state enterprise (SVP) / Slovakia

General Directorate of Water Management (OVF) / Hungary

National Association of Radio Distress-Signalling and Infocommunications (RSOE) / Hungary

Agency for Inland Waterways (AVP) / Croatia

River Administration of the Lower Danube Galati (AFDJ) / Romania

Administration of the Navigable Canals SH (ACN) / Romania

Executive Agency for Exploration and Maintenance of the Danube River (EAEMDR) / Bulgaria

Directorate for Inland Waterways (Plovput) / Serbia
PROJECT  ENVIRONMENT
PROJECT  CROSS – REFERENCE
STRATEGIC  REFERENCE
• Fairway Rehabilitation and Maintenance Master Plan / EUSDR PA1a
• Trans-European Transport Network
• NAIADES Action Programme
• Europe 2020
Apart from strategies on the EU level, there are several national strategies for the development and promotion of inland waterway transport in the countries of the participating project partners in place.
RELEVANT  LEGISLATION
European Agreement of Main Inland Waterways of International Importance (AGN), done at Geneva on 19 January 1996, United Nations Economic Commission for Europe.

Recommandations relatives à l'établissement des gabarits du chenal, des ouvrages hydrotechniques et autres sur le Danube, Budapest 1988, Danube Commission.

Directive 2005/44/EC of the European Parliament and of the Council of 7 September 2005 on harmonised river information services (RIS) on inland waterways in the Community.
EUSDR  EMBEDDING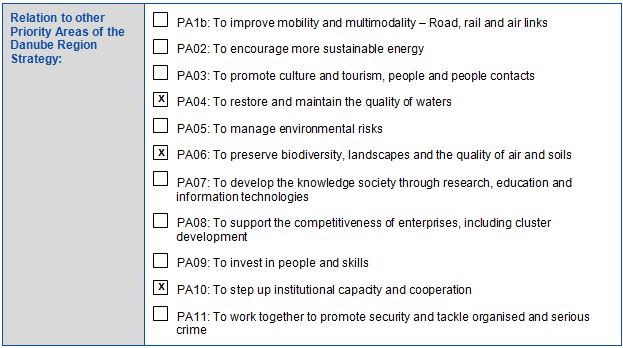 EUSDR  COMPLIANCE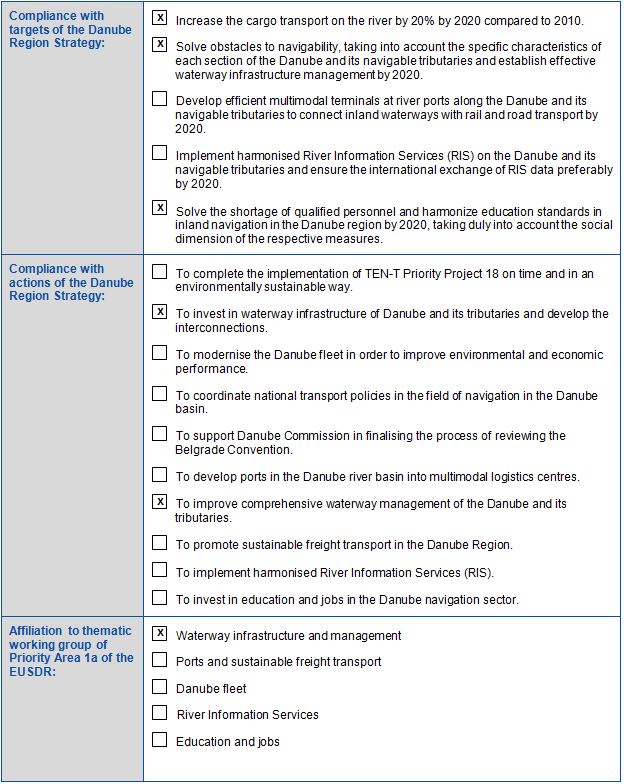 META  DATA
Data provided by: Barbara Kéri (via donau, Austria) – 20.10.2015
Download pdf